Terry James Conrad: Object Permanence Exhibition Catalog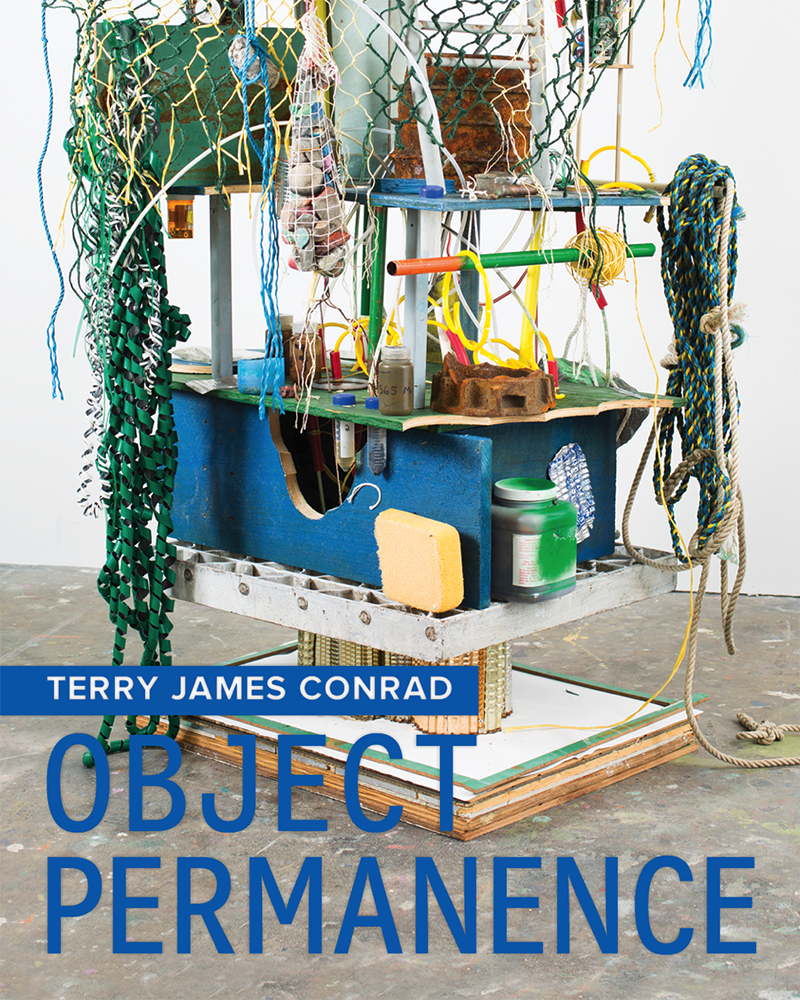 $20
Terry James Conrad: Object Permanence Exhibition Catalog
60 pages, 8.5 x 9 inches, full color
With essay by Nicole Woods, University of Notre Dame, Assistant Professor, Modern & Contemporary Art
The 21st High School Regional Exhibition catalog
This 40-page catalog features full-color images of all 108 artworks from 93 students from 22 regional high schools.
$10 plus tax, US domestic shipping and handling
JoAnne Carson: Rise Up and Shine! catalog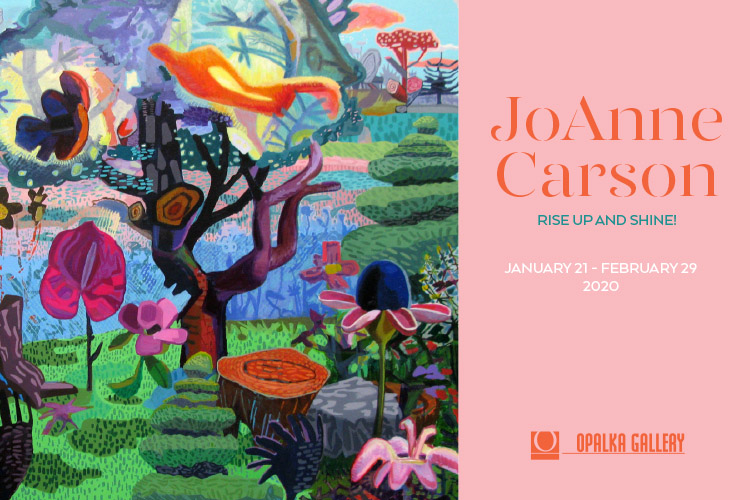 Exhibition catalog with essay by David Carbone, painter, critic, curator, and professor emeritus of art at University at Albany, introduction by Opalka director Judie Gilmore, and statement by artist JoAnne Carson, plus full checklist and bio.
Full color, 9″ x 12″, 62 pages. $10 plus tax, US domestic shipping and handling. $5+tax for students if purchased in gallery, w/ID.
From her punchy, exuberant paintings to her quirky, zoomorphic sculptures and expressive drawings, Carson has established a unique artistic voice that merges references to the natural world with strange juxtapositions, unexpected materials, and playfully dark moods. Despite few figures in her work, every shape Carson creates bursts with life: trees, rocks, and flowers bow, droop, pose, and even vogue.
The work is simultaneously joyful and cynical, smart and approachable, not unlike the artist herself. Carson, who has taught studio art at the University at Albany for over three decades, has had an immeasurable impact on the region's artists and art community. JoAnne Carson was born in New York City and currently splits her time between Brooklyn, New York and Shoreham, Vermont. She received her MFA degree from the University of Chicago and attended the University of Illinois for undergraduate school.
Carson's work can be found in various public collections including the Brooklyn Museum, Modern Art Museum of Fort Worth, Joslyn Art Museum in Omaha, Nebraska, Museum of Contemporary Art Chicago, David and Alfred Smart Museum of Art in Chicago, Frederick Weisman Art Museum in Minneapolis, and Sheldon Museum of Art in Lincoln, Nebraska. She has received many awards including a Guggenheim Fellowship, the Rome Prize from the American Academy in Rome, an Award in the Visual Arts, a Purchase Prize from The American Academy of Arts and Letters, the Louise Bourgeois Residency from Yaddo, and an artist grant from the National Endowment for the Arts.
Her work has been shown in numerous solo and two-person exhibitions including at the Modern Art Museum of Fort Worth, Museum of Contemporary Art Chicago, University of Maine Museum of Art in Orono, and galleries in New York City including Black & White Gallery, Claire Oliver Gallery, Joan Washburn Gallery, Ruth Siegel Gallery, and Plus Ultra Gallery. Notable group exhibitions in public institutions include the American Academy of Arts and Letters Ceremonial Exhibition, the Whitney Biennial Exhibition, New Orleans Museum of Art Frederick Weisman Collection, the Albright Knox Gallery in Buffalo, Institute of Contemporary Art in Philadelphia, Sheldon Art Museum in Lincoln, Nebraska and the Fleming Museum of Art in Burlington, Vermont.
"JoAnne Carson's work is animated, colorful and buoyant. I cannot think of a better show to mount in January in upstate New York, when a stubborn gray settles in and every living thing exists in a state of full or partial hibernation," says Judie Gilmore. Amidst the gloom of winter, Carson's work is a call to action.
JoAnne Carson: Rise Up and Shine! accompanies the 25-year survey exhibition, on view at Opalka Gallery January 21 through February 29, 2020.
In Place of Now catalog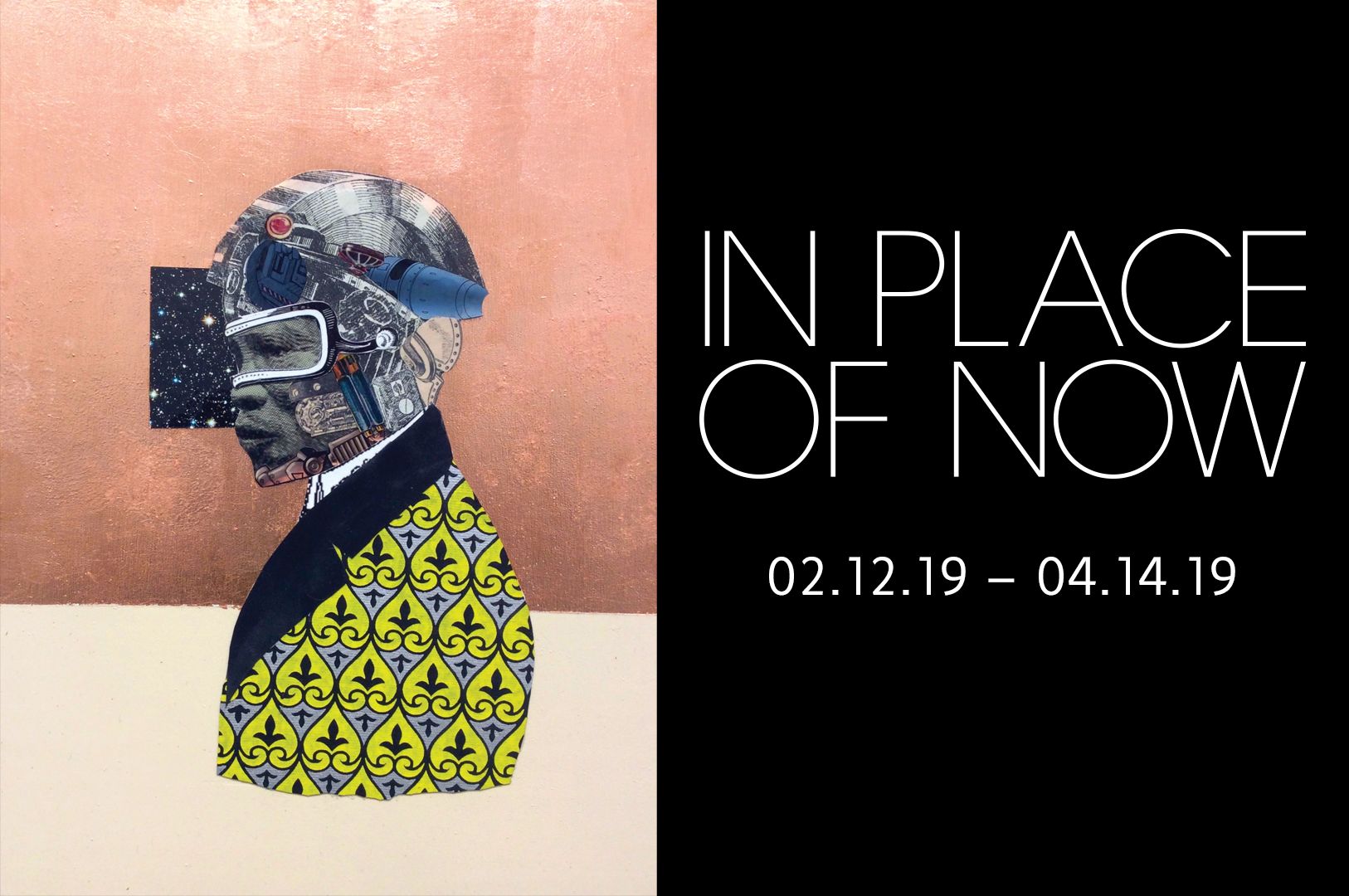 Exhibition Catalog with essay by co-curator Rone Shavers, an introduction by Opalka director Judie Gilmore and artists' bios.
44 pages, full color, $5 plus tax, US domestic shipping and handling. ($3+tax for students if purchased in gallery w/ ID.)
"In other words, Afrofuturism has become the way to speak of Blackness as an intersectional—instead of oppositional—mode of being, for the language of Afrofuturism has become the way to speak of Blackness and define one's Black identity as a "Black, in addition to…" subject position, as opposed to a "Black, instead of…" identity that relies upon a rigid definition of what Black is and isn't supposed to be. In short, the genre's obsession with re-envisioning both the future and past of Black people has given it a specific visual and thematic vocabulary that allows it to serve as the lingua franca of 21st century, Black identity concerns, and from this position, the genre has taken a distinctive, dominant spot in the Black public sphere. In regards to the question, What is Afrofuturism?, for the purposes of this show, the best answer lies in three simple words: See for yourself."–Rone Shavers in his catalog essay, "A Future Presents the Past"
Opalka Gallery is pleased to present In Place of Now, an ambitious group show co-curated by writer and scholar Rone Shavers and Judie Gilmore, gallery director. In Place of Now will showcase both emerging and established artists whose work engages in the politically subversive acts of picturing "otherness," reinventing the past, and reclaiming the future. These themes are common to Afrofuturism, now nearly 30 years old, but when viewed in today's hyper-partisan social and cultural spheres, they appear more political and less fantastical, more dystopian than utopian, and surprisingly more about us now, rather than an exploration of the other at any other time. That is to say, given our current political climate, works that include or address notions of estrangement seem more relevant, present, and profound than ever before. Within this context, we are interested in artwork that offers new speculations regarding contemporary black identity and explores issues of blackness, which again seems to be in contention.
The artists in this exhibition work in video, photography, painting, drawing, print media, sculpture, collage and installation. They are Willie Cole, Renée Cox, Shani Crowe, Krista Franklin, Wayne Hodge, Darian Longmire, Stacey Robinson, and Alisa Sikelianos-Carter.
Sharon Bates: Exhibit B
Exhibition catalog with essay by Michael Oatman and introduction by Opalka director Judie Gilmore
8 pages, full color, $5 plus tax, US domestic shipping and handling. $3+tax for students if purchase in gallery w/ID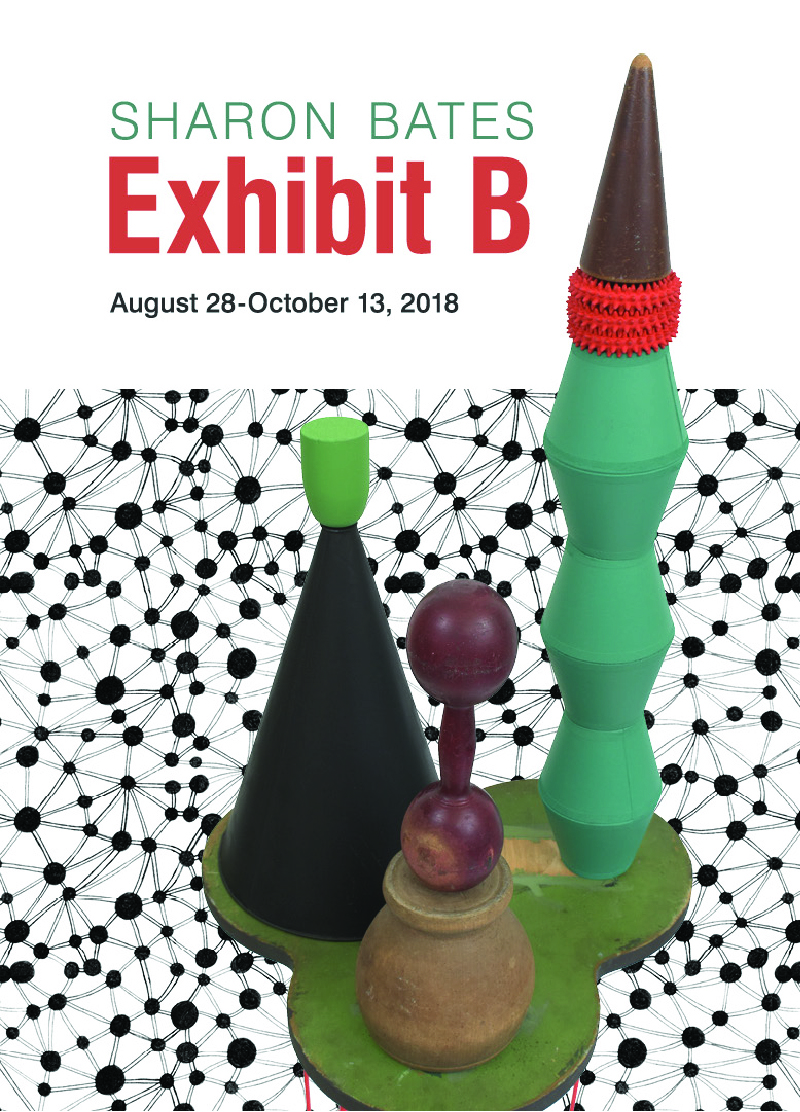 Opalka Gallery is pleased to present Sharon Bates: Exhibit B, a survey of the work of Sharon Bates, visual artist, independent curator and the Founding Director of the Albany International Airport Art & Culture Program, which has become a national model for public art. While she has been influencing the region's art scene for 30 years—curating exhibitions, showcasing young artists, elevating established artists—this is her first solo show since 1986. Upon leaving her position at the airport in 2016, Bates relocated downstate and has turned her attention full time to her own studio practice.
Drawn to objects whose form often precedes function, Bates finds relationships among oddball assortments of castaways. Birdcages, plant stands, and baskets become painted totems. Discovering, emphasizing and creating patterns, she makes drawings in conversation with the objects.
Exhibit B traces the evolution of a Bates composition from the objects she collects to the arranging and rearranging of those objects into new forms. The front of the gallery features her source material, while the main gallery encompasses her collages, assemblages, and drawings.
Judie Gilmore, director of Opalka, notes, "For many years at the airport, Sharon has shown us one side of her creative self. It is time we take a look at another side, to turn our attention away from her artful arrangement of others' work, to the artful arrangement of her own."
The 40th Annual Photo Regional: Effects That Aren't Special
Exhibition catalog with introductory essay by guest curator Tim Davis, and artist statements by each artist
39 pages, full color, $5 plus tax, US domestic shipping and handling, $3 for students if purchase in gallery w/ID.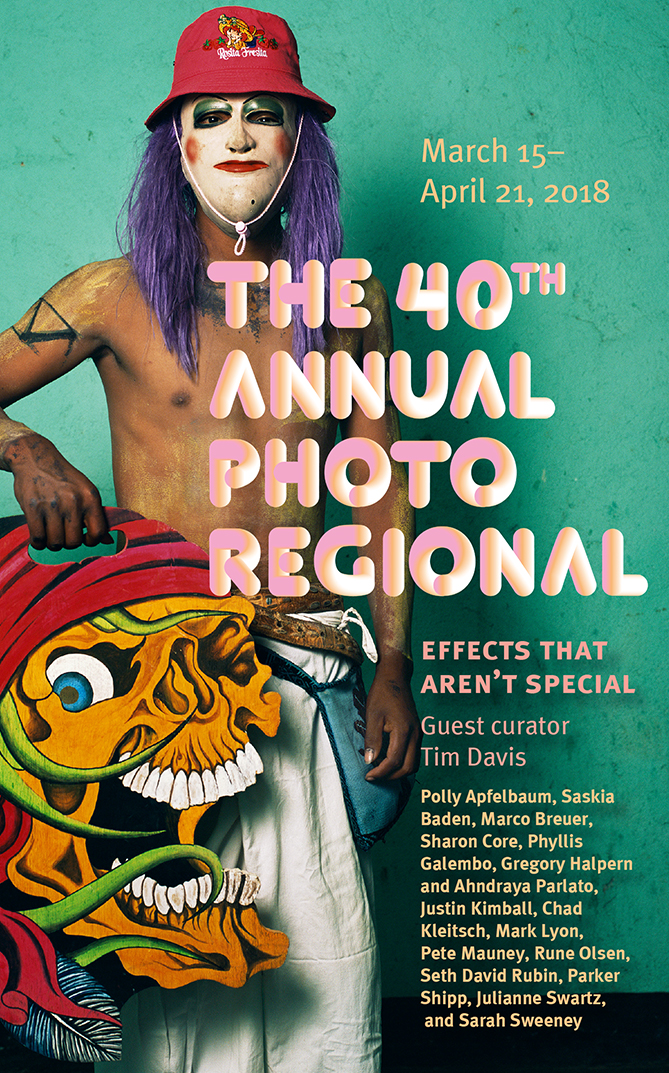 For the 40th Annual Photo Regional, we invited artist, writer, and photography professor Tim Davis to guest curate. The show is called Effects That Aren't Special and features 16 significant artists working with photographic materials: Polly Apfelbaum, Saskia Baden, Marco Breuer, Sharon Core, Phyllis Galembo, Justin Kimball, Chad Kleitsch, Mark Lyon, Pete Mauney, Rune Olsen, Ahndraya Parlato & Gregory Halpern, Seth David Rubin, Parker Shipp, Julianne Swartz and Sarah Sweeney. For Davis the title, Effects That Aren't Special, is a way to describe the sense that photography is a tool for describing the everyday in a way that we never easily acclimate to. Special effects are aesthetic tools that grab us, but almost always feel like filigree or decoration, abandoning our attention. The artists in this show employ optical, conceptual, or essential effects that we never get used to and that move to the heart of the matter, defining the work rather than selling it to us.
Practice What You Teach: Sage College of Albany Art + Design Faculty Show 2018
Exhibition catalog with introductory essays by Judie Gilmore and Matt McElligott
24 pages, $5 plus tax and US domestic shipping and handling, $3 for students if purchase in gallery, w/ID.
The Department of Art + Design at Sage College of Albany is a NASAD-accredited, four-year co-educational program offering degrees in Graphic + Media Design, Interior + Spatial Design, and Art + Extended Media.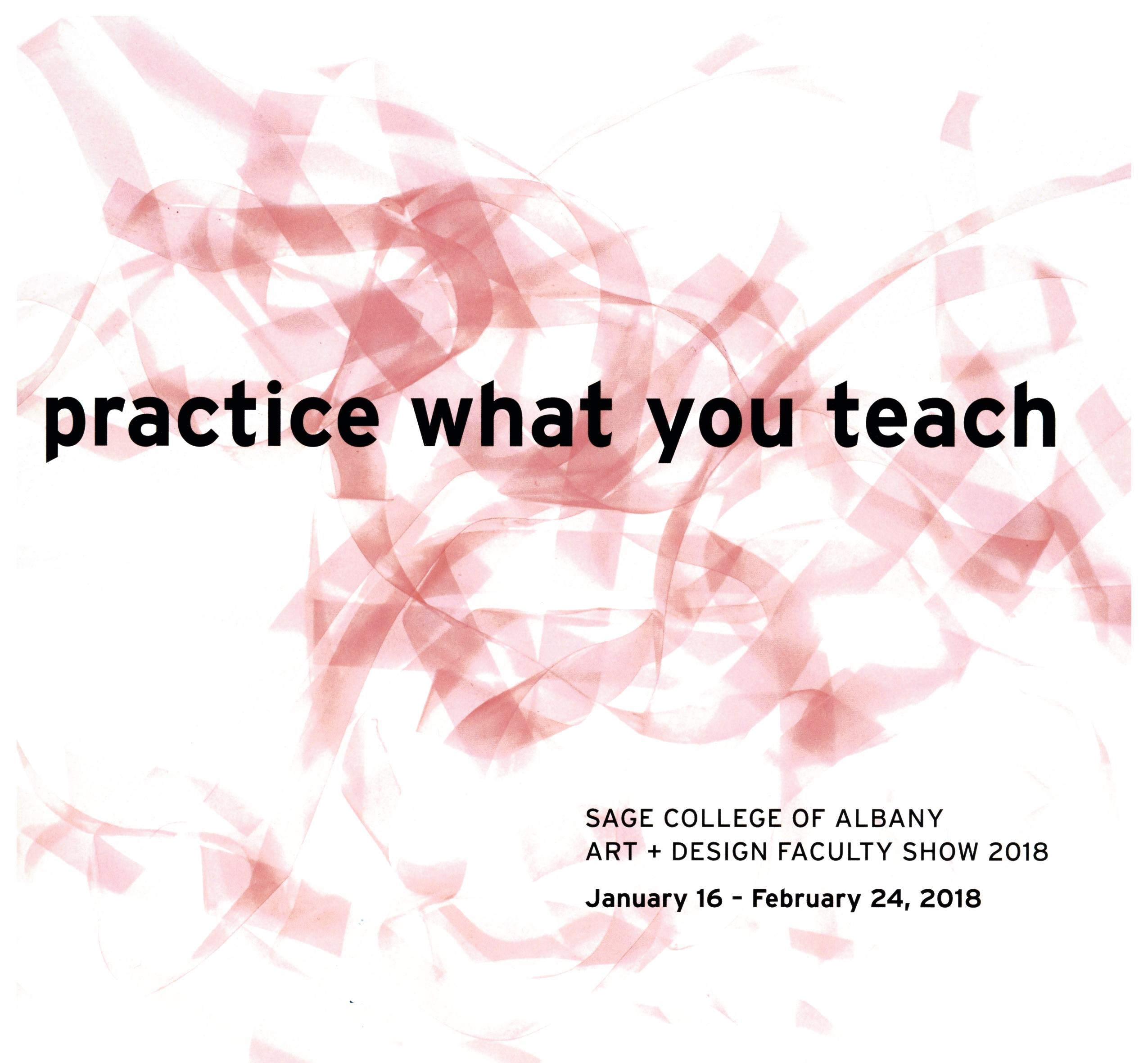 The faculty is comprised of artists in working in multiple media–sound, photo, graphic and interior design, printmaking, sculpture, and painting. Catalog features statements, biographies and images from Lynn Capirsello, Jean Dahlgren, Melody Davis, William Fillmore, Eleazar Hernández, Natasha Holmes, Sean Hovendick,  Willie Marlowe, Melinda McDaniel, Matthew McElligott, Leah Rico, Terrence Tiernan, and Gary Shankman.
Paper is Part of the Picture | Strathmore Paper and the Evolution of American Graphic Design
By Paul Shaw
Edited by Judie Gilmore and Amy Griffin
20 pages, $10 plus tax, US domestic shipping and handling, $5 for students if purchase in gallery w/ID.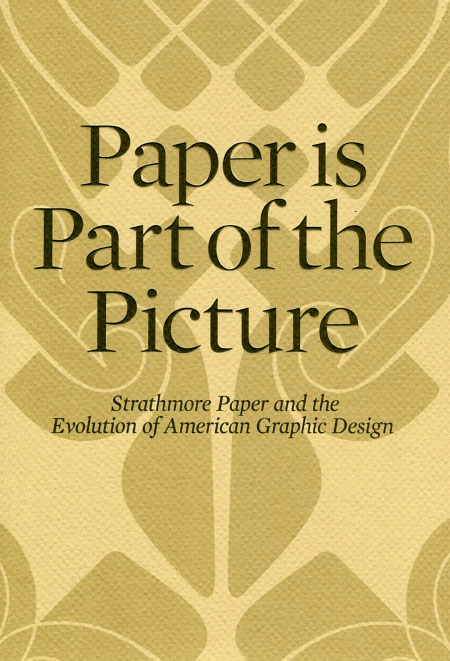 Paper is a substrate. It can be appreciated for its texture, its rattle, its pliability and its color. But for paper to truly come to life, it must become a surface for the addition of words and images.
Although this seems obvious today, in the 1890s American papermakers promoted their papers principally for their printing, folding and mailing abilities. That all changed in 1895 when Horace A. Moses, founder of the paper company that would later become Strathmore, commissioned famed American designer Will Bradley to create a sample book for the Strathmore Deckle Edge Book Paper. Bradley understood that paper was an integral part of printed design, and his innovative promotions marked the beginning of a fascinating partnership between Strathmore and artists, designers and advertising professionals. The notion that "Paper is Part of the Picture," a slogan coined by Strathmore in 1921, has embodied the company's promotional efforts for over a century.
Many of these promotional efforts along with numerous sample books survive as The Strathmore Archive at Mohawk. Collectively they represent a rich repository of graphic artifacts that provide a new perspective on the past 125 years of American graphic design. They are also a reminder that, even in our digital era, much design remains physical and tactile.
This catalog is printed as a portfolio with 19 unbound leaves featuring text by Paul Shaw on one side and reproductions of artwork by Lester Beall, Simms Taback, W.A. Dwiggins, Will Bradley and more.
Gravity & Light: Caroline Ramersdorfer | Sculpture 1985-2016
Edited by Elizabeth Greenberg and Amy Griffin
With contributions by Federica Anichini & Albert Ruetz
80 pages, $10 plus tax, US domestic shipping and handling, $5 for students if purchased in gallery w/ID.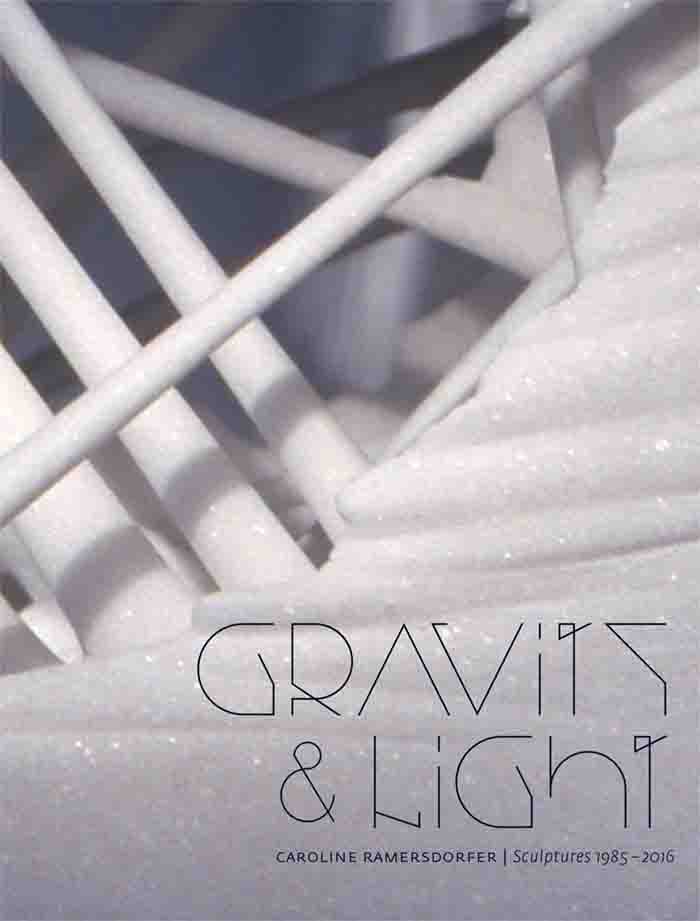 Born in Austria, schooled in Paris and Italy and now living the Adirondacks, Caroline Ramersdorfer is influenced by a sense of place. Having studied, worked, and exhibited all over the world in Asia, Europe, North America, and the Middle East, she often chooses locally-sourced materials and is motivated by a desire to bridge cultures and explore the ways we're all connected.
Starting with huge blocks of marble or alabaster, Ramersdorfer carves intricate interiors as if from the inside out, harnessing light and the marble's glittering whiteness. Ramersdorfer manages to finesse the innate properties of whatever material she starts with—no matter the size or color. She works in contrasts—smooth and rough, architectural and organic—to create sculptures that simultaneously appear grounded and weightless. For her, the interaction of stone, space, and light is a significant part of their presence, inviting eye and intellect to embark on a journey to analyze, reflect, and—ultimately—be inspired.
The only woman of 17 artists invited to participate in the Abu Dhabi International Sculpture Symposium in 2009, she was also selected to exhibit at the 2008 Olympic Summer Games in Beijing, where her piece is now permanently installed in front of the Beijing National Stadium.  She has numerous other permanent installations around the world, including her sculpture Inner View_Nexus_Open I at the Opalka Gallery.
Ramersdorfer began her studies with philosophy in Paris, France and continued at the International University of Art in Florence, Italy, where she focused on African art history, museum science, and Renaissance fresco restoration. She studied etching at the graphic art studio of Santa Reparata in Florence and sculpture at the Academy of Fine Arts in Carrara, Italy, graduating summa cum laude with a Master of Fine Arts in 1988.
Siona Benjamin: Beyond Borders
Edited by Elizabeth Greenberg
With contributions by Ori Z. Soltes, Matthew Baigell, and Aaron Rosen
64 pages, $10 plus tax, US domestic shipping and handling. $5 for students if purchased in gallery w/ID.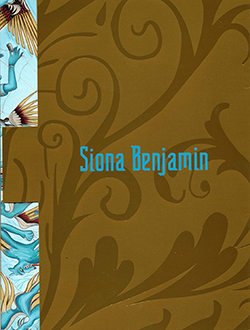 Siona Benjamin combines imagery from her Mumbai origins with global social issues to illustrate cultural, religious, and feminist narratives. Her life is a mosaic–a Bene Israel woman, raised in predominantly Hindu and Muslim, India, educated in Catholic and Zoroastrian schools, and now living in the United States–and so is her art. Inspired by traditions as diverse as Indian miniature painting, Byzantine icons, illuminated manuscripts, and American Pop Art, she attempts to create a dialogue between the ancient and the modern as the she transitions between worlds.
Siona Benjamin: Beyond Borders — both the exhibition and this catalog include examples from her early series, Finding Home, begun in the 1990s, on up through her current project, Exodus: I See Myself in You. Her 2011 series, Faces: Weaving Indian Jewish Narratives, is the culmination of a four-month-long project in which she set out to tell the stories of people in her childhood community of Indian Jews in Mumbai.
Edited by Elizabeth Greenberg, the catalog includes a conversation with the artist, as well as essays by Matthew Baigell, Ori Z. Soltes, and Aaron Rosen. Baigell, professor emeritus of art history at Rutgers University, writes about Benjamin's melding of feminism with her heritage and experiences in America as a woman of color. Ori Z. Soltes, who teaches at Georgetown University, focuses on the ways her search for a sense of place is inclusive and inviting, while Aaron Rosen, author of Imagining Jewish Art in the 21st Century, writes about her most recent and prescient series, Exodus: I See Myself in You, about the current plight of Syrian refugees.
Benjamin holds two MFA degrees, in painting and in theater set design. She's the recipient of two Fulbright Fellowships and will embark on a research trip to Israel for her most recent award, for a project entitled Motherland to Fatherland: Indian Transcultural Jews. She has exhibited internationally and has been featured in The New York Times, The Boston Globe, Art News, The Chicago Tribune and many other publications. She is represented by ACA Galleries in New York, NY.
From Concept to Console:
Art and Aesthetics in Video Game Design
With essays by co-curators Elizabeth Greenberg and Edward Ticson
64 pages, $10 plus tax, US domestic shipping and handling. $5 for students if purchased in gallery w/ID.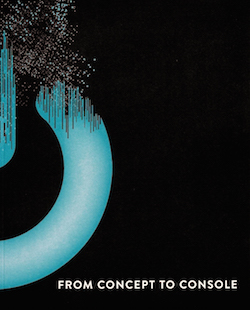 Behind the best visual games, there are individual artists creating exquisite and masterful work. In From Concept to Console, our goal is to pull the curtain back on how these games are conceived and created. We hope to both acknowledge the prominent role the visual artist plays in the development of a game, and to examine just how exceptional the art of the fledgling medium can be.
International in scope, seven games were selected to highlight aesthetic quality in a medium that is only forty years old. While the games chosen represent individual approaches to that medium, they each share a foundational common ground—they were produced with the aesthetic values and sensibilities of the traditional fine arts in mind. Technology has clearly played a major role in the creation of these games but at their core, they are visual stories being told using time-honored artistic methods.
From Concept to Console explores some of the best work and artists of the last ten years, namely the singular talents behind the games Machinarium, Botanicula, Skylanders: Swap Force, The Dream Machine, The Unfinished Swan, Transistor, and Tengami.
Meander, because you can't see much while marching / Mike Glier, A 35-Year Survey
132 pages. With essays by Lucy R. Lippard, Thomas Crow, and David Breslin, and an interview with the artist by Opalka director Elizabeth Greenberg.
$25 plus tax, US domestic shipping and handling. $10 for students if purchased in gallery w/ID.
Meander, Because You Can't See Much While Marching—the book—is both a tribute to Mike Glier's long, wide-ranging career, and a glimpse into his intellectual and artistic process. Like the exhibition at the Opalka Gallery that inspired it, the book captures the spirit of each phase of Glier's growth and exploration as an artist, by selecting representative works from throughout his career, beginning with Clubs of Virtue and White Male Power and ending with today's Antipodes and Forests of Antarctica. Richly illustrated, the book includes essays by noted art historians Lucy R. Lippard, Thomas Crow, and David Breslin, as well as an extensive, in-depth interview with the artist himself.
Mike Glier was born in Kentucky in 1953. He received his bachelor's degree from Williams College in 1976, attended the Whitney Museum Independent Study Program, and earned a master's degree in Studio Art from Hunter College in 1979. Among his artistic affiliations, Glier counts an active involvement in Collaborative Projects (Colab) from 1977 to 1984, and with Printed Matter, Inc. (as staff and later board member) from 1979 until 2000.  Professional recognition has been extensive, including a Guggenheim Fellowship in painting (1996); and the selection of Town Green (Cambridge, MA) as one of Americans for the Arts best public art works of the year (2004).
A professor of art at Williams College since 1996, Glier is unusually articulate and insightful about his own artistic process, the limits and possibilities of the ideas he pursues and the media he uses, and even the purposes and pleasures of making art. The pages that follow—with images of the works themselves, critical assessment of those works, and Glier's own candid words—reveal a masterful artist and his more than three decades of work.