18th Annual High School Regional Juried Art Exhibition
March 22 – April 23, 2017
Opening Reception: Friday, March 24, 5-8 pm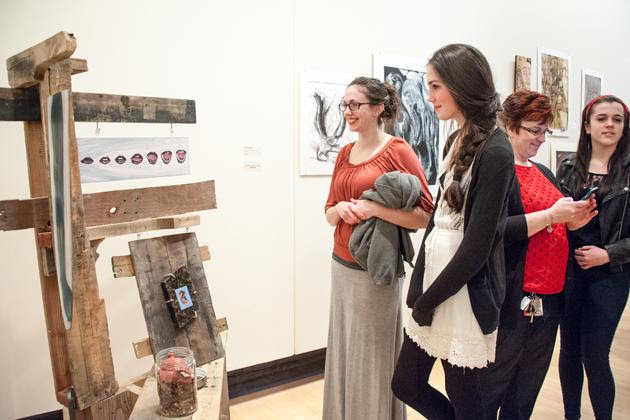 The Opalka Gallery is pleased to host the 18th Annual High School Regional Juried Art Exhibition presenting artwork by students from 20 regional high schools. The exhibit runs Wednesday, March 22 through Sunday, April 23. At a reception on Friday, March 24, Juror and Sage College of Albany Dean Jean Dahlgren noted the impressive talent on display and the difficulty of being able to only choose 1/3 of the work submitted.
On the jury panel, Dahlgren was joined by Daniel Goodwin, artist and Head of Photography and Related Media in the Department of Art and Art History at the University at Albany, and Elizabeth Greenberg, Director, Opalka Gallery at The Sage Colleges.
Participating schools and districts:
The Albany Academies, Albany City Schools, Averill Park, Ballston Spa, Bethlehem, Burnt-Hills-Ballston Lake, Cairo-Durham, Doane Stuart, East Greenbush, Emma Willard, Greenville, Guilderland, Ichabod Crane, Mohonasen, Niskayuna, North Colonie, Schenectady, Schodack, Scotia-Glenville, Shenendehowa, Voorheesville.
Awards were presented to the following:
The Sage College of Albany Dean's Award: Leah Paulson, Averill Park
The Opalka Gallery Award:  Malika Umar, The Albany Academies
The Sage College Department of Art+Design Award: Cecelia Lu, North Colonie
The Albany Center Gallery Membership Award: Emily Ma, Emma Willard
Juror's Awards:
The Lori Tansky Juror's Award for 3d Art: Alexis Graham, Ichabod Crane
Alexis Ebanks, North Colonie
Jackson Lalor, Bethlehem
Josh Langford, Ballston Spa
Morgan Moscinski, Averill Park