PLEASE Subscribe to our email list
FALL 2021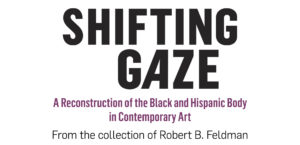 Through February 5, 2022.
Nina Chanel Abney | Farley Aguilar | Radcliffe Bailey | Yoan Capote | Nathaniel Donnett | Mark Thomas Gibson | Luis Gispert |
Clotilde Jiménez | Jennie C. Jones | Samuel Levi Jones | Nate Lewis | Kyle Meyer | Lavar Munroe | Toyin Ojih Odutola |
Ebony G. Patterson | Lamar Peterson Wanda Raimundi-Ortiz |
Paul Henry Ramirez | Jamel Shabazz | Vaughn Spann |
Shawn Theodore Mickalene Thomas | Hank Willis Thomas |
Carlos Vega | Lynette Yiadom-Boakye | Nate Young
Opalka Gallery is pleased to announce Shifting Gaze: A Reconstruction of the Black & Hispanic Body in Contemporary Art from the collection of Dr. Robert B. Feldman. A traveling exhibition that originated at the Mennello Museum in Orlando, Florida, this exhibition will be on view at Opalka Gallery from October 22 through December 14, 2021. The 26 internationally recognized artists in the exhibition draw upon art history, American history, and popular culture to create powerful works that, independently and collectively, present a broad range of concepts about identity, beauty, belonging, and religion, as well as work with deep gravitas around issues of race, sexuality, violence, displacement, vulnerability, erasure, and visibility.
"In ways both poignant and celebratory, and in disparate styles and media, the artists in this exhibition center the body, representation, and identity in their work. We're thrilled to be able to share Dr. Feldman's collection and these important artists with our community," Opalka Director Judie Gilmore said.
The title Shifting Gaze is evocative and an emblematic reference to art history and the critical social agency of our current times. Through various media, such as painting, sculpture, drawing, and collage, the Black and Hispanic body (physical and metaphoric) is implied or materializes with subtlety in some instances, beautifully unfolds in others, and in a few, is direct, dramatic, and heartbreaking. The symbolic framework of the Shifting Gaze helps generate a larger dialogue among the works on view and the specificities of a diverse African and Hispanic diaspora in our current physical, social, and political landscape, as revealed through each artist's personal experience and distinctive aesthetics. The "Shifting Gaze"—who is looking at who—engages perception, seeing, and objectification, while "Reconstruction" represents a new articulation and possible new constructs via a new voice, from the past and projected into a resonant now.
"The artists in Shifting Gaze are powerfully breaking boundaries in the conversation about identity and culture in America—especially through the lens of seeing the body and that body having agency," says Dr. Feldman. "I am inspired by their work and vision and honored to support them as critical artists at the forefront of important dialogues in our culture."
A full-color exhibition catalog was produced on the occasion of the exhibition and includes an essay by Mennello Museum of Art Executive Director and Shifting Gaze curator Shannon Fitzgerald and an interview with Dr. Feldman by Katherine Navarro, Associate Curator of Education, Mennello Museum of American Art. A limited number will be for sale in the gallery.
Mohawk Hudson Regional Exhibition
September 7 through October 9, 2021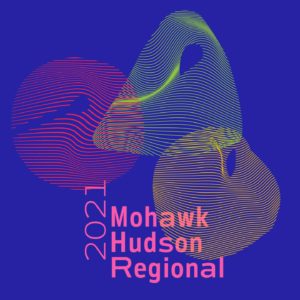 For the first time in its 85-year history, the Mohawk-Hudson Regional exhibition will be presented at three locations simultaneously: Albany Center Gallery, Albany International Airport Gallery and Opalka Gallery at Russell Sage College. While for decades, the exhibition has rotated among the Albany Institute of History & Art, The Hyde Collection Art Museum in Glens Falls, and The University Art Museum, University at Albany, this year's reimagined version reflects the spirit of creative innovation that distinguishes our regional arts community. The exhibition call was open to all visual artists residing within a 100-mile radius of Albany, NY and Glens Falls, NY.
Traditionally, the annual Artists of the Mohawk-Hudson Region exhibition is curated by a single guest juror and presented in a one location. By expanding to include three Albany galleries, with a different juror selecting work for each space, this year's exhibition will be broader in scope than those of the past, and each iteration will reflect the distinct mission of each gallery and the vision of each juror. Mixed media artist Alisa Sikelianos-Carter will choose work for Albany Center Gallery, curator and artist Tommy Gregory will choose work for Albany International Airport Gallery, and gallerist Pamela Salisbury will choose for Opalka Gallery.
DATES OF EXHIBITION:
Albany Center Gallery: September 10 – October 9, 2021
Albany International Airport Gallery: September 16 – November 8, 2021
Opalka Gallery: September 7 – October 9, 2021
RECEPTION AND AWARDS CEREMONIES:
Albany International Airport Gallery: Thursday, September 16 6-8 pm
Opalka Gallery: Friday, September 17 (6-8 pm)
Albany Center Gallery: Saturday, September 18 (3-5 pm)
For more info, please see Mohawk Hudson Regional Exhibition.
Take a virtual tour of the exhibition: