PLEASE Subscribe to our email list
FALL-WINTER 2021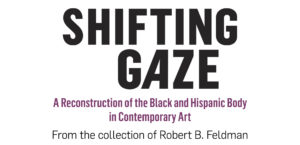 Through February 5, 2022.
Nina Chanel Abney | Farley Aguilar | Radcliffe Bailey | Yoan Capote | Nathaniel Donnett | Mark Thomas Gibson | Luis Gispert |
Clotilde Jiménez | Jennie C. Jones | Samuel Levi Jones | Nate Lewis | Kyle Meyer | Lavar Munroe | Toyin Ojih Odutola |
Ebony G. Patterson | Lamar Peterson Wanda Raimundi-Ortiz |
Paul Henry Ramirez | Jamel Shabazz | Vaughn Spann |
Shawn Theodore Mickalene Thomas | Hank Willis Thomas |
Carlos Vega | Lynette Yiadom-Boakye | Nate Young
Opalka Gallery is pleased to announce Shifting Gaze: A Reconstruction of the Black & Hispanic Body in Contemporary Art from the collection of Dr. Robert B. Feldman. A traveling exhibition that originated at the Mennello Museum in Orlando, Florida, this exhibition will be on view at Opalka Gallery from October 22 through February 5, 2022. The 26 internationally recognized artists in the exhibition draw upon art history, American history, and popular culture to create powerful works that, independently and collectively, present a broad range of concepts about identity, beauty, belonging, and religion, as well as work with deep gravitas around issues of race, sexuality, violence, displacement, vulnerability, erasure, and visibility.
"In ways both poignant and celebratory, and in disparate styles and media, the artists in this exhibition center the body, representation, and identity in their work. We're thrilled to be able to share Dr. Feldman's collection and these important artists with our community," Opalka Director Judie Gilmore said.
The title Shifting Gaze is evocative and an emblematic reference to art history and the critical social agency of our current times. Through various media, such as painting, sculpture, drawing, and collage, the Black and Hispanic body (physical and metaphoric) is implied or materializes with subtlety in some instances, beautifully unfolds in others, and in a few, is direct, dramatic, and heartbreaking. The symbolic framework of the Shifting Gaze helps generate a larger dialogue among the works on view and the specificities of a diverse African and Hispanic diaspora in our current physical, social, and political landscape, as revealed through each artist's personal experience and distinctive aesthetics. The "Shifting Gaze"—who is looking at who—engages perception, seeing, and objectification, while "Reconstruction" represents a new articulation and possible new constructs via a new voice, from the past and projected into a resonant now.
"The artists in Shifting Gaze are powerfully breaking boundaries in the conversation about identity and culture in America—especially through the lens of seeing the body and that body having agency," says Dr. Feldman. "I am inspired by their work and vision and honored to support them as critical artists at the forefront of important dialogues in our culture."
A full-color exhibition catalog was produced on the occasion of the exhibition and includes an essay by Mennello Museum of Art Executive Director and Shifting Gaze curator Shannon Fitzgerald and an interview with Dr. Feldman by Katherine Navarro, Associate Curator of Education, Mennello Museum of American Art. A limited number will be for sale in the gallery.
On December 1, curator Shannon Fitzgerald moderated a panel with three artists from the exhibition. The event was recorded; watch it below.
SPRING 2022
Judith Braun: My Pleasure
February 22 through April 23, 2022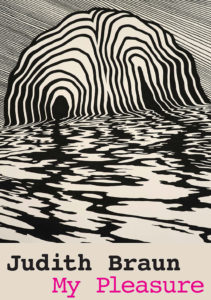 Reception: FRI, March 4, 2022, 5:30 to 8:30pm
Opalka Gallery is pleased to present Judith Braun: My Pleasure, a solo exhibition of new work, on view February 22 through April 23, 2022. Fifteen new paintings and ten painted sculptures will be included along with two site-specific murals and one large wall installation from 1993.
Since 1993, Braun has been working on a system of drawings called Symmetrical Procedures, guided by abstraction and symmetry and reflecting her philosophy of freedom through discipline. Her framework uses bold black and white patterns, simple geometry, and an obsession with symmetry to create an emergent self-organizing system where multiple elements coalesce into groups and subgroups that begin to find their own order. As Braun says, this process mimics "the way cities, software, nature, and our brains find order." In related work, Braun uses her body as a symmetrical drawing tool, creating large murals with her fingerprints. She has been commissioned to create these murals at multiple sites around the world. A new 12 x 12 foot site-specific wall mural will be included in this exhibition.
As Braun's world shrank during the COVID-19 pandemic, she returned to small drawings, creating symmetries and circles that began to reference heads, specifically her own. "The work seems to be asserting my existence along with my fears and uncertainties but to capture the urgency of the present moment, their small size just didn't do," says Braun. She then began making large paintings on raw canvas with black paint, and sometimes a splash of neon color, to give visual form to her frame of mind—simultaneously reaching out and reaching in. The resulting 15 paintings and 10 painted cubes comprise the bulk of the exhibition. 
Born in Albany, New York, in 1947, Judith Braun attended the Fashion Institute of Technology in New York City. Majoring in fashion illustration, she learned the discipline of figure drawing but was not interested in a career in commercial art and eventually received an MFA from the University at Albany in 1983. She lived in New York City until recently when she returned to Albany.
Over her career she has created a diverse body of work, from realistic paintings of angels to wall-sized photocopies of genitals, from pristine symmetrical drawings, to charcoal fingerprint murals. She has exhibited nationally and internationally, in exhibitions at the Chrysler Museum of Art in Virginia and the Indianapolis Museum of Art, and reviewed by prominent New York Times art critic Roberta Smith and in Hyperallergic and the Brooklyn Rail. She is the recipient of a Pollock-Krasner grant and an Adolf & Esther Gottlieb grant. In 2010, she appeared on Bravo TV's Work of Art, a reality TV series.
She has changed her name several times, along the way, from her married name, Judith Weinman, to Judith Weinperson, and back to her birth name, Judith Braun. She sees it as all part of a search for selfhood, also expressed by her show titles, Homeostasis, Crazy Bitch, and My Pleasure. My Pleasure also references a feminist double entendre-—the desire women often have to please others, as well as the radical act of doing what pleases oneself.
Her work will be included in the exhibition Eleven Women of Spirit in Spring 2022 at Zürcher Gallery in New York City.
The opening reception for Judith Braun: My Pleasure will be on Friday, March 4. Judith Braun will give a tour and talk on April 14. Opalka is pleased to welcome Ellen Sinopoli Dance Company back to the gallery on Saturday, March 12. ESDC will be performing site-specific dances created in collaboration with Braun and in response to the exhibition. Tickets will be available for purchase for $24; email [email protected] to reserve.