Spring 2020
All events are free and open to the public, unless indicated.
JoAnne Carson: Rise Up and Shine!
January 21 through February 29, 2020

Opalka Gallery is pleased to present a 25-year survey of the work of JoAnne Carson. JoAnne Carson: Rise Up and Shine! will open on January 21, with a reception on Friday, February 7 from 6 pm to 8 pm. From her punchy, exuberant paintings to her quirky, zoomorphic sculptures and expressive drawings, Carson has established a unique artistic voice that merges references to the natural world with strange juxtapositions, unexpected materials, and playfully dark moods. Despite few figures in her work, every shape Carson creates bursts with life: trees, rocks, and flowers bow, droop, pose, and even vogue.
The work is simultaneously joyful and cynical, smart and approachable, not unlike the artist herself. Carson, who has taught studio art at the University at Albany for over three decades, has had an immeasurable impact on the region's artists and art community. JoAnne Carson was born in New York City and currently splits her time between Brooklyn, New York and Shoreham, Vermont. She received her MFA degree from the University of Chicago and attended the University of Illinois for undergraduate school.
Carson's work can be found in various public collections including the Brooklyn Museum, Modern Art Museum of Fort Worth, Joslyn Art Museum in Omaha, Nebraska, Museum of Contemporary Art Chicago, David and Alfred Smart Museum of Art in Chicago, Frederick Weisman Art Museum in Minneapolis, and Sheldon Museum of Art in Lincoln, Nebraska.
She has received many awards including a Guggenheim Fellowship, the Rome Prize from the American Academy in Rome, an Award in the Visual Arts, a Purchase Prize from The American Academy of Arts and Letters, the Louise Bourgeois Residency from Yaddo, and an artist grant from the National Endowment for the Arts.
Her work has been shown in numerous solo and two-person exhibitions including at the Modern Art Museum of Fort Worth, Museum of Contemporary Art Chicago, University of Maine Museum of Art in Orono, and galleries in New York City including Black & White Gallery, Claire Oliver Gallery, Joan Washburn Gallery, Ruth Siegel Gallery, and Plus Ultra Gallery.
Notable group exhibitions in public institutions include the American Academy of Arts and Letters Ceremonial Exhibition, the Whitney Biennial Exhibition, New Orleans Museum of Art Frederick Weisman Collection, the Albright Knox Gallery in Buffalo, Institute of Contemporary Art in Philadelphia, Sheldon Art Museum in Lincoln, Nebraska and the Fleming Museum of Art in Burlington, Vermont.
Opening Reception FRI, February 7, 6pm-8pm
Curators' Tour FRI, February 7, 5pm
Student Reception TUES, February 18, 5:30 pm
Artist Talk TUES, February 18, 6:30pm
The 21st Annual High School Regional
March 17 through April 18, 2020
Juried showcase of the best artwork by regional high school students from 24 districts. This year's jurors are Rachel Baxter, Melinda McDaniel, and Jordan Nathaniel White. 
Opening Reception and Awards: FRI, March 20, 5pm-8pm
Panel Discussions: WED, April 8
So You Want To Go To Art School? 6pm
What's Next: Careers for BFA Students 7:15pm
Come to one or both discussions to learn about art school: how to get in, what to expect, and different programs to consider. Hear from local professionals about how they translated a BFA into a successful career.
Sage Art+Design BFA Exhibition
May 1 through June 13, 2020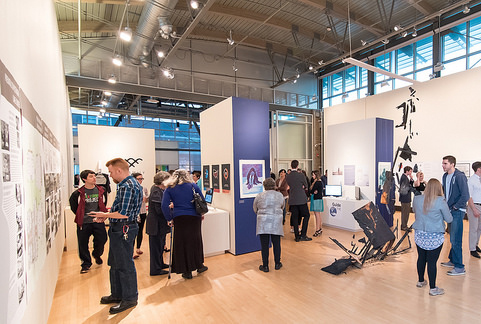 Annual Showcase featuring senior work from the Sage College Art+Design BFA Program.
Opening Reception May 1, FRI 5pm to 7pm