PLEASE Subscribe to our email list
SPRING 2023
Check our events page for events during this show!
March 7, 2023 through April 22, 2023
UP SOUTH: Reflections on the Great Migration by ransome
In collaboration with Black Dimensions in Art, Inc., Opalka Gallery is pleased to present a new solo exhibition from the artist ransome. Over a sixty-year period, Black people left behind poverty and Jim Crow in search of new lives in the North, Midwest, and West. In new paintings, installation, and sculpture, he reflects on this defining moment in America's history and the ways in which his work is interwoven with this historic narrative.
SUSTAINING SUPPORT PROVIDED BY
Chet & Karen Opalka
Sage Art+Design BFA Exhibition
May 5 through June 2, 2023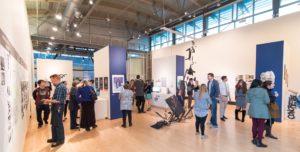 Annual Showcase featuring senior work from the Sage College Art+Design BFA Program.