PLEASE Subscribe to our email list
FALL 2022
November 11, 2022 through January 7, 2023
Some Bodies
Subject, Object, and Identity in Nursing, Medicine, and Art 
Corinne Botz
Clairty Haynes
Oliver Herring
Kaisu Koski
Gracelee Lawrence
Lisa Nilsson
Rosemary Meza-DesPlas
Sarah Sweeney
Armando Veve
The relationship between subject and object in the portrayal of the human body has been a fascinating dichotomy throughout the history of art. With current conversations around identity and the prolific visual representations of our selves through social media, contemporary artists have more to say than ever before about what it means to depict a body and what that body says or doesn't say about an individual's identity. This dynamic dialogue among subject, object, and identity also exists in the healthcare fields, as practitioners must objectify patients to treat them, but also understand them as subjects and individuals to treat them compassionately.
Close observation and dialogue about artwork can be used to improve clinical practice in nursing and other medical education. Some Bodies challenges viewers to think about human bodies as objects, the subjects they represent, and the clues about identity that are present or assumed. 
Opening Reception: November 11, 6pm to 8pm.
Screenprint Biennial & Graphic Liberation!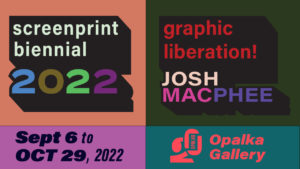 Reception: Friday, Sept. 16, 5:30pm, with outdoor Pop-Up Beer Garden!
The 2022 Screenprint Biennial & Graphic Liberation!
Organized by printmaker Nathan Meltz with guest jurors John Hitchcock and Mizin Shin, this will be the fifth Screenprint Biennial, and the second hosted by Opalka Gallery. Founded by Meltz in 2014, the Screenprint Biennial has a mission of showcasing a range of screenprint-based art applications, from framed editioned prints to installation, sculpture, video, ephemera, and posters. The exhibition isn't meant to act as a survey or "who's-who" of screenprinting, but to highlight artists with adventurous, relevant, and passionate takes on the medium.
This year's biennial exhibit exemplifies these qualities, presenting a group of art works ranging from thoughtful personal revelations, to revolutionary political zeal, to experiments in new technologies. Several artists address salient issues of capitalism, immigration, war, and the body. Twenty-first century technologies like augmented reality graphics and hydrographic printing join with centuries-old screenprinting techniques to present impactful expressions. Among nearly 300 entries submitted internationally, 25 artists were selected to exhibit in this year's biennial.
Graphic Liberation! is an interactive exhibition and workshop created by Brooklyn-based artist, designer, and activist Josh MacPhee to map out a visual language of solidarity, human liberation, and dignity which has evolved and been built across the borders of time, nation state, and spoken/written language. Visitors are encouraged to remix this imagery and create new political posters about issues that are meaningful to them in a workshop right in the gallery, complete with relief printing, screenprinting and riso printing. MacPhee will give a talk on October 6, and will be in residence during the exhibition to lead workshops, and engage with students and diverse partners we have organized to utilize the space. Artists Rebekah Tolley, Maya Lewis and Sage alumni and designer Noah Ross will run print workshops for community groups, along with current Russell Sage art students. 
Graphic Liberation! originated at Colgate University. It ambitiously grew in scope and presentation into We Want Everything, an exhibition designed and supported by the Cleveland Institute of Art's Reinberger Gallery and in collaboration with CIA's Printmaking Department.
The Graphic Liberation! workshop will be staffed by an instructor who can guide visitors in artmaking on Thursdays from 5pm to 8pm and Saturdays from 12 to 5pm. If in the gallery at other times and you want to use the workshop, just ask the gallery attendant for help. Community group interested in signing up for a an artist-guided workshop can email [email protected] to make an appointment.
Graphic Liberation! is made possible with funds from the Decentralization Grant program, a regrant program of the New York State Council on the Arts with the support of the Governor and the New York State Legislature and administered by the Arts Center of the Capital Region.


Also, through in-kind support from Toshiba.

SUSTAINING SUPPORT PROVIDED BY
Chet & Karen Opalka