PLEASE Subscribe to our email list
Unraveling
Yura Adams, Joan Grubin, Ruby Palmer, and Christina Tenaglia
October 27 through December 19, 2020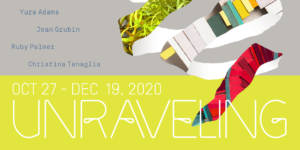 Unraveling is an exhibition of four women artists–Yura Adams, Joan Grubin, Ruby Palmer, and Christina Tenaglia–who have been selected for their audacity, commitment, and strength of visual expression.  As the world unravels, their resourcefulness in fabricating their art expands in equal measure. The work of these four artists shares an expressive quality and a dominant interest inform and these qualities unite the group visually. The artists are also united by their ability to make leaps of imagination in the studio and this show reveals this unraveling of resourcefulness.
Curated by Yura Adams, Unraveling unites this group under the theme of communicating a power of conviction in the face of an uncertain world.
View the exhibition website here.
TUES. OCT. 27
6:30PM Virtual Reception & Curator's Tour 
7:00PM Conversation: Artist/Woman. Woman/Artist.
Virtual Opening Reception and Curator's Tour with Yura Adams followed at 7pm by a panel discussion Artist/Woman. Woman/Artist., with the Unraveling artists and moderated by Nicole Hayes, curator at Art Omi, in collaboration with The Women's Institute at Russell Sage College. This event was recorded and can be viewed on the exhibition website here.