SPRING 2023
Check our Events page for events during this show!
SUSTAINING SUPPORT PROVIDED BY
Chet & Karen Opalka
Sage Art+Design BFA Exhibition
May 5 through June 9, 2023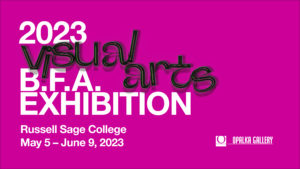 Annual Showcase featuring senior work from the Sage College Art+Design BFA Program.
UP SOUTH: Reflections on the Great Migration by ransome

March 7, 2023 through April 22, 2023
In collaboration with Black Dimensions in Art, Inc., Opalka Gallery is pleased to present a new solo exhibition from the artist ransome. Over a sixty-year period, Black people left behind poverty and Jim Crow in search of new lives in the North, Midwest, and West. In new paintings, installation, and sculpture, he reflects on this defining moment in America's history and the ways in which his work is interwoven with this historic narrative.
Check out this short video about the exhibition: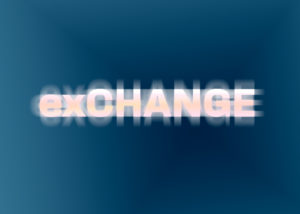 exCHANGE: Teaching and Mentorship in Creative Practice
January 24 through February 18, 2023
Russell Sage College, Department of Visual Arts Faculty Exhibition 2023

exCHANGE showcases the ways teaching and mentorship in creative fields are often exchanges of ideas, knowledge, and inspiration with other practitioners, regardless of experience. By allowing Russell Sage College full-time arts faculty to invite an impactful teacher or student to exhibit alongside them, we celebrate the critical role that teaching and mentorship play in creative practice. 
FEATURING THE FOLLOWING EXCHANGES: 
Lynn Capirsello + Anthony Cinque
Melody Davis + Larry Moore
William Fillmore + Peter Kenar
Sean Hovendick + Madison Scisci
Melinda McDaniel + Ardine Nelson + Tony Mendoza 
Matthew McElligott + Kathy McElligott
Leah Rico + Janine Alaxanian + Ariel McBride + Julia Scipione
FALL 2022
Some Bodies
Subject, Object, and Identity in Nursing, Medicine, and Art 
November 11, 2022 through January 7, 2023
Corinne Botz
Clarity Haynes
Oliver Herring
Kaisu Koski
Gracelee Lawrence
Lisa Nilsson
Rosemary Meza-DesPlas
Sarah Sweeney
Armando Veve
The relationship between subject and object in the portrayal of the human body has been a fascinating dichotomy throughout the history of art. With current conversations around identity and the prolific visual representations of our selves through social media, contemporary artists have more to say than ever before about what it means to depict a body and what that body says or doesn't say about an individual's identity. This dynamic dialogue among subject, object, and identity also exists in the healthcare fields, as practitioners must objectify patients to treat them, but also understand them as subjects and individuals to treat them compassionately.
Close observation and dialogue about artwork can be used to improve clinical practice in nursing and other medical education. Some Bodies challenges viewers to think about human bodies as objects, the subjects they represent, and the clues about identity that are present or assumed. 
Click here for a 3D walkthrough.
Screenprint Biennial & Graphic Liberation!
September 6 through October 29, 2023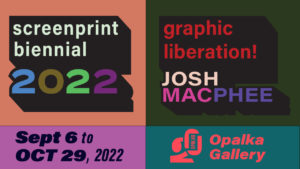 Reception: Friday, Sept. 16, 5:30pm, with outdoor Pop-Up Beer Garden!
The 2022 Screenprint Biennial & Graphic Liberation!
Organized by printmaker Nathan Meltz with guest jurors John Hitchcock and Mizin Shin, this will be the fifth Screenprint Biennial, and the second hosted by Opalka Gallery. Founded by Meltz in 2014, the Screenprint Biennial has a mission of showcasing a range of screenprint-based art applications, from framed editioned prints to installation, sculpture, video, ephemera, and posters. The exhibition isn't meant to act as a survey or "who's-who" of screenprinting, but to highlight artists with adventurous, relevant, and passionate takes on the medium.
This year's biennial exhibit exemplifies these qualities, presenting a group of art works ranging from thoughtful personal revelations, to revolutionary political zeal, to experiments in new technologies. Several artists address salient issues of capitalism, immigration, war, and the body. Twenty-first century technologies like augmented reality graphics and hydrographic printing join with centuries-old screenprinting techniques to present impactful expressions. Among nearly 300 entries submitted internationally, 25 artists were selected to exhibit in this year's biennial.
Graphic Liberation! is an interactive exhibition and workshop created by Brooklyn-based artist, designer, and activist Josh MacPhee to map out a visual language of solidarity, human liberation, and dignity which has evolved and been built across the borders of time, nation state, and spoken/written language. Visitors are encouraged to remix this imagery and create new political posters about issues that are meaningful to them in a workshop right in the gallery, complete with relief printing, screenprinting and riso printing. MacPhee will give a talk on October 6, and will be in residence during the exhibition to lead workshops, and engage with students and diverse partners we have organized to utilize the space. Artists Rebekah Tolley, Maya Lewis and Sage alumni and designer Noah Ross will run print workshops for community groups, along with current Russell Sage art students. 
Graphic Liberation! originated at Colgate University. It ambitiously grew in scope and presentation into We Want Everything, an exhibition designed and supported by the Cleveland Institute of Art's Reinberger Gallery and in collaboration with CIA's Printmaking Department.
The Graphic Liberation! workshop will be staffed by an instructor who can guide visitors in artmaking on Thursdays from 5pm to 8pm and Saturdays from 12 to 5pm. If in the gallery at other times and you want to use the workshop, just ask the gallery attendant for help. Community group interested in signing up for a an artist-guided workshop can email [email protected] to make an appointment.
Graphic Liberation! is made possible with funds from the Decentralization Grant program, a regrant program of the New York State Council on the Arts with the support of the Governor and the New York State Legislature and administered by the Arts Center of the Capital Region.


Also, through in-kind support from Toshiba.

SUSTAINING SUPPORT PROVIDED BY
Chet & Karen Opalka
SPRING 2022
The 2022 Art+Design BFA Exhibition
May 6 through June 3, 2022
The Annual BFA Exhibition offers showcases the best of what Russell Sage College's Art+Design BFA programs have to offer: Art+Extended Media, Graphic+Media Design and Interior+Spatial Design.
Judith Braun: My Pleasure
February 22 through April 23, 2022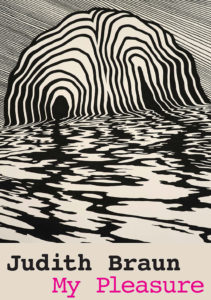 Opalka Gallery is pleased to present Judith Braun: My Pleasure, a solo exhibition of new work, on view February 22 through April 23, 2022. Fifteen new paintings and ten painted sculptures will be included along with two site-specific murals and one large wall installation from 1993.
Since 1993, Braun has been working on a system of drawings called Symmetrical Procedures, guided by abstraction and symmetry and reflecting her philosophy of freedom through discipline. Her framework uses bold black and white patterns, simple geometry, and an obsession with symmetry to create an emergent self-organizing system where multiple elements coalesce into groups and subgroups that begin to find their own order. As Braun says, this process mimics "the way cities, software, nature, and our brains find order." In related work, Braun uses her body as a symmetrical drawing tool, creating large murals with her fingerprints. She has been commissioned to create these murals at multiple sites around the world. A new 12 x 12 foot site-specific wall mural will be included in this exhibition.
As Braun's world shrank during the COVID-19 pandemic, she returned to small drawings, creating symmetries and circles that began to reference heads, specifically her own. "The work seems to be asserting my existence along with my fears and uncertainties but to capture the urgency of the present moment, their small size just didn't do," says Braun. She then began making large paintings on raw canvas with black paint, and sometimes a splash of neon color, to give visual form to her frame of mind—simultaneously reaching out and reaching in. The resulting 15 paintings and 10 painted cubes comprise the bulk of the exhibition. 
Born in Albany, New York, in 1947, Judith Braun attended the Fashion Institute of Technology in New York City. Majoring in fashion illustration, she learned the discipline of figure drawing but was not interested in a career in commercial art and eventually received an MFA from the University at Albany in 1983. She lived in New York City until recently when she returned to Albany.
Over her career she has created a diverse body of work, from realistic paintings of angels to wall-sized photocopies of genitals, from pristine symmetrical drawings, to charcoal fingerprint murals. She has exhibited nationally and internationally, in exhibitions at the Chrysler Museum of Art in Virginia and the Indianapolis Museum of Art, and reviewed by prominent New York Times art critic Roberta Smith and in Hyperallergic and the Brooklyn Rail. She is the recipient of a Pollock-Krasner grant and an Adolf & Esther Gottlieb grant. In 2010, she appeared on Bravo TV's Work of Art, a reality TV series.
She has changed her name several times, along the way, from her married name, Judith Weinman, to Judith Weinperson, and back to her birth name, Judith Braun. She sees it as all part of a search for selfhood, also expressed by her show titles, Homeostasis, Crazy Bitch, and My Pleasure. My Pleasure also references a feminist double entendre-—the desire women often have to please others, as well as the radical act of doing what pleases oneself. Her work will be included in the exhibition Eleven Women of Spirit in Spring 2022 at Zürcher Gallery in New York City.
Virtual walkthrough of the show:

Opalka was pleased to welcome Ellen Sinopoli Dance Company back to the gallery on Friday, April 1. ESDC  performed site-specific dances created in collaboration with Braun and in response to the exhibition. 
A 32-page full color catalog accompanies this exhibition. Designed by Leah Rico, it features essays by art critic Jessica Holmes and gallerist Aniko Erdosi and can be purchased in the gallery or online at this link for $10 (+ tax, and shipping if required).
Watch a timelapses video of Braun creating her site-specific murals in the gallery:
FALL 2021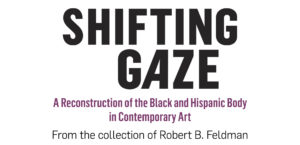 October 22, 2021 through February 5, 2022.
Nina Chanel Abney | Farley Aguilar | Radcliffe Bailey | Yoan Capote | Nathaniel Donnett | Mark Thomas Gibson | Luis Gispert | Clotilde Jiménez | Jennie C. Jones | Samuel Levi Jones | Nate Lewis | Kyle Meyer | Lavar Munroe | Toyin Ojih Odutola | Ebony G. Patterson | Lamar Peterson Wanda Raimundi-Ortiz | Paul Henry Ramirez | Jamel Shabazz | Vaughn Spann | Shawn Theodore Mickalene Thomas | Hank Willis Thomas | Carlos Vega | Lynette Yiadom-Boakye | Nate Young
Opalka Gallery is pleased to announce Shifting Gaze: A Reconstruction of the Black & Hispanic Body in Contemporary Art from the collection of Dr. Robert B. Feldman. A traveling exhibition that originated at the Mennello Museum in Orlando, Florida, this exhibition will be on view at Opalka Gallery from October 22 through February 5, 2022. The 26 internationally recognized artists in the exhibition draw upon art history, American history, and popular culture to create powerful works that, independently and collectively, present a broad range of concepts about identity, beauty, belonging, and religion, as well as work with deep gravitas around issues of race, sexuality, violence, displacement, vulnerability, erasure, and visibility.
"In ways both poignant and celebratory, and in disparate styles and media, the artists in this exhibition center the body, representation, and identity in their work. We're thrilled to be able to share Dr. Feldman's collection and these important artists with our community," Opalka Director Judie Gilmore said.
The title Shifting Gaze is evocative and an emblematic reference to art history and the critical social agency of our current times. Through various media, such as painting, sculpture, drawing, and collage, the Black and Hispanic body (physical and metaphoric) is implied or materializes with subtlety in some instances, beautifully unfolds in others, and in a few, is direct, dramatic, and heartbreaking. The symbolic framework of the Shifting Gaze helps generate a larger dialogue among the works on view and the specificities of a diverse African and Hispanic diaspora in our current physical, social, and political landscape, as revealed through each artist's personal experience and distinctive aesthetics. The "Shifting Gaze"—who is looking at who—engages perception, seeing, and objectification, while "Reconstruction" represents a new articulation and possible new constructs via a new voice, from the past and projected into a resonant now.
"The artists in Shifting Gaze are powerfully breaking boundaries in the conversation about identity and culture in America—especially through the lens of seeing the body and that body having agency," says Dr. Feldman. "I am inspired by their work and vision and honored to support them as critical artists at the forefront of important dialogues in our culture."
A full-color exhibition catalog was produced on the occasion of the exhibition and includes an essay by Mennello Museum of Art Executive Director and Shifting Gaze curator Shannon Fitzgerald and an interview with Dr. Feldman by Katherine Navarro, Associate Curator of Education, Mennello Museum of American Art. A limited number will be for sale in the gallery.
Mohawk Hudson Regional Exhibition
September 7 through October 9, 2021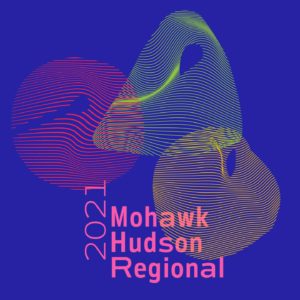 For the first time in its 85-year history, the Mohawk-Hudson Regional exhibition will be presented at three locations simultaneously: Albany Center Gallery, Albany International Airport Gallery and Opalka Gallery at Russell Sage College. While for decades, the exhibition has rotated among the Albany Institute of History & Art, The Hyde Collection Art Museum in Glens Falls, and The University Art Museum, University at Albany, this year's reimagined version reflects the spirit of creative innovation that distinguishes our regional arts community. The exhibition call was open to all visual artists residing within a 100-mile radius of Albany, NY and Glens Falls, NY.
Traditionally, the annual Artists of the Mohawk-Hudson Region exhibition is curated by a single guest juror and presented in a one location. By expanding to include three Albany galleries, with a different juror selecting work for each space, this year's exhibition will be broader in scope than those of the past, and each iteration will reflect the distinct mission of each gallery and the vision of each juror. Mixed media artist Alisa Sikelianos-Carter will choose work for Albany Center Gallery, curator and artist Tommy Gregory will choose work for Albany International Airport Gallery, and gallerist Pamela Salisbury will choose for Opalka Gallery.
DATES OF EXHIBITION:
Albany Center Gallery: September 10 – October 9, 2021
Albany International Airport Gallery: September 16 – November 8, 2021
Opalka Gallery: September 7 – October 9, 2021
For more info, please see Mohawk Hudson Regional Exhibition.
Take a virtual tour of the exhibition:
SPRING 2021
BFA Art+Design Exhibition
May 7 through June 4, 2021
The Annual BFA Exhibition offers showcases the best of what Russell Sage College's Art+Design BFA programs have to offer: Art+Extended Media, Graphic+Media Design and Interior+Spatial Design. This year the following students were selected to exhibit their work:
Art+Extended Media
Kayla Boomhower
Chloe Harrison
Brianna Petkovsek
Graphic+Media Design
Nick Dowd
Briana-Cecilia Fulgoni
Shannon Hughes
Rachel Kolb
Grace Licalsi
Noah Ross
Cassidy Schaeffer
Julia Scipione
Interior+Spatial Design
Noa Bahir
Holly Blakely
Alexandria Cox
Jazmi Fabian
Danielle Kadtke
Abby Lammon
Ashley Makenna
Emma Myers
Christopher Newsom
Alyssa Nichols
Sarah Richards
See all the work from this exhibition and more on the BFA 2021 website.
Read more about the BFA Program.
The 43rd Annual Photo Regional: Youth Spotlight
March 30 through April 24, 2021
In a departure from previous iterations of the Photo Regional, this year Opalka Gallery decided to focus exclusively on showcasing our region's youth photographers. The goal of the exhibition is to support emerging and underrepresented regional artists between the ages of 16 through 26 by providing a space for them to share their voices, sell their work, meet other young artists in the region, and connect them to resources to help them further their artistic goals. 
The exhibition was juried by three young photographers with regional ties–Khidr Joseph, Jayana LaFountaine, and Anna Schupack–whose work was also included in a special juror showcase.
Juror Bios
Khidr Joseph lives and works in Brooklyn, New York. He received his BFA in Photography from Sage College of Albany. Joseph creates work that focuses on reconstructing his perception of reality through a series of self-portraits. Drawing on his interest and training in photography, Joseph creates spaces that weave together black history, culture, and his own identity — focusing on the idea that our world is no longer invested in the truth. Joseph desires to create work that replicates the distorted reality we live in today.  
Jayana LaFountaine is a portrait photographer and documentarian based in Troy, NY. She has been shooting for 12 years. Her love for photography stems from tragedy. Losing her foster mother at 13 years old painfully reminded her that she didn't have many photos with her. It has since been her mission to never miss a moment again. She quickly began to understand how important it was to preserve legacy through photo documentation. It brings her a great deal of joy to capture families and friends of all colors, shapes and sizes because those memories are forever even if we're not. Jayana is also a Birth Doula, Babysitter Extraordinaire, & DJ. She makes it a point to do all of these jobs with love and an immense amount of intention. She thrives off of meaningful connections with people no matter how long or short they may be.
Anna Schupack is a Junior at Bard College majoring in photography and sociology. Anna is involved with the Center for Civic Engagement at Bard. At home, in Albany, she works at the South End Children's Cafe and is on the leadership team for Community Matters, committed to providing people access to resources they may need and showing a sustained commitment to every individual. Her photography focuses on documenting social protest and on reimagining her family archive. She was recently named a Bard Campus Compact 2021 Newman Civic Fellow, which honors students who show personal and professional dedication to campus leadership and community involvement.
Artists:
Jesse Asher Alsdorf, Clifton Park, NY; Walker Bankson, Tivoli, NY; John Bonetti, Tivoli, NY; Ally DeRusso, Clifton Park, NY; Briauna Falk, Hudson, NY; Alice Fall, Annandale-on-Hudson, NY; Josh Flagg, Malta, NY; Natalia Gillespie, Annandale-on-Hudson, NY; Mateo Guevara Lemeland, Easthampton, MA; Lily Anastasia Holcombe, Scotia, NY; Tyler Ki-Re, Troy, NY; Jahniah Kum, Albany, NY; Maggie Lang, Saratoga Springs, NY; Julia Larberg, Rhinebeck, NY;  Xiaoxuan Lisa Li, Troy, NY; Angela Marden, Albany, NY; Kester Messan, Williamstown, MA; Joseph Messer, Williamstown, MA; Sebenele Ndlangamandla, Bennington, VT; Anna Nuler, Red Hook, NY; Aayushi Pramanik, Williamstown, MA; Catherine Rafferty, Altamont, NY; Jane Sartwell, Annandale-on-Hudson; Madison Scisci, Slingerlands, NY; Kes Stefanik-Houde, New Baltimore, NY; Kaylee Sterns, Albany, NY; Rosina Torres, Albany, NY; Rainer Turim, Annandale-on-Hudson, NY; Amelia Van Donsel, Annandale-on-Hudson, NY; Gennaro Vargas, Schenectady, NY; Christian Wechgelaer, Saratoga Springs, NY; Kennadi Yates, Annandale-on-Hudson, NY.
See the Exhibition website here.
Terry James Conrad:


Object Permanence
January 26 through March 13
Opalka Gallery is pleased to present Terry James Conrad: Object Permanence, a survey of the work of Terry James Conrad, on view January 26 through March 13, 2021.  Check out the exhibition website here. Also, coming in early April, a full-color exhibition catalog. Preorder here.
At the heart of Conrad's practice is the transformation of found or discarded objects into prints and sound. He creates sculptural printing presses from stacks of found wood and other detritus, plates from bent and molded tin cans, and inks from nuts, metals, dirt, and sediment. "I play with and explore these found materials with an interest in both craft and an unrefined, direct sensibility," says Conrad. 
In addition to his prints, three of Conrad's sculptural presses will be included in this exhibition and one will be printing live throughout the exhibition. A new, large, sound installation will also be on display featuring a collection of primitive but amplified and motorized self-playing instruments, made from tin cans. The exhibition will also include several cigar box guitars, and other instruments Conrad has built in the past year.
Reflecting Conrad interest in the community and social aspects of printmaking, the exhibition will feature The Iowa Booth, a large installation inspired by a vintage voting booth he found onsite when he purchased an old firehouse in Round Lake, New York. The Iowa Booth is a wooden modular structure with dyed and printed canvas panels that will be changed throughout the exhibition. During the exhibition, Conrad will be in residence in the gallery on Thursday evenings, The Iowa Booth will serve as a base for a virtual series, Dispatches from The Iowa Booth. He will work on his printing presses, collaborate with musicians on sound pieces, and present a series of virtual events and discussions with individuals and collaborators who inspire his work. Confirmed participants include: interdisciplinary artist Brian Dewan, marine geologist Dr. Joan Bernhard, artist Donté K. Hayes, musician Tommy Santee Klaws, and conservationist Silvia Secchi.
A native of New York, Terry James Conrad is a 2017 New York Foundation for the Arts Fellow in Drawing, Printmaking and Book Arts and was the 2015-16 Grant Wood Fellow in Printmaking and has been awarded residencies at Frans Masereel Centrum (Belgium), Penland School of Craft (North Carolina), and the Vermont Studio Center. He has had solo, two-person and group exhibitions nationally and internationally. Conrad is currently Assistant Professor and Program Head of Printmaking at University of Iowa and an Iowa Print Media Faculty Fellow.
He previously taught at Skidmore College and assisted his partner Rachel Ziegler-Sheridan in founding the Round Lake School, which is a preschool/residency in Round Lake that follows the teaching philosophies of Reggio Emelia. Conrad is represented by Bruno David Gallery in St. Louis, Missouri. 
This event was recorded. Please see Past Online Events for the video.
THURSDAYS: Artist Residency and Dispatches from the Iowa Booth
The artist will be in residence in the gallery every Thursday night, 5-8pm throughout the exhibition. Stop by to meet the artist. The number of visitors will be limited and non-Sage community members will be asked to fill out a Covid-19 wellness form and have their temperature taken. We will also be featuring his residency activities on Instagram and Facebook.
Starting February 11, we'll present
Dispatches from The Iowa Booth
, a virtual series on Thursday nights and hosted by Conrad.
For more information, including the link to join, please see our
events page.
(Note: all events will be online, and recorded)
You can still preorder the exhibition catalog for Terry James Conrad: Object Permanence!
$20, to be shipped at the beginning of April, 2021
Terry James Conrad: Object Permanence Exhibition Catalog
60 pages, 8.5 x 9 inches, full color
With essay by Nicole Woods, University of Notre Dame, Assistant Professor, Modern & Contemporary Art
FALL 2020
Unraveling
Yura Adams, Joan Grubin, Ruby Palmer, and Christina Tenaglia
October 27 through December 19, 2020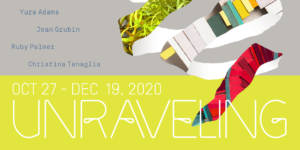 Unraveling is an exhibition of four women artists–Yura Adams, Joan Grubin, Ruby Palmer, and Christina Tenaglia–who have been selected for their audacity, commitment, and strength of visual expression.  As the world unravels, their resourcefulness in fabricating their art expands in equal measure. The work of these four artists shares an expressive quality and a dominant interest inform and these qualities unite the group visually. The artists are also united by their ability to make leaps of imagination in the studio and this show reveals this unraveling of resourcefulness.
Curated by Yura Adams, Unraveling unites this group under the theme of communicating a power of conviction in the face of an uncertain world.
View the exhibition website here.
The Virtual Opening Reception and Curator's Tour with Yura Adams was followed by a panel discussion Artist/Woman. Woman/Artist., with the Unraveling artists and moderated by Nicole Hayes, curator at Art Omi, in collaboration with The Women's Institute at Russell Sage College.
This event was recorded and can be viewed on the exhibition website here.
Infinite Uncertainty
September 1 through October 10, 2020
Infinite Uncertainty showcases artists at work in a changing world: new projects initiated, old ones revisited, creative bursts and detours in practice. Selected from over 250 submissions, 33 regional artists attempt to make sense of this unprecedented time and its persistent, frightening and painful unknowns. Juried by Sharon Bates, Stacey Robinson, Ellen Letcher and Julie Torres.
Exhibition artists: Erika Aberg, Ever Baldwin, Cyndy Barbone, Richard Barlow, Judith Braun, Donnabelle Casis, Beth Caspar, Pauline Decarmo, Pierre Desir, Carla Dortic, Stephen Earp, Sara Farrell Okamura, Ray, Felix, Rebecca Flis, Peg Foley, Audrey Francis, Richard Garrison, Andrea Hersh, Hui Lee, Anthony Jackson (Bugzdale), Tatana Kellner, Norm Magnusson, Nathan Meltz, Adrian Meraz, Fernando Orellana, Roger D. Patrick, Tatiana Potts, Courtney Puckett, Jamie Ricardo Rodriguez, Christina Tenaglia, Hanna, Washburn, Jeff Wigman, and Deborah Zlotsky.
Check out the exhibition website and take a virtual tour here.
Spring 2020
The 21st Annual High School Regional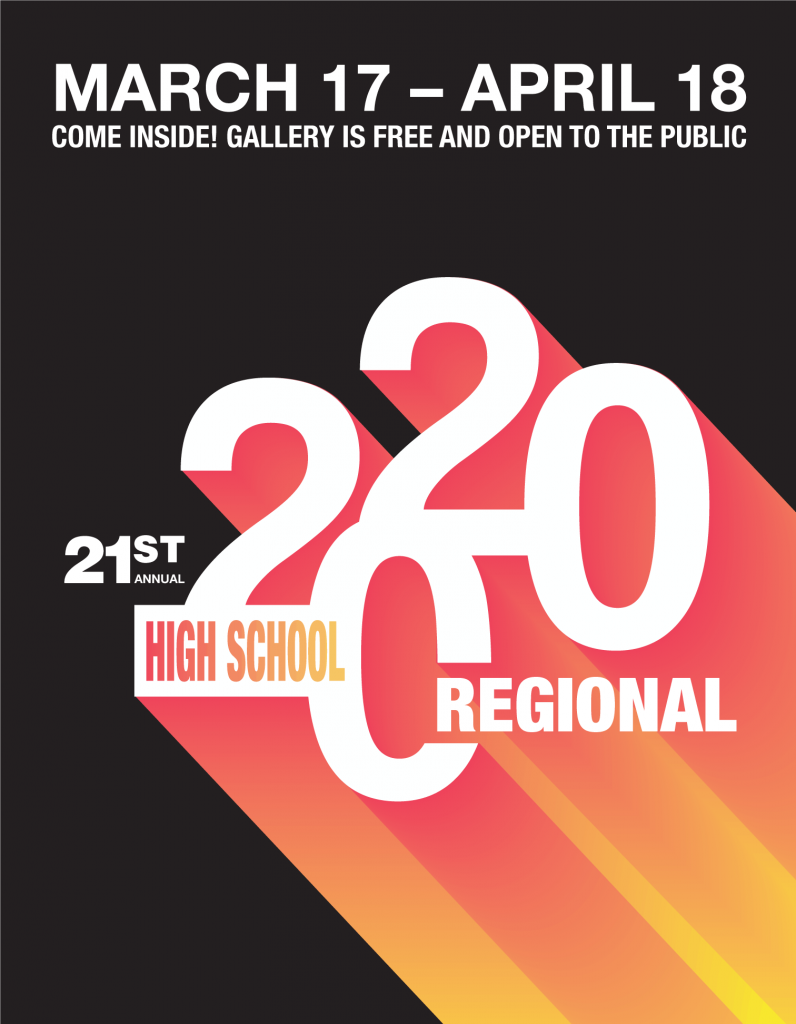 Juried showcase of the best artwork by regional high school students from 24 districts. This year's jurors are Rachel Baxter, Melinda McDaniel, and Jordan Nathaniel White. Tour the exhibition online.
Sage Art+Design BFA Exhibition
May 1 through June 13, 2020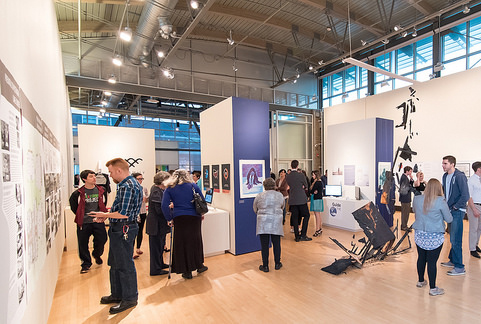 Annual Showcase featuring senior work from the Sage College Art+Design BFA Program.
JoAnne Carson: Rise Up and Shine!
January 21 through February 29, 2020

Opalka Gallery is pleased to present a 25-year survey of the work of JoAnne Carson. JoAnne Carson: Rise Up and Shine! will open on January 21, with a reception on Friday, February 7 from 6 pm to 8 pm. From her punchy, exuberant paintings to her quirky, zoomorphic sculptures and expressive drawings, Carson has established a unique artistic voice that merges references to the natural world with strange juxtapositions, unexpected materials, and playfully dark moods. Despite few figures in her work, every shape Carson creates bursts with life: trees, rocks, and flowers bow, droop, pose, and even vogue.
The work is simultaneously joyful and cynical, smart and approachable, not unlike the artist herself. Carson, who has taught studio art at the University at Albany for over three decades, has had an immeasurable impact on the region's artists and art community. JoAnne Carson was born in New York City and currently splits her time between Brooklyn, New York and Shoreham, Vermont. She received her MFA degree from the University of Chicago and attended the University of Illinois for undergraduate school.
Carson's work can be found in various public collections including the Brooklyn Museum, Modern Art Museum of Fort Worth, Joslyn Art Museum in Omaha, Nebraska, Museum of Contemporary Art Chicago, David and Alfred Smart Museum of Art in Chicago, Frederick Weisman Art Museum in Minneapolis, and Sheldon Museum of Art in Lincoln, Nebraska.
She has received many awards including a Guggenheim Fellowship, the Rome Prize from the American Academy in Rome, an Award in the Visual Arts, a Purchase Prize from The American Academy of Arts and Letters, the Louise Bourgeois Residency from Yaddo, and an artist grant from the National Endowment for the Arts.
Her work has been shown in numerous solo and two-person exhibitions including at the Modern Art Museum of Fort Worth, Museum of Contemporary Art Chicago, University of Maine Museum of Art in Orono, and galleries in New York City including Black & White Gallery, Claire Oliver Gallery, Joan Washburn Gallery, Ruth Siegel Gallery, and Plus Ultra Gallery.
Notable group exhibitions in public institutions include the American Academy of Arts and Letters Ceremonial Exhibition, the Whitney Biennial Exhibition, New Orleans Museum of Art Frederick Weisman Collection, the Albright Knox Gallery in Buffalo, Institute of Contemporary Art in Philadelphia, Sheldon Art Museum in Lincoln, Nebraska and the Fleming Museum of Art in Burlington, Vermont.
Fall 2019
IN-FAUX-STRUCTURE
August 13 – October 19, 2019
Guest Curated by artists Madison LaVallee, Julie Casper Roth, and Melissa Sarris
Opalka Gallery is pleased to present In-faux-structure (#infauxstructure), an all-new group exhibition co-curated by Madison LaVallee, Julie Casper Roth, and Melissa Sarris. The genesis for In-faux-structure came from a conversation among the curators, all regional artists, who discovered they were thinking along the same lines in the seemingly unrelated projects each was exploring in their own artistic practices. What began as a discussion of physical infrastructure—pipes, roads, structures, and networks that fortify our society—quickly shifted to an expanded view of the systems and structures that surround us, from social infrastructure and constructs, to our personal networks and communities. The title, "In-faux-structure," refers to false or erroneous meanings related to infrastructure: the ephemeral nature of building materials, as well as ambiguities, ironies, and outright injustices related to the ways infrastructure is planned and considered. At every stage—from concept to construction—infrastructure is filled with omissions. These omissions comprise the "faux" of this exhibition. The metaphorical strength of infrastructure is weakened when people and power dynamics are hidden from view. 
The artists or collaborative teams included are: Laura Battle; The Everyday Feminist; Kyra Garrigue; Joan Grubin; Sarah Kayhart & Sadie Kenyon; Lucretia Knapp & Lynne Yamamoto; Madison LaVallee & Michael Valiquette; Jeanna Mead; Janice Medina, Björn Bauer, & Carolyn DiFiori Hopkins; Oliver Peters; Julie Casper Roth; Claire Sherwood; Barbara Todd; Rebekah Tolley; Jason Kates van Staveren; and Jacqueline Weaver & Michael Cunningham.
The In-faux-structure exhibition is made possible by the New York State Council on the Arts under Governor Andrew M. Cuomo's Regional Economic Development Council Initiative.

The opening reception coincides with the first night of our outdoor Pop-Up Craft Beer Garden series, featuring food trucks, craft beer, and live music. For more information, please see: Pop-Up Craft Beer Garden
Fall 2018
2018 Screenprint Biennial
November 1 through December 14, 2018

Guest curator: Nathan Meltz
Sharon Bates: Exhibit B
August 28 to October 13, 2018

Spring 2019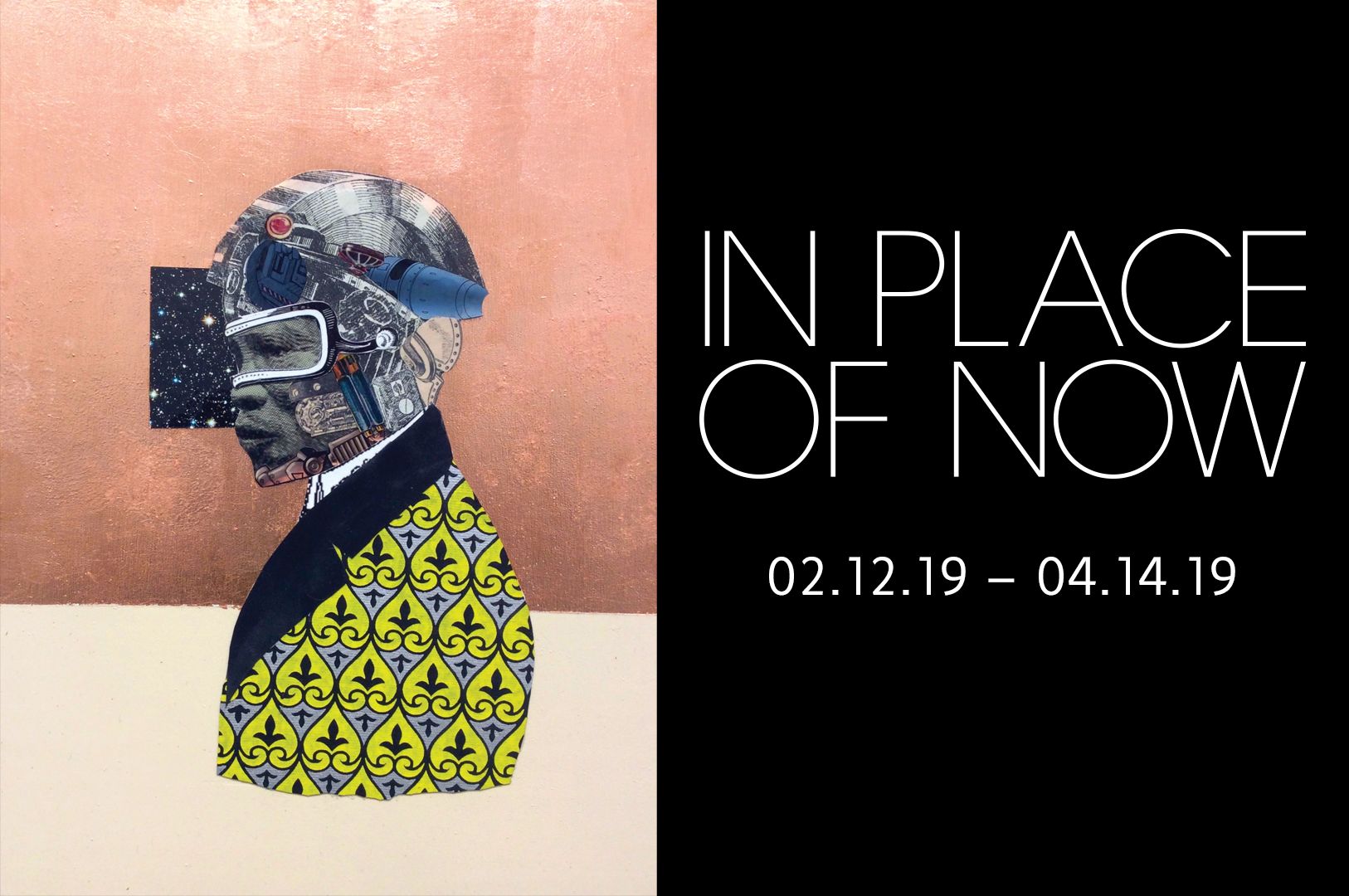 Co-curated by Judie Gilmore, gallery director, and writer and scholar Rone Shavers, In Place of Now showcases both emerging and established artists whose work engages in the politically subversive acts of picturing "otherness," reinventing the past, and reclaiming the future. These themes are common to Afrofuturism, now nearly 30 years old, but when viewed in today's hyper-partisan social and cultural spheres, they appear more political and less fantastical, more dystopian than utopian, and surprisingly more about us now, rather than an exploration of the other at any other time. That is to say, given our current political climate, works that include or address notions of estrangement seem more relevant, present, and profound than ever before. Within this context, we are interested in artwork that offers new speculations regarding contemporary black identity and explores issues of blackness, which again seems to be in contention.
The 15th Annual Bachelor of Fine Arts Exhibition
May 3 through June 8, 2019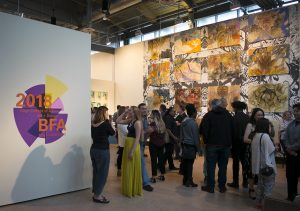 FRI, May 3, 5pm to 7pm: Opening Reception
The Annual BFA Exhibition offers a glimpse of the best of what the Sage College of Albany's Art+Design BFA programs have to offer: Fine Art, Photography, Interior + Spatial Design and Graphic + Media Design. This year the following students were selected to exhibit their work:
Interior+Spatial Design
Meaghan DeVito
Meghan Dinardi
Lindsay Fitch
Racheal Gac
Nicole Nahow
Graphic+Media Design
Samantha Asher
Nyla Cortes
Tyler Frisbee
Lauren Hawkins
Abigail Jabour
Katilin Meissner
Elizabeth Molloy
Markala Philips
Aisha Purvis
Samantha Trimblett
Zachary Whitford
Rebecca Rem
2017-2018 Season
The 14th Annual BFA Exhibition
May 4, 2018 through June 9, 2018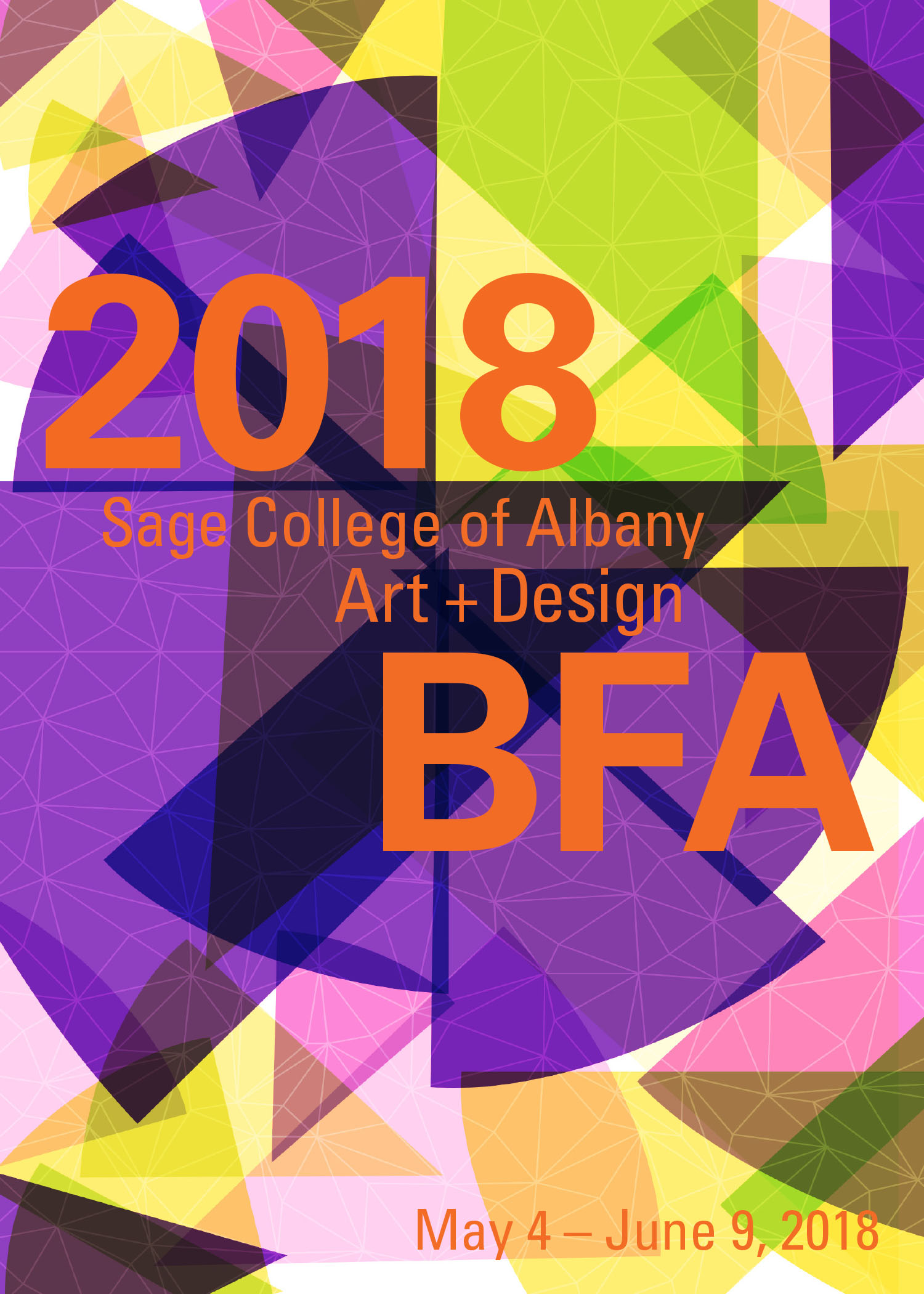 This annual showcase features work by seniors in the Sage College of Albany Art + Design BFA programs: Fine Art, Photography, Interior + Spatial Design and Graphic + Media Design. The Annual BFA Exhibition offers a glimpse of the best of what the BFA programs at Sage have to offer.
Hannah Akots, Graphic + Media Design
Afton Beattie,  Interior + Spatial Design
Nitish Bhardwaj, Interior + Spatial Design
Erin Cahill, Graphic + Media Design
Emma Dickinson, Graphic + Media Design
Hannah Fisk, Graphic + Media Design
Jami Frosell, Graphic + Media Design
Allison Havens, Graphic + Media Design
Kylie Heusel, Graphic + Media Design
Emily Hill, Interior + Spatial Design
Khidr Joseph, Photography
Tai Lopez, Painting & Drawing
Mia Murphy, Graphic + Media Design
James Reeves, Graphic + Media Design
Ayleia Shields, Photography
Thaddeus Sipe, Graphic + Media Design
Brittany Trayah, Graphic + Media Design
Alaudeen Umar, Graphic + Media Design
Leah von Fricken, Graphic + Media Design
In The Little Gallery in Rathbone Hall:
MASTERCLASS@Opalka: Photography
Join us in the Little Gallery on the Sage College of Albany campus for an exhibition featuring work of this year's 15 Masterclass: Photography students.
Masterclass at Opalka is a competitive, advanced art class for Capital Region high school students.This year's Masterclass included students from Albany, Colonie Central, Colombia, Niskayuna, Schalmont, Shaker, and Shenendehowa High Schools and the Academy of the Holy Names. Congratulations to our Masterclass students! Sage Art+Design Professor Melinda McDaniel taught this class.
The 40th Annual Photo Regional: Effects That Aren't Special
Guest Curator: Tim Davis
March 15 to April 22, 2018

Practice What You Teach: The Sage College of Albany Art + Design Faculty Show
January 16 to February 24, 2018
Paper Is Part of the Picture: Strathmore Paper and the Evolution of American Graphic Design
October 3 – December 15, 2017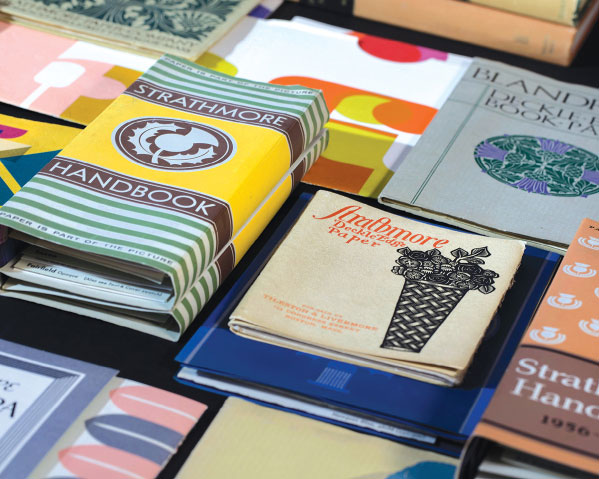 Paper Is Part of the Picture is an exhibition, curated by Paul Shaw, about the evolution of paper promotion over the course of the past 125 years as seen through the archives of the Strathmore Paper Company.
The company, founded in 1892 and now owned by Mohawk, pioneered the notion of paper as an essential visual and tactile aspect of a printed piece, rather than a simple commodity. It did so by embracing artists and designers as collaborators. Strathmore's paper promotions reflect the changing trends in American graphic design across the 20th century from Arts & Crafts to the digital era.
Among the designers on display are such luminaries as Will Bradley, T.M. Cleland, W.A. Dwiggins, Lucian Bernhard, Lester Beall, Milton Glaser, Seymour Chwast and Marian Bantjes.
Catalog
Paper is Part of the Picture | Strathmore Paper and the Evolution of American Graphic Design
By Paul Shaw
Edited by Judie Gilmore and Amy Griffin
20 pages, $20 in gallery, $24 online (includes shipping and handling)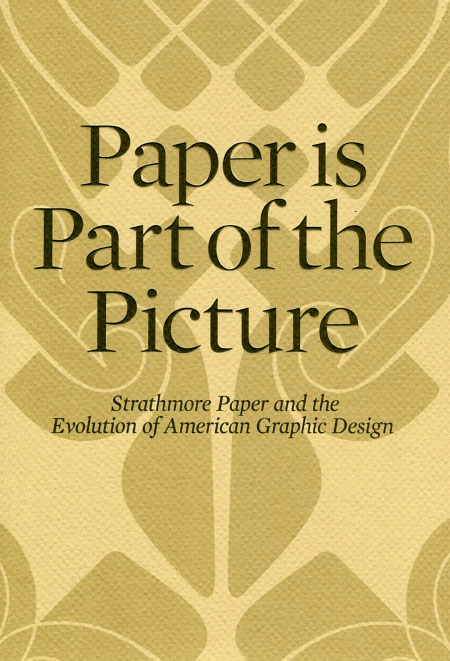 Paper is a substrate. It can be appreciated for its texture, its rattle, its pliability and its color. But for paper to truly come to life, it must become a surface for the addition of words and images.
Although this seems obvious today, in the 1890s American papermakers promoted their papers principally for their printing, folding and mailing abilities. That all changed in 1895 when Horace A. Moses, founder of the paper company that would later become Strathmore, commissioned famed American designer Will Bradley to create a sample book for the Strathmore Deckle Edge Book Paper. Bradley understood that paper was an integral part of printed design, and his innovative promotions marked the beginning of a fascinating partnership between Strathmore and artists, designers and advertising professionals. The notion that "Paper is Part of the Picture," a slogan coined by Strathmore in 1921, has embodied the company's promotional efforts for over a century.
Many of these promotional efforts along with numerous sample books survive as The Strathmore Archive at Mohawk. Collectively they represent a rich repository of graphic artifacts that provide a new perspective on the past 125 years of American graphic design. They are also a reminder that, even in our digital era, much design remains physical and tactile.
This catalog is printed as a portfolio with 19 unbound leaves featuring text by Paul Shaw on one side and reproductions of artwork by Lester Beall, Simms Taback, W.A. Dwiggins, Will Bradley and more.
Kathryn Field
August 15 – September 9, 2017
Opening reception: Friday, September 1, 6 – 8 pm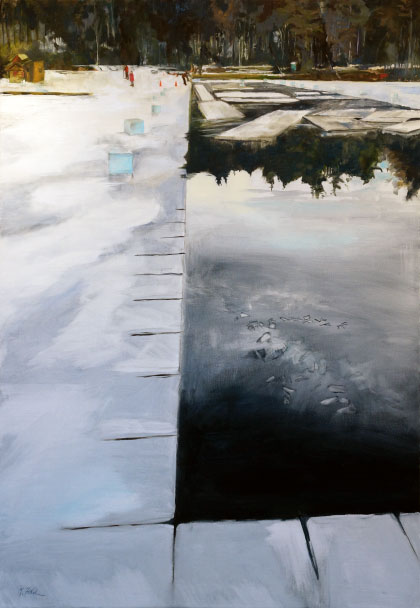 Kathryn Field's work has been exhibited in galleries and museums across the county and in Sydney, Australia. Last fall, her commissioned sculpture "Celebration" was installed in the Shea Learning Center on the campus of Russell Sage  College in Troy, a gift from Donna Robinson Esteves, Russell Sage College alumna and member of the The Sage Colleges Board of Trustees.
We present this exhibition in honor of Susan C. Scrimshaw, PhD, who stepped down in June 2017 after serving as President of The Sage Colleges since 2008.
2016-2017 Season

The 13th Annual Bachelor of Fine Arts Exhibition
May 5 – June 17, 2017
Opening Reception: Friday, May 5, 5-7 pm
This annual showcase features work by seniors in the Sage College of Albany Art + Design BFA programs: Fine Art, Photography, Interior Design and Graphic + Media Design. The Annual BFA Exhibition offers a glimpse of the best of the best of what the BFA programs at Sage have to offer.
The students included in this year's exhibit are:
Yeun Allard
Cherise Bollers
Katielynn Canavan
Alena Chamberlain
Ian Chan
Zachary Chromik
Tirso Gomez
Jacob Griswold
Jessie Jause
Tyler LaFond
Emily Lamb
Sarah Magistro
Elizabeth Malone
Alisandra Pleickhardt
Gianluca Puorto
Adam Richards
Dave Saunders
Gina Savoia
Teanna Schmaeh
Maisie Snyder
18th Annual High School Regional Juried Art Exhibition
March 22 – April 23, 2017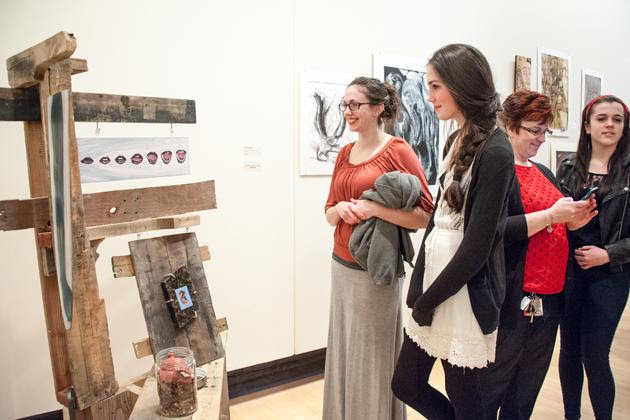 The Opalka Gallery is pleased to host the 18th Annual High School Regional Juried Art Exhibition presenting artwork by students from 20 regional high schools. The exhibit runs Wednesday, March 22 through Sunday, April 23. At a reception on Friday, March 24, Juror and Sage College of Albany Dean Jean Dahlgren noted the impressive talent on display and the difficulty of being able to only choose 1/3 of the work submitted.
On the jury panel, Dahlgren was joined by Daniel Goodwin, artist and Head of Photography and Related Media in the Department of Art and Art History at the University at Albany, and Elizabeth Greenberg, Director, Opalka Gallery at The Sage Colleges.
Participating schools and districts:
The Albany Academies, Albany City Schools, Averill Park, Ballston Spa, Bethlehem, Burnt-Hills-Ballston Lake, Cairo-Durham, Doane Stuart, East Greenbush, Emma Willard, Greenville, Guilderland, Ichabod Crane, Mohonasen, Niskayuna, North Colonie, Schenectady, Schodack, Scotia-Glenville, Shenendehowa, Voorheesville.
Awards were presented to the following:
The Sage College of Albany Dean's Award: Leah Paulson, Averill Park
The Opalka Gallery Award:  Malika Umar, The Albany Academies
The Sage College Department of Art+Design Award: Cecelia Lu, North Colonie
The Albany Center Gallery Membership Award: Emily Ma, Emma Willard
Juror's Awards:
The Lori Tansky Juror's Award for 3d Art: Alexis Graham, Ichabod Crane
Alexis Ebanks, North Colonie
Jackson Lalor, Bethlehem
Josh Langford, Ballston Spa
Morgan Moscinski, Averill Park
Gravity and Light: Caroline Ramersdorfer Sculpture, 1985-2016
December 2, 2016 – March 5, 2017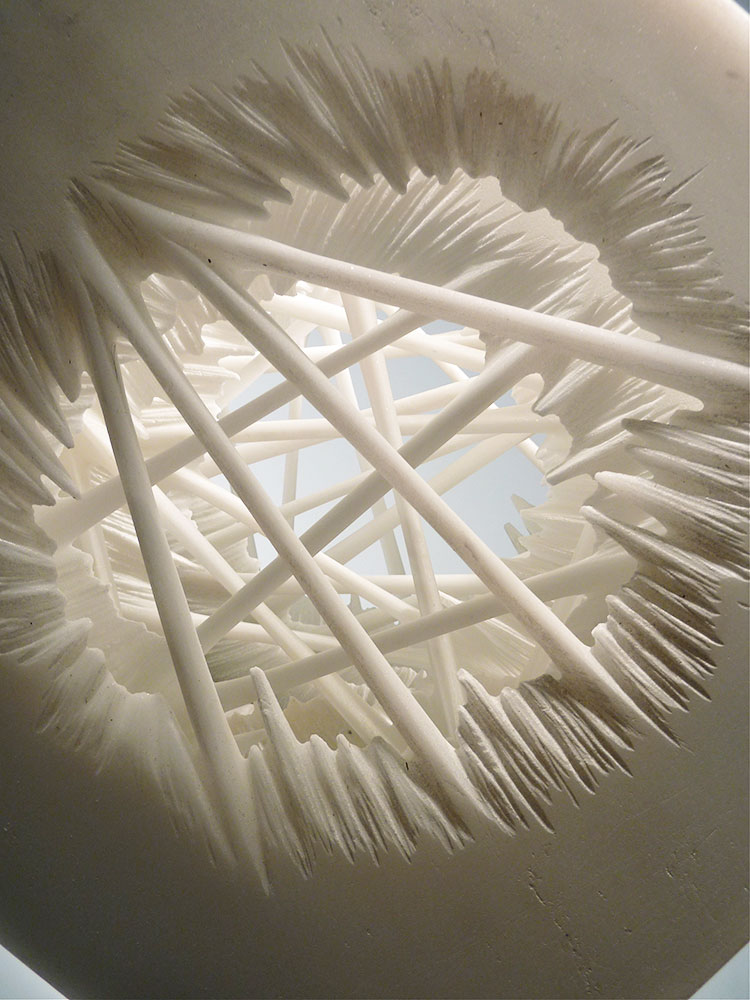 Born in Austria, schooled in Paris and Italy and now living in upstate New York, Caroline Ramersdorfer is influenced by a sense of place. Starting with huge blocks of marble, granite and other stone, Ramersdorfer carves intricate interiors as if from the inside out, harnessing light and the material's innate properties. She works in contrasts—smooth and rough, architectural and organic—to create sculptures that simultaneously appear grounded and weightless.
Siona Benjamin: Beyond Borders
August 23 – November 13, 2016

Siona Benjamin's boldly colorful work reflects her transition between worlds as she attempts to create a dialogue between the ancient and the modern. Originally from Mumbai, now living in the US, Benjamin holds MFA degrees in both painting and theater set design. Her multimedia work reflects her background as a Jewish Indian woman raised in a predominantly Hindu and Muslim India and educated in Catholic and Zoroastrian schools. Inspired by traditions as diverse as Indian miniature painting, Byzantine icons, illuminated manuscripts, and American Pop Art, she combines the imagery of her past with the role she plays in America today, making a mosaic that includes cultural, religious, and feminist narratives.
Featuring over 80 works, this survey will include examples from her early series, Finding Home, begun in the 1990s, on up through her current project, Exodus: I See Myself in You, about the struggles of Syrian refugees. Her heritage informs her practice; she weaves themes of identity, place, and belonging into everything she does. Many of her figures, such as the female characters in Finding Home, have blue skin. It's a color Benjamin says she picked for its neutrality to represent her "skin color as being a Jewish woman of color, of being the other, of being transcultural, of belonging everywhere and nowhere at the same time."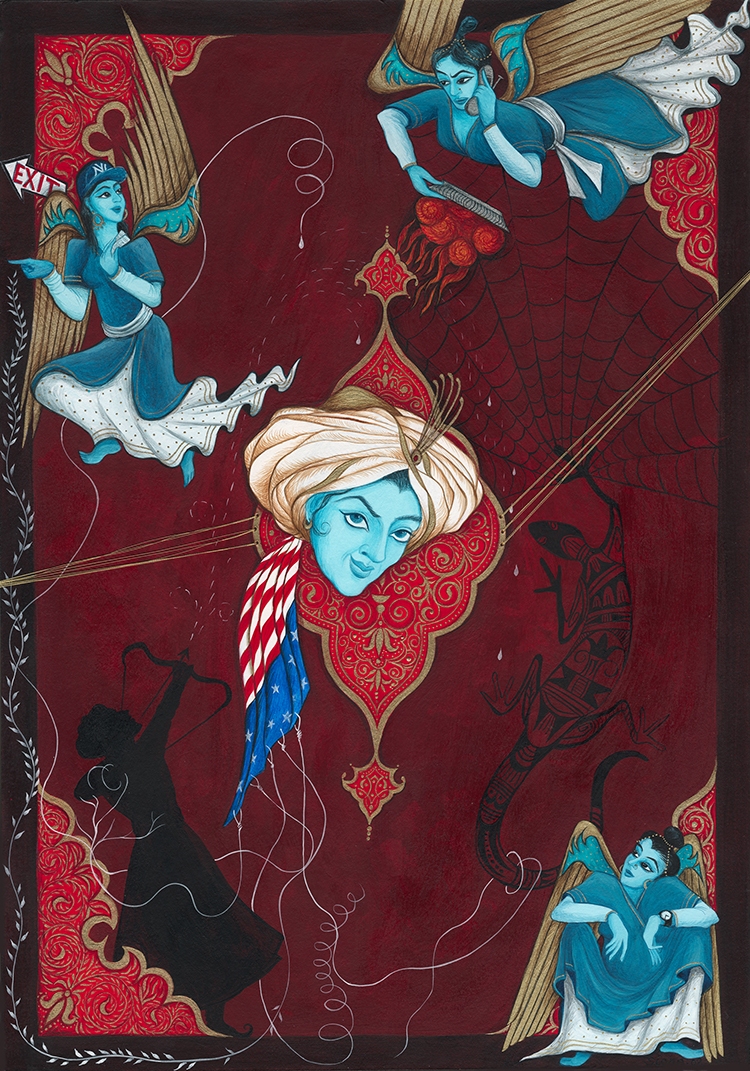 The show will also feature an interactive installation, My Magic Carpet, a gold tent 11 feet in diameter into which viewers will be invited to recline.
The recipient of two Fulbright Fellowships, Benjamin has exhibited widely and has been featured in The New York Times, The Chicago Tribune, and Art in America.
Artist's website: www.artsiona.com
---
 2015-2016 Season
The 12th Annual Bachelor of Fine Arts Exhibition
May 6 – June 18, 2016
This annual showcase features work by seniors in the Sage College of Albany Art+Design BFA programs: Fine Art, Photography, Interior Design and Graphic + Media Design. All seniors take a Capstone class which focuses on a personal direction in the major in preparation for this exhibition. Selections are made by a jury of faculty and the Opalka Gallery director. As such, the Annual BFA Exhibition offers a glimpse of the best of the best of what the BFA programs at Sage have to offer.
Diana Ayala Bedoya
Sasha Barnes
Anthony Cinque
Caitlyn Coon
Oliver DeRosier
Annemarie Dolfi
Wayne Duffy
Jacob Esposito
Alyssa Gullotto
Gabrielle Hier
Adam Hitchcock
Michael Hotchkiss
Monika Hotchkiss
Anas Jamali
Meradith Kill
Jessica Lucia
Sydney Lussier
Ben Neadle
Mark Patti
Sara Pisarski
Michaela Schumaci
---
Kate Teale: The Housed
January 26, 2016 – April 10, 2016
London-born, New York City-based artist Kate Teale makes atmospheric paintings and large-scale drawings of waves, bedsheets, and windows. She works in oil, watercolor and graphite to create images that float between figuration and abstraction. Whether with smaller works on canvas or large-scale site-specific drawings, one of which she'll create in the gallery, she mines imagery that swings from the private to public, specific to universal but all loaded with meaning.
Teale was educated at Oxford University and City and Guilds of London Art School before receiving her MFA from Hunter College/CUNY. Her first solo show in NYC was at Spring Gallery in 1996 and she's since shown at AIR Gallery, Monya Rowe Gallery, Jim Kempner Fine Art, Kristen Frederickson Contemporary Art, the Richmond Center for the Visual Arts at Western Michigan University, and Hampden Gallery at UMass, Amherst among other places. She's the recipient of a Painters and Sculptors Grant from the Joan Mitchell Foundation and a NYFA Fellow. She's also a writer, curator and founder of the Big&Small/Casual Gallery in Long Island City.
"The Housed" travels to Opalka Gallery from Western Michigan's University's Richmond Center for Visual Arts where it was curated by Don Desmett.
For more information, please visit: kateteale.net and bigandsmallcasual.net
Exhibition Catalog:
Published by Western Michigan University with essays by Lucy Lippard and Sarah Schmerler and an interview with the artist by curator Don Desmett.
$13.00  
---
From Concept to Console:
Art and Aesthetics in Video Game Design
September 4 – December 13, 2015
Video games have come a long way since Pong; the video game is an artistic medium all its own now. "From Concept to Console" looks at art in video games, pulling back the curtain to reveal the process of how it is conceived and created. It's an examination of the creativity, diversity, and wide range of artistry that spans many disciplines in a medium that is, in some ways, still in its infancy.
"Our goal from the outset was to move past the outdated question of whether video games can be considered art because we believe that, emphatically, they can be. Instead, we wanted to highlight games that we think are pushing the medium forward – those that display the highest levels of artistry – and the artists who contribute so much to the final product," notes co-curator and Opalka Director Elizabeth Greenberg.
The seven games from six different studios appearing in the exhibit reflect the spirit of conceptual problem solving and aesthetic beauty in a multitude of ways that embody the range of talent, skills, interests as well as the cultural backgrounds of the artists who created them.
Though new artistic territory in the technological age is being explored here, the aesthetic sensibilities are grounded firmly in the past. Influential painters such as Salvador Dali, John Singer Sargent, Otto Dix and Gustav Klimt inform the artists and much of their work makes use of traditional drawing, painting theory, sculpture and even origami. "Gamer or not, everyone will be able to appreciate the range and beauty of the works on display as well as the talent of the artists who made them," says co-curator Edward Ticson.
Perhaps what is unique about the art in these games is that it is not intended to be a passive viewing experience but an interactive experience that engages viewers. With so much having already been explored in the visual arts, "Swap Force" concept artist Dave Phillips asserts that "interactive art is the new frontier."
Some of the best work and artists of the last ten years will be showcased, including the singular talents behind the games Machinarium, Botanicula, Skylanders: SWAP Force, The Dream Machine, The Unfinished Swan, Transistor, and Tengami.