2016-2017 Season
Gravity and Light: Caroline Ramersdorfer Sculpture, 1985-2016
December 2, 2016 – March 5, 2017
Opening Reception: Friday, December 2, 6-8 pm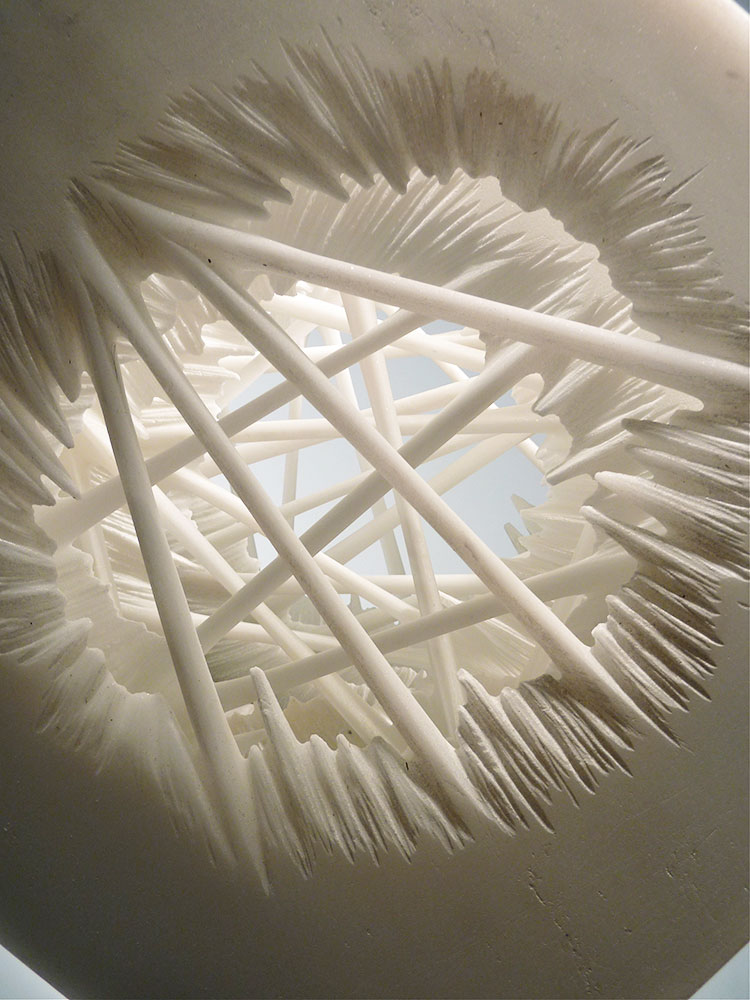 Born in Austria, schooled in Paris and Italy and now living in upstate New York, Caroline Ramersdorfer is influenced by a sense of place. Starting with huge blocks of marble, granite and other stone, Ramersdorfer carves intricate interiors as if from the inside out, harnessing light and the material's innate properties. She works in contrasts—smooth and rough, architectural and organic—to create sculptures that simultaneously appear grounded and weightless.
Siona Benjamin: Beyond Borders
August 23 – November 13, 2016
Opening Reception: Thursday, September 8, 6-8 pm; lecture by artist, 5:00 pm
Curator's Tour: Thursday, September 29, 5:30 pm

Siona Benjamin's boldly colorful work reflects her transition between worlds as she attempts to create a dialogue between the ancient and the modern. Originally from Mumbai, now living in the US, Benjamin holds MFA degrees in both painting and theater set design. Her multimedia work reflects her background as a Jewish Indian woman raised in a predominantly Hindu and Muslim India and educated in Catholic and Zoroastrian schools. Inspired by traditions as diverse as Indian miniature painting, Byzantine icons, illuminated manuscripts, and American Pop Art, she combines the imagery of her past with the role she plays in America today, making a mosaic that includes cultural, religious, and feminist narratives.
Featuring over 80 works, this survey will include examples from her early series, Finding Home, begun in the 1990s, on up through her current project, Exodus: I See Myself in You, about the struggles of Syrian refugees. Her heritage informs her practice; she weaves themes of identity, place, and belonging into everything she does. Many of her figures, such as the female characters in Finding Home, have blue skin. It's a color Benjamin says she picked for its neutrality to represent her "skin color as being a Jewish woman of color, of being the other, of being transcultural, of belonging everywhere and nowhere at the same time."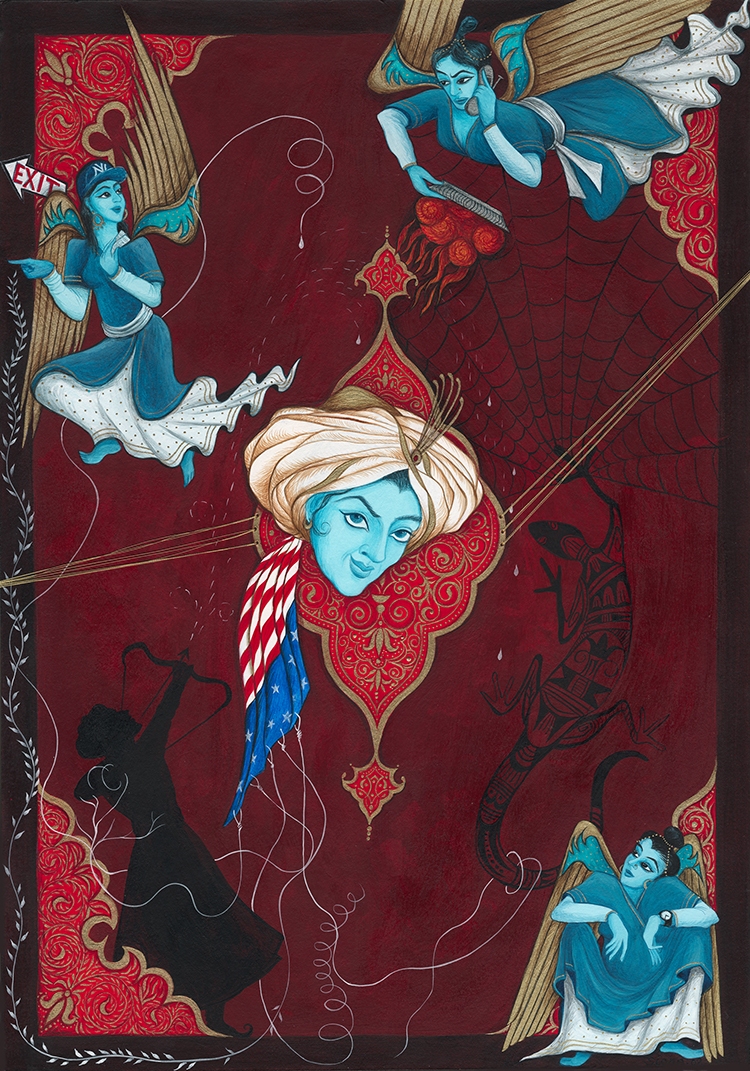 The show will also feature an interactive installation, My Magic Carpet, a gold tent 11 feet in diameter into which viewers will be invited to recline.
The recipient of two Fulbright Fellowships, Benjamin has exhibited widely and has been featured in The New York Times, The Chicago Tribune, and Art in America.
Artist's website: www.artsiona.com
---
 2015-2016 Season
The 12th Annual Bachelor of Fine Arts Exhibition
May 6 – June 18, 2016
This annual showcase features work by seniors in the Sage College of Albany Art+Design BFA programs: Fine Art, Photography, Interior Design and Graphic + Media Design. All seniors take a Capstone class which focuses on a personal direction in the major in preparation for this exhibition. Selections are made by a jury of faculty and the Opalka Gallery director. As such, the Annual BFA Exhibition offers a glimpse of the best of the best of what the BFA programs at Sage have to offer.
Diana Ayala Bedoya
Sasha Barnes
Anthony Cinque
Caitlyn Coon
Oliver DeRosier
Annemarie Dolfi
Wayne Duffy
Jacob Esposito
Alyssa Gullotto
Gabrielle Hier
Adam Hitchcock
Michael Hotchkiss
Monika Hotchkiss
Anas Jamali
Meradith Kill
Jessica Lucia
Sydney Lussier
Ben Neadle
Mark Patti
Sara Pisarski
Michaela Schumaci
---
Kate Teale: The Housed
January 26, 2016 – April 10, 2016
London-born, New York City-based artist Kate Teale makes atmospheric paintings and large-scale drawings of waves, bedsheets, and windows. She works in oil, watercolor and graphite to create images that float between figuration and abstraction. Whether with smaller works on canvas or large-scale site-specific drawings, one of which she'll create in the gallery, she mines imagery that swings from the private to public, specific to universal but all loaded with meaning.
Teale was educated at Oxford University and City and Guilds of London Art School before receiving her MFA from Hunter College/CUNY. Her first solo show in NYC was at Spring Gallery in 1996 and she's since shown at AIR Gallery, Monya Rowe Gallery, Jim Kempner Fine Art, Kristen Frederickson Contemporary Art, the Richmond Center for the Visual Arts at Western Michigan University, and Hampden Gallery at UMass, Amherst among other places. She's the recipient of a Painters and Sculptors Grant from the Joan Mitchell Foundation and a NYFA Fellow. She's also a writer, curator and founder of the Big&Small/Casual Gallery in Long Island City.
"The Housed" travels to Opalka Gallery from Western Michigan's University's Richmond Center for Visual Arts where it was curated by Don Desmett.
For more information, please visit: kateteale.net and bigandsmallcasual.net
Exhibition Catalog:
Published by Western Michigan University with essays by Lucy Lippard and Sarah Schmerler and an interview with the artist by curator Don Desmett.
$13.00  
---
From Concept to Console:
Art and Aesthetics in Video Game Design
September 4 – December 13, 2015
Curator's Tours: 5:30 p.m.
Friday, October 2
Friday, November 6
Thursday, December 3
Video games have come a long way since Pong; the video game is an artistic medium all its own now. "From Concept to Console" looks at art in video games, pulling back the curtain to reveal the process of how it is conceived and created. It's an examination of the creativity, diversity, and wide range of artistry that spans many disciplines in a medium that is, in some ways, still in its infancy.
"Our goal from the outset was to move past the outdated question of whether video games can be considered art because we believe that, emphatically, they can be. Instead, we wanted to highlight games that we think are pushing the medium forward – those that display the highest levels of artistry – and the artists who contribute so much to the final product," notes co-curator and Opalka Director Elizabeth Greenberg.
The seven games from six different studios appearing in the exhibit reflect the spirit of conceptual problem solving and aesthetic beauty in a multitude of ways that embody the range of talent, skills, interests as well as the cultural backgrounds of the artists who created them.
Though new artistic territory in the technological age is being explored here, the aesthetic sensibilities are grounded firmly in the past. Influential painters such as Salvador Dali, John Singer Sargent, Otto Dix and Gustav Klimt inform the artists and much of their work makes use of traditional drawing, painting theory, sculpture and even origami. "Gamer or not, everyone will be able to appreciate the range and beauty of the works on display as well as the talent of the artists who made them," says co-curator Edward Ticson.
Perhaps what is unique about the art in these games is that it is not intended to be a passive viewing experience but an interactive experience that engages viewers. With so much having already been explored in the visual arts, "Swap Force" concept artist Dave Phillips asserts that "interactive art is the new frontier."
Some of the best work and artists of the last ten years will be showcased, including the singular talents behind the games Machinarium, Botanicula, Skylanders: SWAP Force, The Dream Machine, The Unfinished Swan, Transistor, and Tengami.