Past Installations
Erratics and Summit
On view through Spring 2022
by
Adam Frelin
Event: Dr. Andrew Kozlowski, Curator of Quaternary Landscape Materials at the NY State Museum will give a virtual lecture on the Ice Age and our region's glacial past.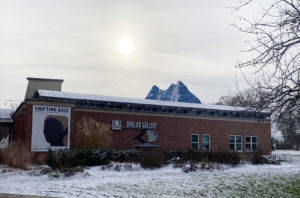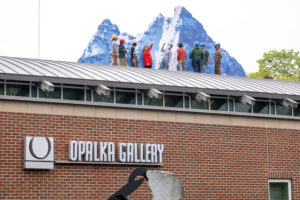 Erratics by Adam Frelin is a campus-wide art installation consisting of 30 artworks scattered around the campus, plus Summit, a 12 feet by 24 feet image of a mountain on the Opalka rooftop. An "erratic" is a rock brought by a glacier from a distant place. "Erratic" also describes an unpredictable pattern or movement. Frelin installed 30 signposts featuring images of natural objects that could have been moved into place millions of years ago by the glacial activity of a mountain, similar to the one featured in Summit.
Frelin explains, "Erratics loosely references the glacier that once covered this entire area and then turned it into an enormous lake. It reminds viewers of the geological processes that shaped this land. As much as it is a nod to this precedent, I'm also interested in how it functions in the here and now. I want someone who is driving down the street to turn their head, glance up, and for a split second, be rewarded by the illusion that there is a giant mountain behind the gallery."
Gilmore adds, "In this moment of huge uncertainty, this project prompts visitors to consider that both geologic and human history are continuously being shaped by unpredictable actions and outcomes. All of this chaos is only a blip in geologic time."
For Summit, Frelin worked with artists Matt LaFleur and Matt Crane from Silvercrane, LLC, to fabricate the massive steel frame and with Bokland Custom Visuals to print the mountain image on a high-tech, weatherproof vinyl sign material. Jack Magai and Gus Silverman from More Trees Arborist Collective helped with rooftop assembly. The project was supported by Russell Sage College, Chet and Karen Opalka, and received in-kind support from Bokland Custom Visuals.
Erratics and Summit will be on view on Russell Sage College's Albany campus through spring of 2022. Visitors can view Summit from the front of Opalka Gallery on New Scotland Ave., where it meets S. Lake Ave. The Erratics signs are scattered throughout the Russell Sage Albany campus, with many viewable along New Scotland Avenue between Academy Rd. and S. Lake Ave.
Adam Frelin (b.1973, Grove City, PA) has shown widely at venues such as the Los Angeles County Museum of Art, Getty Research Institute, Aldrich Contemporary Art Museum, and Contemporary Art Museum St. Louis. He has received awards from the National Endowment for the Arts, New York Foundation for the Arts, New York State Council on the Arts, and College Art Association. Frelin has completed residencies at the Skowhegan School of Painting and Sculpture, MacDowell Colony, Atlantic Center for the Arts, Ucross Foundation, Fine Arts Work Center, and Yaddo, among others. He has published two books of photography and has had several public artworks commissioned throughout the world. Most ambitiously, he and his team were awarded a $1 million Public Art Challenge grant through Bloomberg Philanthropies to create Breathing Lights, a multi-city temporary art installation that involved illuminating abandoned buildings with a breathing effect created with light. Frelin received a BFA from Indiana University of Pennsylvania, and an MFA from University of California, San Diego. Currently he is an Associate Professor of art at the SUNY University at Albany, and lives in Troy, NY.