Fall 2018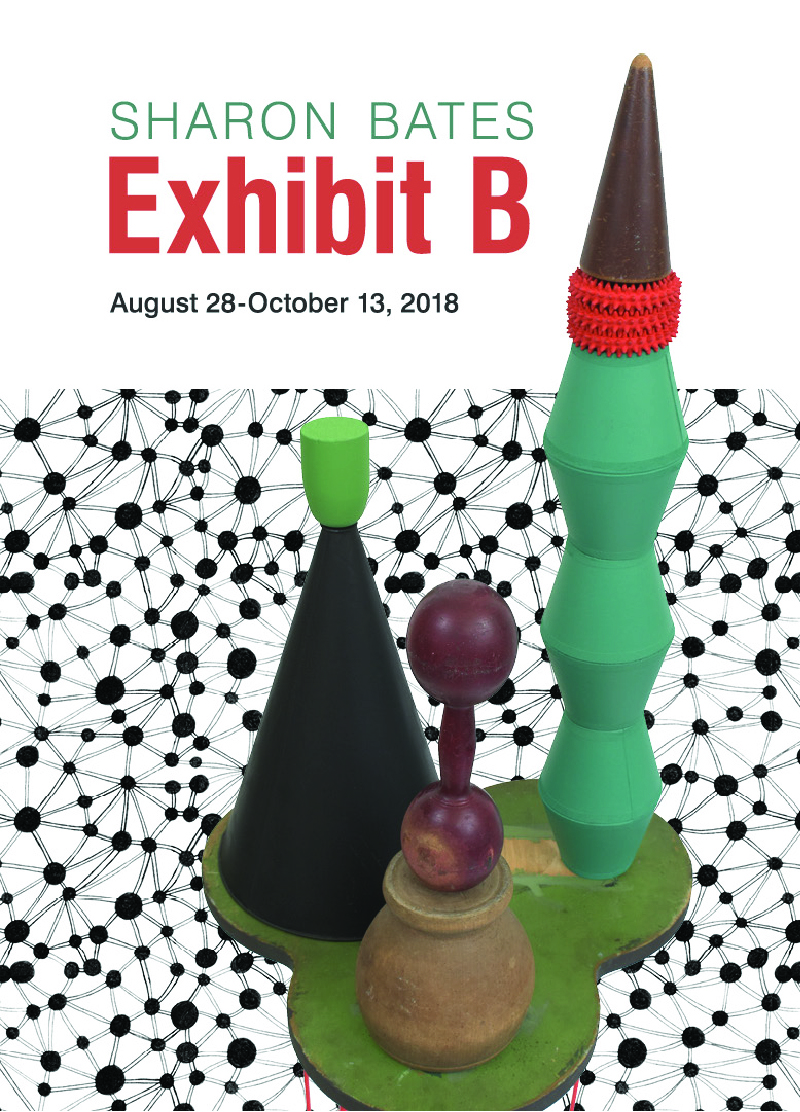 Sharon Bates: Exhibit B
August 28 to October 13, 2018
Opening Reception: FRI, September 7, 2018, 6pm to 8pm
Artist's tour: TUES, September 25, 5:30pm
Artist Lecture: TUES, September 25, 6:30pm
Student Reception: THURS, October 11, 5pm to 6:30pm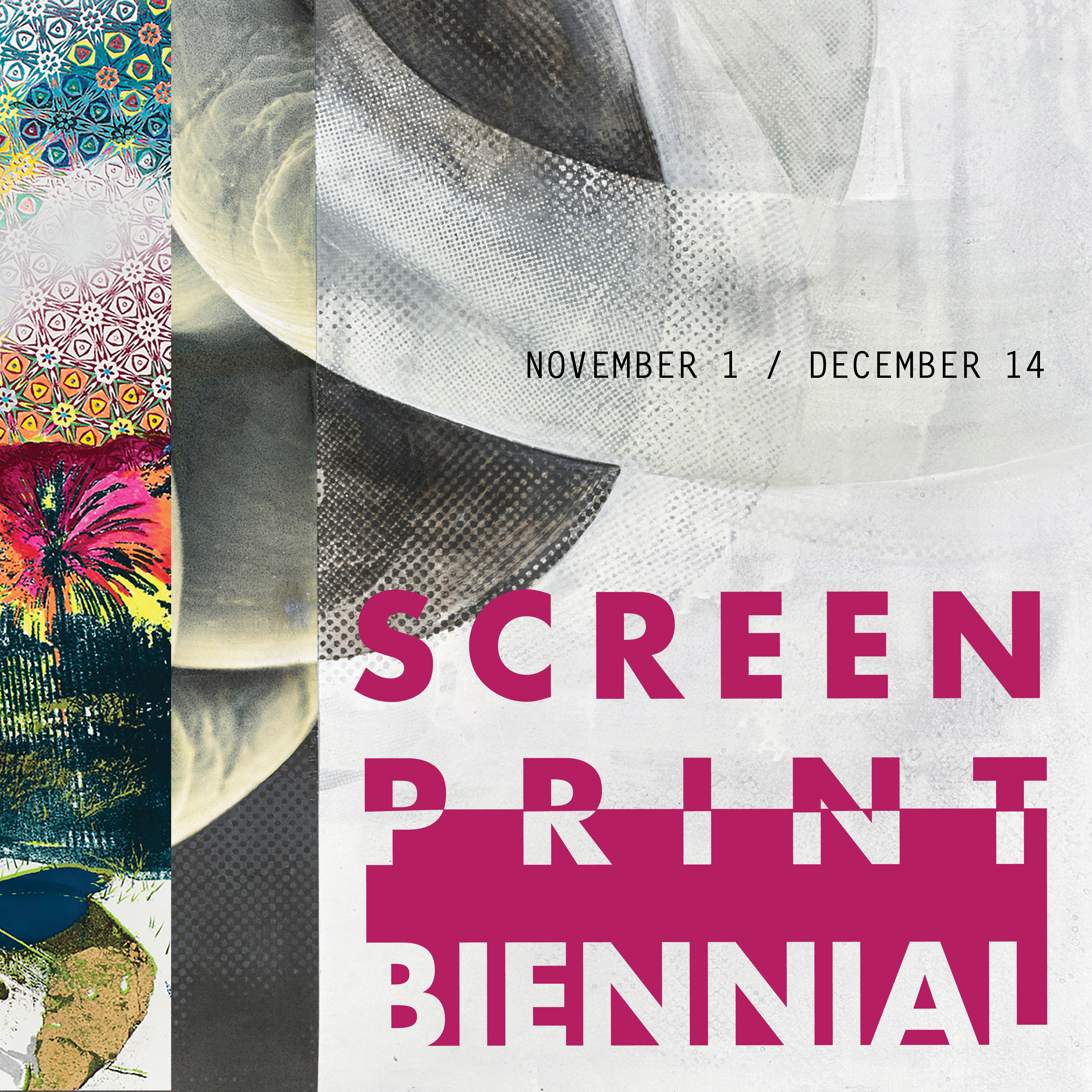 2018 Screenprint Biennial
Guest curator: Nathan Meltz
November 1 through December 14, 2018
Artist Lecture, Tonja Torgerson: THUR, November 1, 6:30 pm
Opening reception: FRI, November 2, 6 pm to 8 pm
Curator's tour: FRI, November 2, 5 pm
Screenprint Symposium: SAT, November 3, all day, see below
Steamroller Print Day, SAT, November 10, 10 am to 5 pm
Student Reception: THURS, November 8, 5 pm
Screenprint Biennial 2018 Symposium
Saturday, November 3, 2018
8:30 am-9:30 am
Light Breakfast and Jurors' Tour 
Coffee and donuts  in the gallery and exhibition tour with Screenprint Biennial founder and juror Nathan Meltz, joined by juror Travis Janssen.
9:30 am -10:30 am
Printmaker's Round Table:
A discussion among nationally-recognized screenprint artists Terry James Conrad and Travis Janssen, along with biennial artists Amy Cousins, Dadisi Curtis, Tonja Torgerson, Sheila Goloborotko, and Tatiana Potts as they address contemporary issues in print-based art practices. Discussion and Q&A led by curator Nathan Meltz.
10:45 am – 11:45 am
Keynote Address: Luther Davis
Keynote address from Master Printer Luther Davis, co-founder of Forth Estate, a fine art publisher focused on producing limited editions with emerging artists.
12:00 pm Lunch and Open Portfolio:
The open portfolio is a democratic event in which students present side-by-side with nationally-recognized graphic artists and graphic art faculty. Free and open to the public, symposium registration not required to attend. Participation in the open portfolio is limited and will be filled on a first-come, first-serve basis. Please contact Amy Griffin at [email protected] to reserve your spot.
2:30 pm Optional Regroup at the Tang Teaching Museum special Print Collection:
After lunch, regroup at the Tang Teaching Museum on the campus of Skidmore College to view their print collection, which is not open to the public without special appointment, with Tang Registrar, Jessica Lubniewski. Note: Transportation is not provided. Carpooling encouraged.
Tickets
Tickets include admission, coffee and donuts, and lunch: $20 in advance, $25 day of event, $10 for students with valid ID. For more information and to purchase tickets, click here.
Steamroller Print Day 
Saturday, November 10, 2018, 10 am to 5 pm
Co-hosted by Art+Design at the Sage College of Albany in the Armory on New Scotland Avenue. Generously sponsored by Mohawk Paper. Participants will ink and print oversized, hand-carved woodblocks under the drum of a 2-ton steamroller.
Artist Lectures
Sharon Bates · Tuesday, September 25, 6:30pm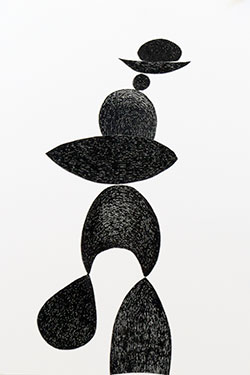 Bates repurposes the detritus of material culture to create inventive, site-specific installations, mixed-media assemblages and drawings. FYI: This talk will be preceded by an exhibition tour at 5:30 p.m.
Eleazar Hernández · Thursday, October 11, 6:30pm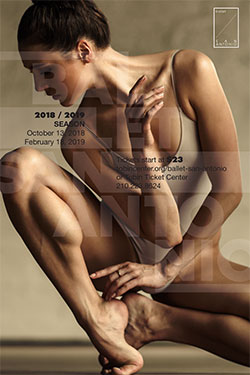 Eleazar Hernández, Sage professor of Graphic + Media design professor, is a creative director, designer, illustrator, educator and author.
Tonja Torgersen · Thursday, November 1, 6:30 pm
Torgerson is a Kansas-based artist whose work examines death and the body's impermanence and experiments with methods and siting of print-based art.
Daesha Devón Harris · Tuesday, November 27, 6:30 pm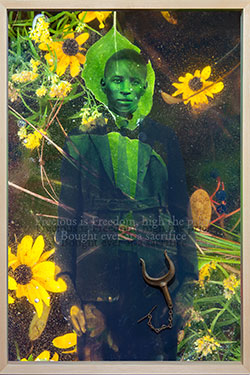 Using photography, video and experimental print techniques, Devón Harris's work explores individual and collective stories and history.
Other Events
POP-UP YOGA @ OPALKA · Wednesday, September 12, 6-7pm
All levels welcome. Mats and props provided, but please bring a mat if you have one. Pay what you can. Teacher: Carrie Will. Co-sponsored with Yoga Care.
PECHAKUCHA @ OPALKA · Friday, September 21, snacks at 6:30pm, talks at 7pm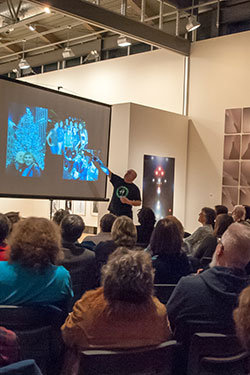 Short talks by interesting people. PechaKucha is a format in which speakers present 20 slides for 20 seconds each. Email [email protected] if you are interested in presenting.
LIVE MUSIC @ OPALKA · Saturday, September 29, 8pm
John Vanderslice: Living Room Tour
An intimate, live acoustic set by "songwriter's songwriter" John Vanderslice. Please note: Tickets – $20, must purchased in advance from Undertow Shows
SUPPER CLUB @ OPALKA, Vol. 2: "Batesland"
Saturday, October 13
6pm cocktail hour · 7pm dinner+discussion
Dinner by New World Bistro
$45 individual, $85 couple. Space is limited.
Enjoy delicious local cuisine, thought-provoking art and lively conversation with  Sharon Bates and other regional artists.
FILM @ OPALKA · Thursday, November 8, 6:30 pm
Just Like Being There
In conjunction with the 2018 Screenprint Biennial, we present a documentary exploring the gig poster community, a way of life for some artists.
POETRY @ OPALKA · Thursday, November 29, 7 pm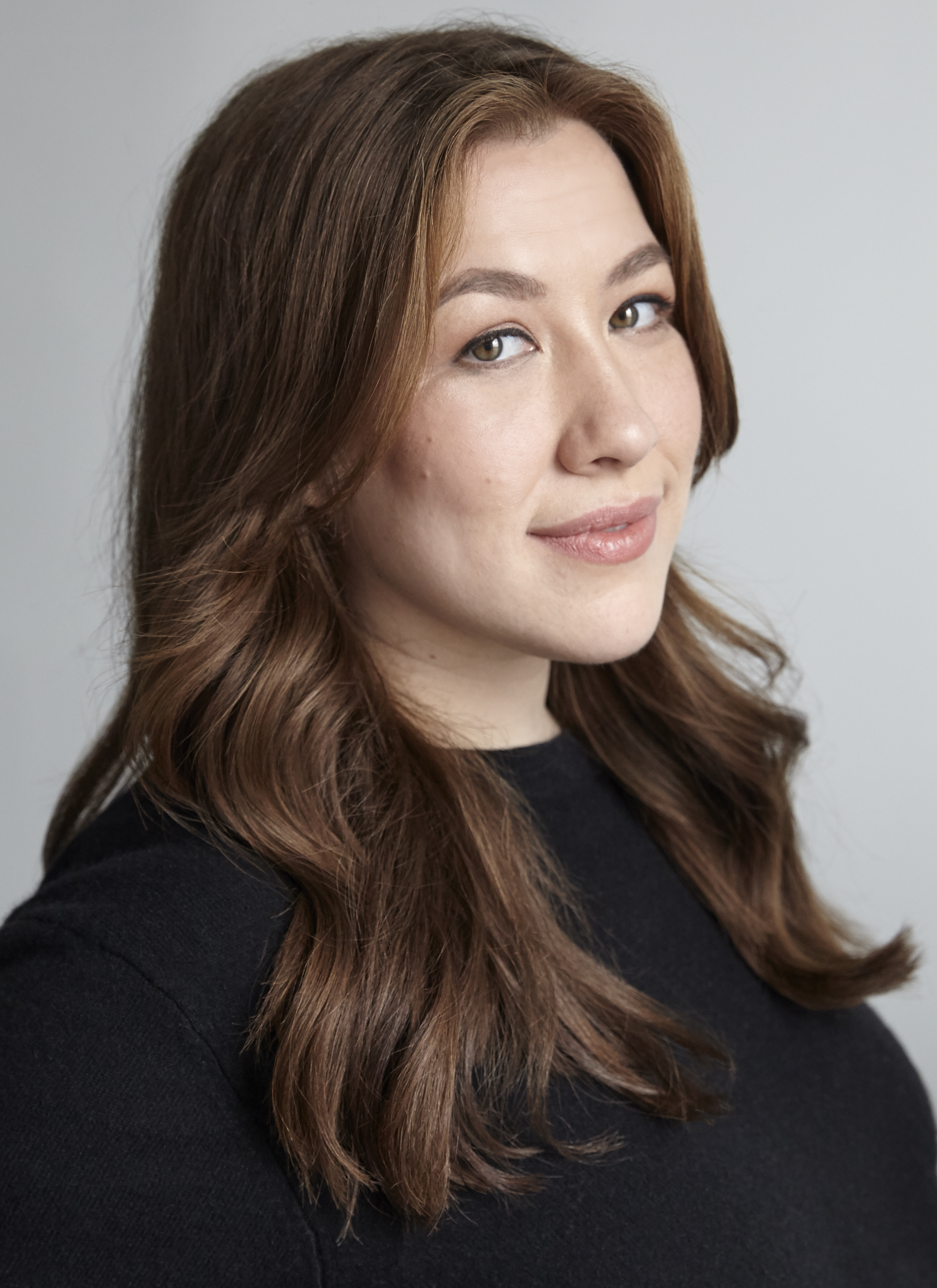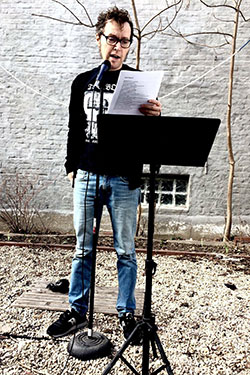 The REV Presents
Featuring readings by acclaimed poets, Jeff T. Johnson (Philadelphia)  and Emily Sieu Liebowitz (Brooklyn). Presented in partnership with The Rev.
DANCE @ OPALKA · Friday, December 7, 6:30 pm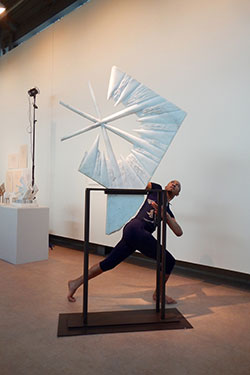 Ellen Sinopoli Dance Company
ESDC returns with a site-specific performance in response to select work from the 2018 Screenprint Biennial exhibition.
Spring 2018
All events are free and open to the public unless otherwise noted
Exhibitions
The 14th Annual BFA Exhibition
May 4, 2018 through June 11, 2018
Opening reception: Friday, May 4, 5-7 pm
This annual showcase features work by seniors in the Sage College of Albany Art + Design BFA programs: Fine Art, Photography, Interior Design and Graphic + Media Design. The Annual BFA Exhibition offers a glimpse of the best of what the BFA programs at Sage have to offer.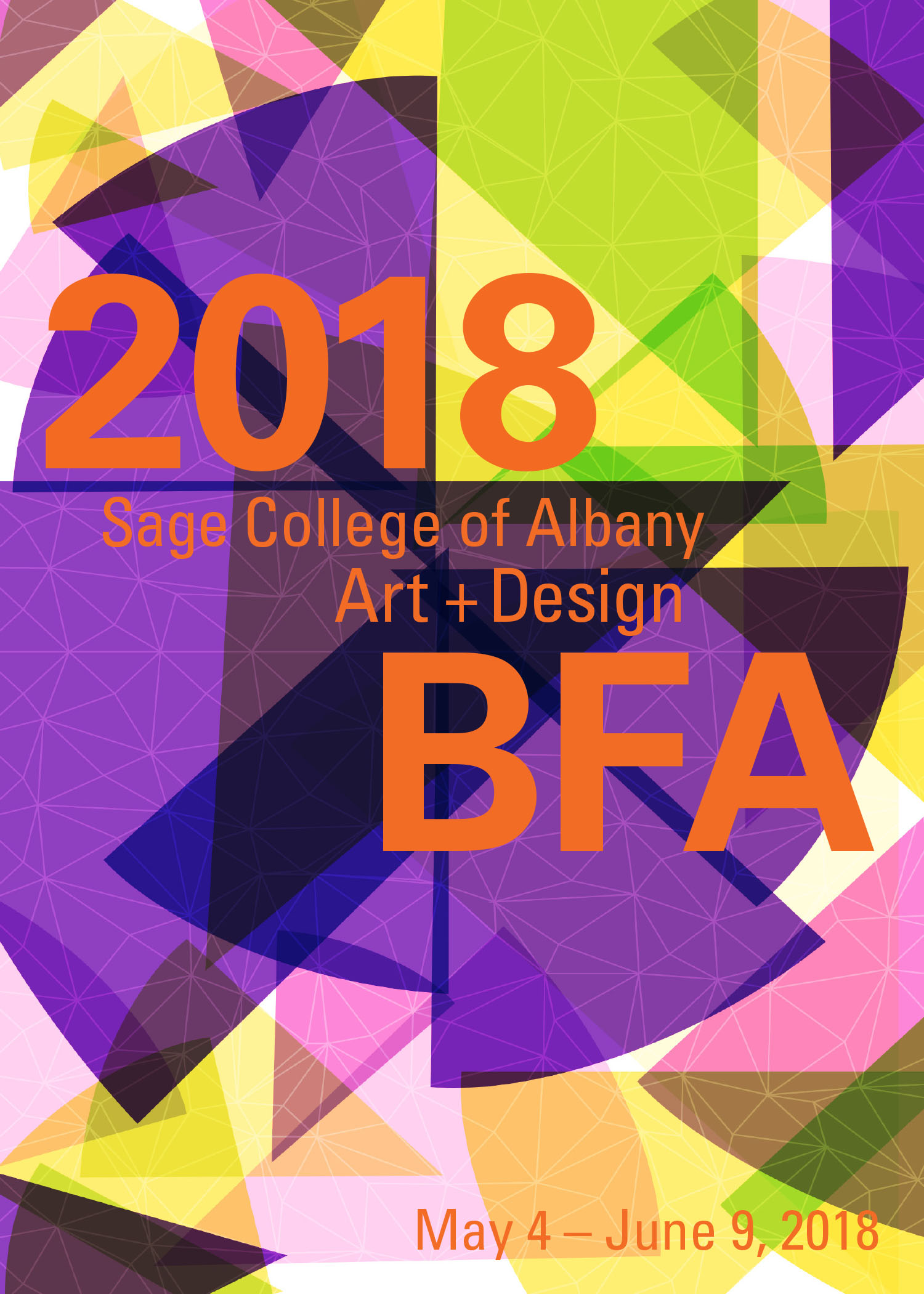 The 40th Annual Photo Regional: Effects That Aren't Special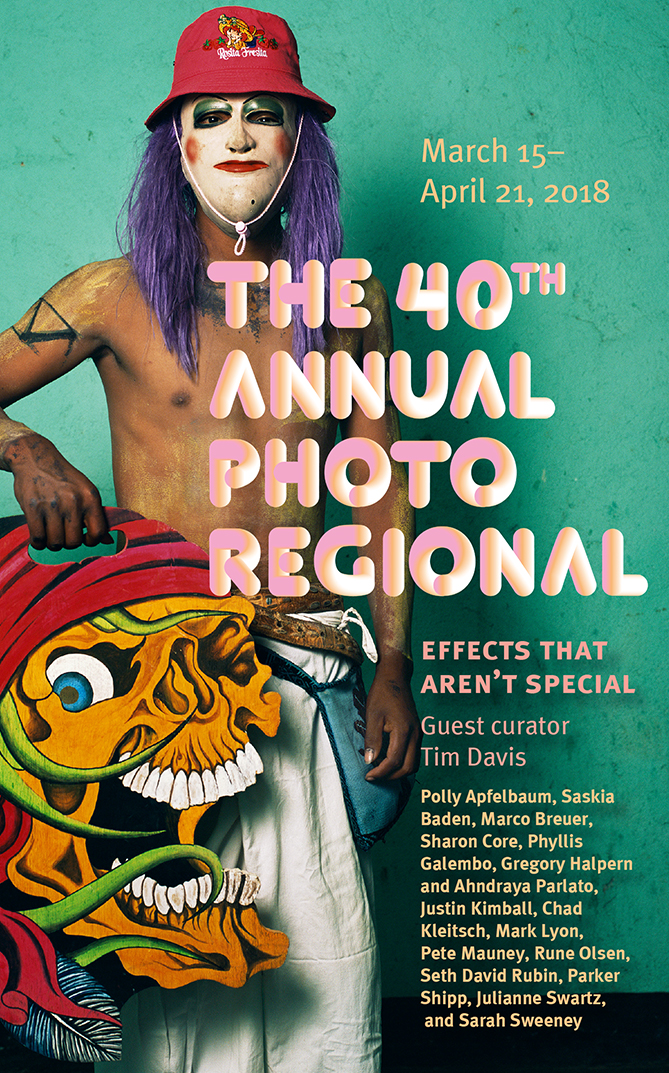 For the 40th Annual Photo Regional, we return to a curated format in order to get a deeper look at smaller number of regional artists working in photography. Curated by artist Tim Davis, professor of photography at Bard College.
Opening Reception: Friday, March 16, 6-8 pm
Exhibition Tour: Thursday, March 15, 5 pm
Curator Talk: Thursday, March 15, 6:30 pm
Student Reception: Tuesday, March 27, 5:30-6:30 pm
April 1st Friday event: live jazz with Lecco Morris, 5:30 pm to 7:30 pm
Practice What You Teach: The Sage College of Albany Art+Design Faculty Show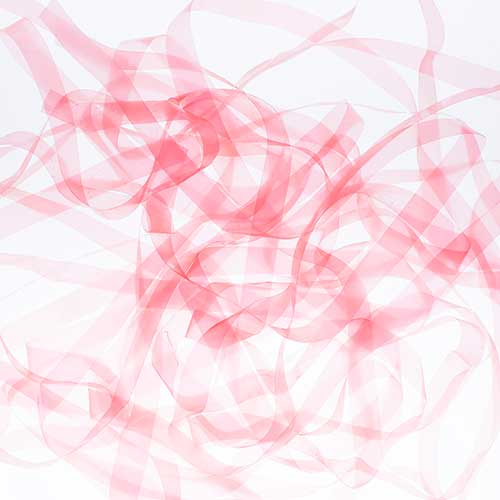 The faculty is comprised of artists in working in multiple media–sound, photo, graphic and interior design, printmaking, sculpture, and painting. Featuring recent works by Lynn Capirsello, Jean Dahlgren, Melody Davis, William Fillmore, Eleazar Hernández, Natasha Holmes, Sean Hovendick,  Willie Marlowe, Melinda McDaniel, Matthew McElligott, Leah Rico, Terrence Tiernan, and Gary Shankman
Opening Reception: Friday, February 2, 6 – 8 pm with
performances by Ellen Sinopoli Dance Company throughout the gallery starting at 6:30 pm
Exhibition Tour: Thursday, February 8, 5:00 pm
Student Reception: Tuesday, January 23, 5-7 pm
Artist Lectures Series
Co-sponsored with th Sage Art+Design Department
Andrew Brischler
Tuesday, January 30, 6:30 p.m.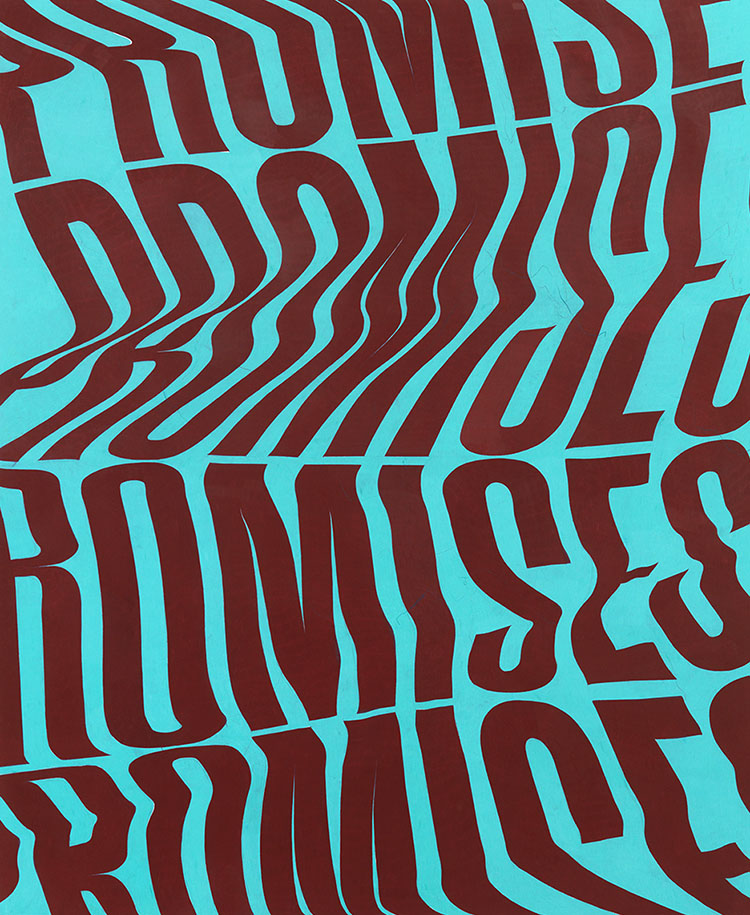 Andrew Brischler earned his BFA in Painting and Drawing at SUNY New Paltz in 2009 and his MFA at The School of Visual Arts in 2012. He just concluded two solo shows, "Lonely Planet" at Gavlak in both Los Angeles and Palm Beach. His work has  also been included in numerous solo and group exhibitions throughout the United States and Europe. In 2013, he was awarded the prestigious Rema Hort Mann Foundation Visual Arts Grant. Brischler has been featured in numerous publications, including Architectural Digest, 100 Painters of Tomorrow (Thames & Hudson, 2014), Modern Painters, and New American Paintings. andrewbrischler.com
Alicia Ross
Thursday, February 22, 6:30 p.m.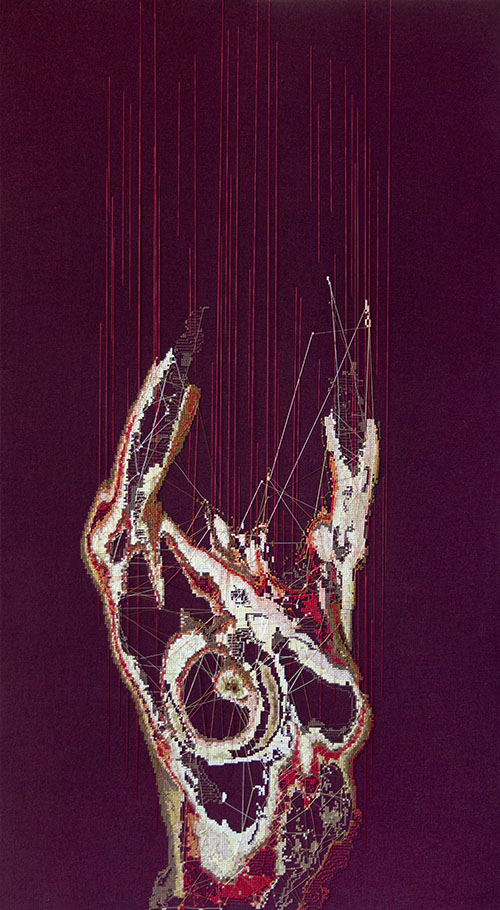 Alicia Ross's work explores various aspects of female identity using photography, fiber, video, and installation. Most recently noted for her large-scale embroidery work, Ross's work embodies a unique hybridization between hand and machine. Her work blurs lines between the sacred and profane—as subject matter is appropriated from online sources, removed from their original context, and translated into stitch. Through manipulation and remediation, Ross forces the viewer to ascribe their own moral virtue to the figures. Ross's work evokes dialog regarding the female form and the social construction of gender roles within the context of the male gaze.  aliciaross.com
Tim Davis
Thursday, March 15, 6:30 p.m.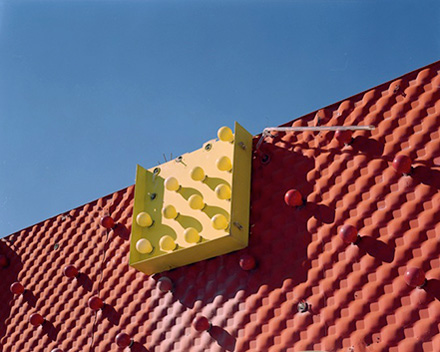 The curator of this year's Photography Regional, Tim Davis, is an artist, writer, and musician working in many fields. His photographs have been exhibited around the world and are in the collections of dozens of museums including the Metropolitan, Whitney, Brooklyn, Guggenheim and the Walker. His art writings are widely published, in catalog essays and magazines such as Cabinet, Bomb, Aperture and Blind Spot. Mostly working in video these days, his projects have been shown in numerous international exhibitions and Biennials. He has recently recorded an album of his original songs, entitled, "It's OK to Hate Yourself." Davis lives and works in Tivoli, NY and teaches at Bard College.  davistim.com
Scrimshaw Distinguished Visiting Artist Lecture: Nate Larson and Marni Shindelman
Thursday, April 12, 6:30 p.m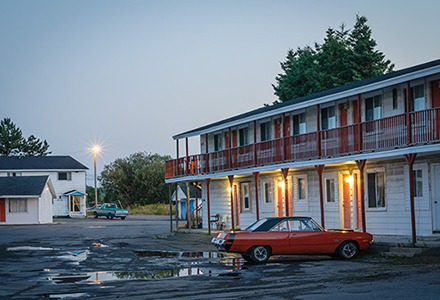 Nate Larson and Marni Shindelman collaboratively investigate the data tracks we amass through networked communication. Their work ties the invisible to actual sites, anchoring the ephemeral in photographs and immersive video installations. Their most well-known project, Geolocation, traces Twitter posts to the point of origin and makes a photograph to mark the location in the real world, probing the expectations of privacy surrounding social networks. www.larson-shindelman.com 

Film Series
Cinema Paradiso (1988)
Thursday, February 8, 6:30 p.m.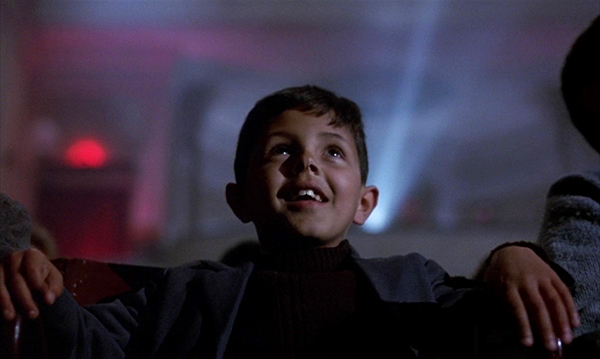 This Academy-Award-winning classic film tells the story of a boy who escapes his life in a war-torn village at the local movie house, and the ways it shapes his life. (155 minutes)
Point & Shoot (2015)
Tuesday, March 27, 6:30 p.m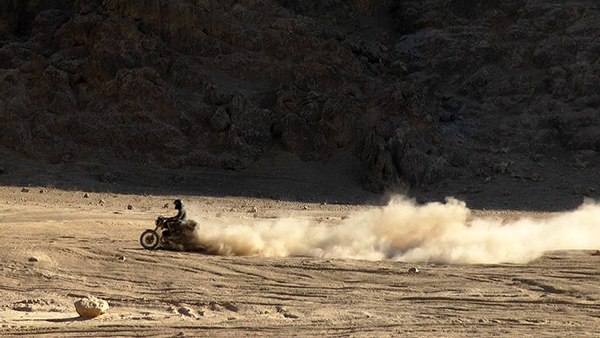 This event is a collaboration with the award-winning documentary series POV, (www.pbs.org/pov) and WMHT Public Media. Panel discussion after the film.
Matt VanDyke was a recent grad with a love of videogames and action movies when he decided to embark on a "crash course in manhood." As VanDyke worked to reshape himself, he also helped create a stunning portrait of how the ever-present cameras in our "selfie society" not only record our lives, but also craft who we become. Drawing from more than 100 hours of VanDyke's action-packed travel videos, director Marshall Curry (with full creative independence in the making of the film) has created a riveting film that asks thorny questions about manhood, personal risk and the nature of war in the era of Facebook. (87 minutes)
Film and Filmmaker discussion: Dawson City: Frozen Time  (2016)
Friday, May 11, 6:00 p.m. (Please note new date and time!)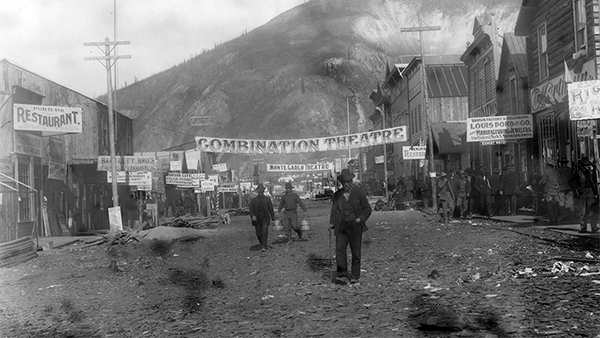 Dawson City: Frozen Time pieces together the bizarre true history of a collection of some 500 films dating, from 1910s – 1920s, which were lost for over 50 years until being discovered buried in a subarctic swimming pool deep in the Yukon Territory, in Dawson City, located about 350 miles south of the Arctic Circle. Using these permafrost protected, rare silent films and newsreels, archival footage, interviews and historical photographs to tell the story, and accompanied by an enigmatic score by Sigur Rós collaborator and composer Alex Somers the film depicts a unique history of this Canadian gold rush town by chronicling the life cycle of a singular film collection through its exile, burial, rediscovery, and salvation – and through that collection, how a First Nation hunting camp was transformed and displaced. (120 minutes)
This program is presented in partnership with Arts Letters & Numbers. ALN founder, David Gersten, will moderate a Q&A with the film's Director, Bill Morrison, after the screening. The film and discussion will be followed by a reception in the gallery.
Yoga @ Opalka
Pop-up Yoga Class 
Wednesday, April 18, 6:00-7:15pm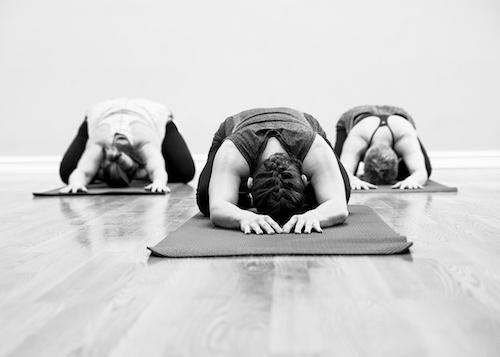 All levels welcome. Yoga Care will provide mats and props, but please bring a yoga mat if you have one. Pay what you can. Teacher: Carrie Will
Co-sponsored with  Yoga Care
Open Forum @ Opalka
Diversity in The Creative Economy
Wednesday, April 11, 6-8 p.m.

Presented in partnership with 518blk and the Alliance for the Creative Economy
2018 kicks off a series of discussions where we will dive into community conversations about the region's most pressing issues. Open Forums will be led by thought leaders, community members and other important stakeholders.
Supper Club @ Opalka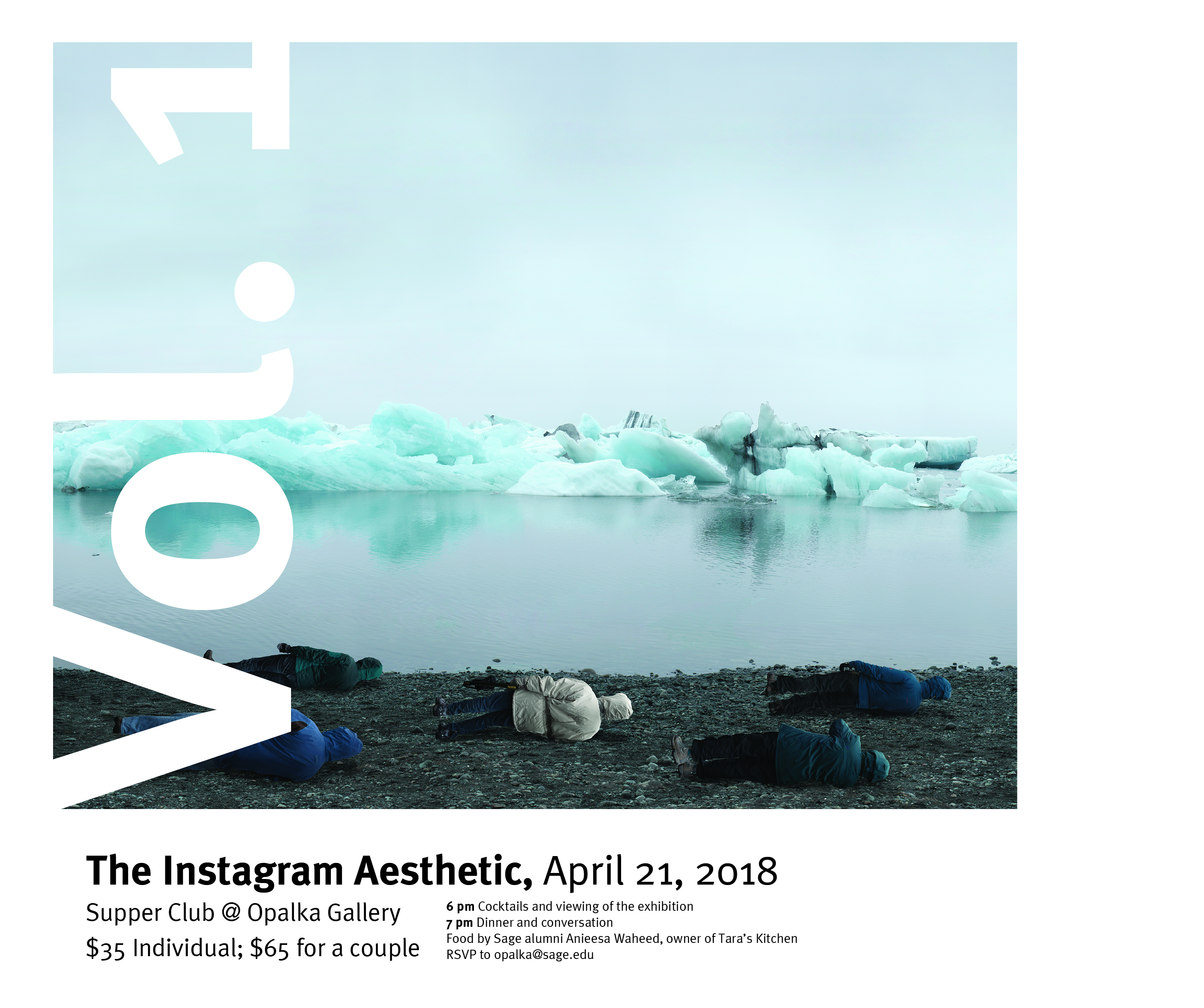 Supper Club, Vol. 1:
The Instagram Aesthetic – How is social media changing the art of photography?
Saturday, April 21, 6 p.m. cocktail hour; 7.p.m. dinner + discussion
$35 individual, $65 couple. Space is limited.
Enjoy delicious local cuisine, thought-provoking art, and lively conversation with local artists and curators connected to the Photography Regional exhibition. Catered by Tara Kitchen.
PechaKucha
PechaKucha: Faculty Edition
Friday, February 9, 6:30 p.m. snacks, 7 p.m. talks
Short talks by interesting Sage faculty: 20 slides for 20 seconds each.
PechaKucha Night
Friday, March 23, 6:30 p.m. snacks, 7:00 p.m. talks
Short talks by interesting people. PechaKucha is a format in which speakers present 20 slides for 20 seconds each. Contact Amy Griffin, [email protected], if you're interested in presenting. PechaKucha.org
Fall 2017
Artist Lecture Series
Co-sponsored by the Opalka Gallery and the Department of Art + Design.
Nina Buxenbaum
Thursday, October 5, 6:30 p.m.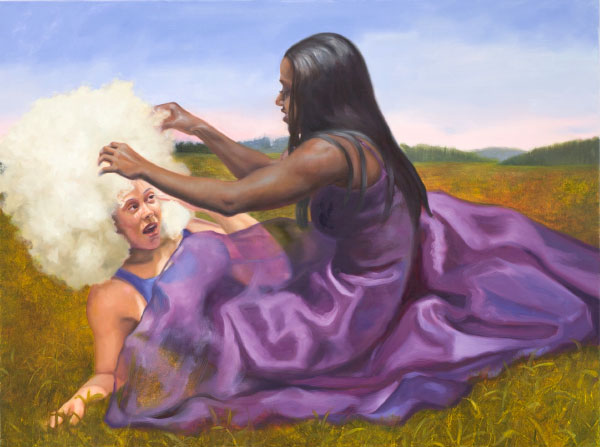 Nina Buxenbaum works in a traditional figurative painting style, while dealing with issues of the public versus private persona, and identity. She has participated in numerous residencies including at the Cité Internationale des Arts in Paris, the Skowhegan School of Painting, and The Vermont Studio Center. Her work has been exhibited around the country including at the Studio Museum of Harlem (NYC), the Kentler International Drawing Space (Brooklyn), the Ingalls Gallery (Miami), and and featured in the International Review of African American Art. She is an Associate Professor of Painting at York College in Jamaica, NY.
Paul Shaw
Thursday, October 26, 6:30 pm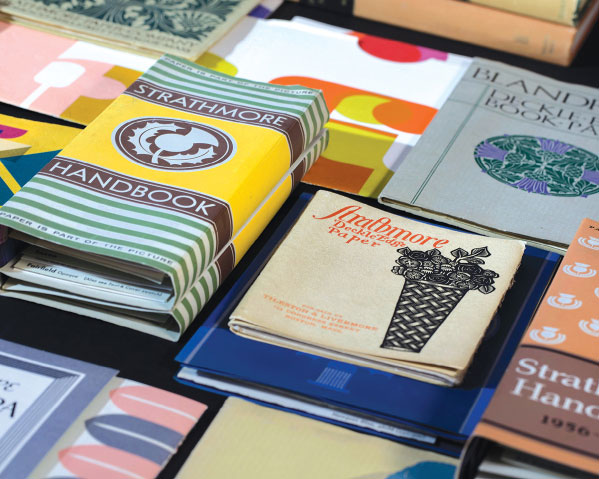 Paul Shaw, curator of the exhibition Paper Is Part of the Picture, is a designer and design historian who has researched and written about the history of graphic design with a focus on typography, lettering and calligraphy. A recipient of grants and scholarships from the NEH, the Smithsonian Institution, and the Harry Ransom Center at University of Texas, among others, he was also a 2002 Fellow at the American Academy in Rome. A contributing editor for Print, he has contributed to and edited many journals,and is author of the acclaimed Helvetica and the New York City Subway System.
Seymour Chwast
Friday, November 3, 7:30 pm
Please RSVP to [email protected]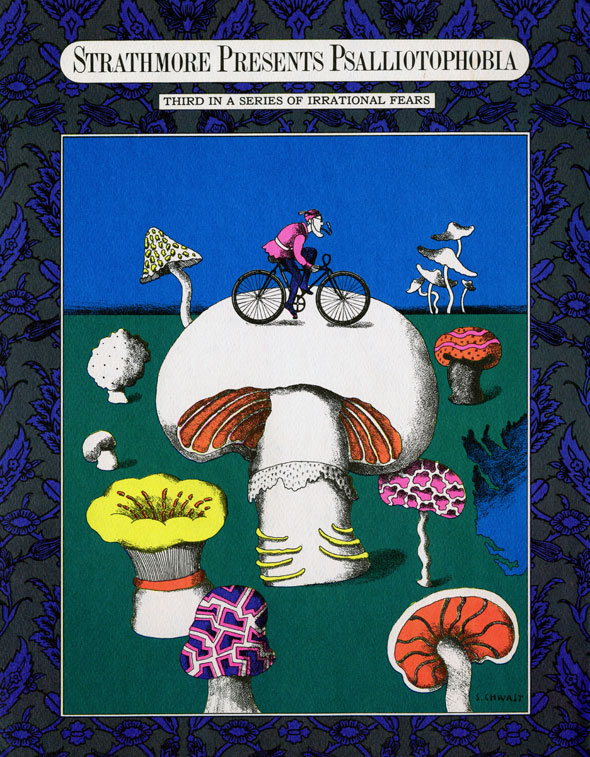 Seymour Chwast is an American graphic designer known for his diverse body of work, and lasting influence on visual culture. Born in 1931, in New York City, Chwast studied illustration and design at the Cooper Union. His is a founding partner of the celebrated Push Pin Studios, whose revolutionary work altered the course of contemporary graphic communication in the late 1960s, and continues to affect the field of design worldwide. In 1985, the studio's name was changed to the Pushpin Group, of which Chwast is the director. His talk, "God, War & Sex" will follow a tour of the exhibition "Paper is Part of the Picture: Strathmore and the Evolution of American Graphic Design" with Chris Harrold, VP Creative Director of Mohawk, at 6 p.m.
Carl Sprague
Tuesday, November 14, 6:30 p.m.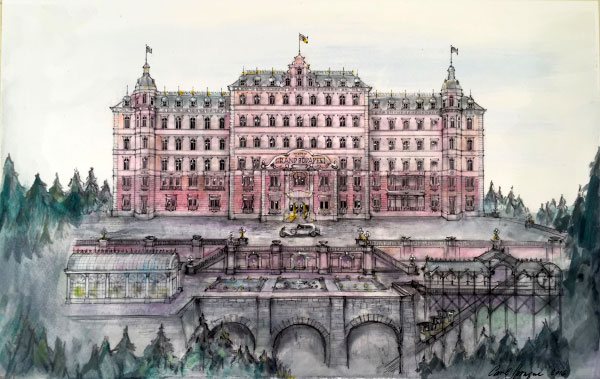 Carl Sprague has worked in the art departments of more than 20 films, which, between them, have a combined total of 29 Oscar nominations. He has worked with Martin Scorsese, Steven Spielberg, and David Fincher, but the most enduring collaboration has been with Wes Anderson, as concept illustrator on The Grand Budapest Hotel, assistant art director on Moonrise Kingdom and as art director on The Royal Tenenbaums, for which he as nominated for an Art Director's Guild Award.
Julia Jacquette
Thursday, December 7, 6:30 p.m.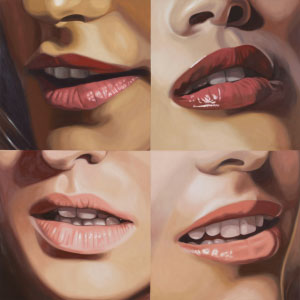 Based in New York City and Amsterdam, artist Julia Jacquette's work has been shown extensively at galleries and museums around the world, including the Museum of Modern Art, NY, and The Museum of Fine Arts Boston, among other institutions. Jacquette's work was included in the first installment of PS1's "Greater New York" exhibition, was the subject of retrospectives at the Tang Museum and recently, at the Wellin Museum. She has taught at the Rhode Island School of Design, Princeton University, and is currently on the faculty at the Fashion Institute of Technology, NYC.
AIGA Upstate/Department of Art+Design Lecture
Luba Lukova
Tuesday, October 17, 6:30 p.m.
Free for students with I.D., $10 for AIGA members, $20 for non-AIGA members.
All attendees must register at this link: Tickets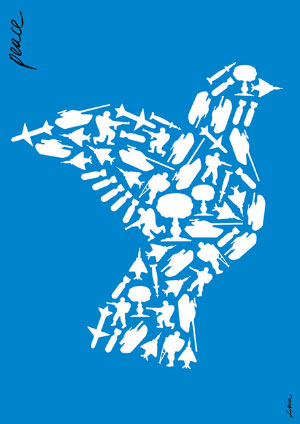 Internationally recognized, New York-based Luba Lukova is regarded as one of the most original image-makers working. She creates arguably some of the most iconic and indelible imagery in the realm of contemporary poster design. Whether by using an economy of line, color and text to pinpoint essential themes of humanity or to succinctly visualize social commentary, her work is undeniably powerful and thought-provoking. Her work has been exhibited around the world including UNESCO, Paris, DDD Gallery, Osaka, Japan, the Art Institute of Boston and, most recently, the Museum of Design, Atlanta.
Film Series
Eames: The Architect and The Painter (2011)
Thursday, September 28, 6:30 p.m.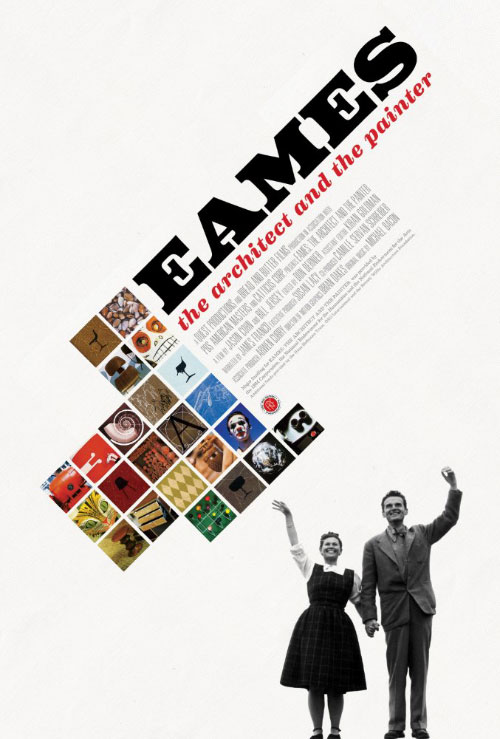 Though Charles and Ray Eames are best known for their ubiquitous furniture and the signature innovation of the classic Eames chair, this essential documentary shows Charles and Ray applying the same process of inquiry to architecture, exhibitions and their quirky, beautiful films. "Well-crafted and insightful. A must for those with an interest in modern design." — The Hollywood Reporter (84 mins, not rated)
Iris (2016)
Thursday, October 12, 6:30 p.m.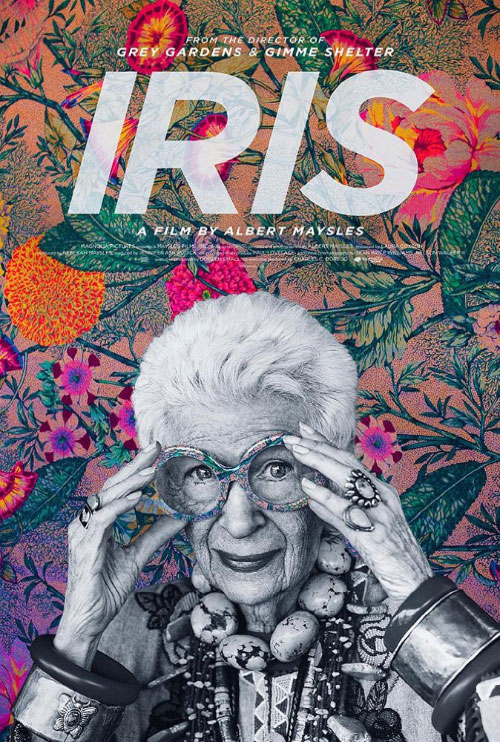 A delightful collaboration among cultural royalty, legendary filmmaker Albert Maysles turned his camera on legendary fashion and design icon, Iris Apfel, in what would be his last film before his death in 2015. Now 96, Apfel worked for Women's Wear Daily before opening her own interior design business, but became a fashion sensation later in life after a 2005 Metropolitan Museum of Art exhibit of her work. This event is a collaboration with POV, PBS' Award-Winning Nonfiction Film Series, and WMHT Public Media. (90 mins, PG-13)
A panel discussion will follow the film.
The Grand Budapest Hotel (2014)
Thursday, November 9, 6:30 p.m.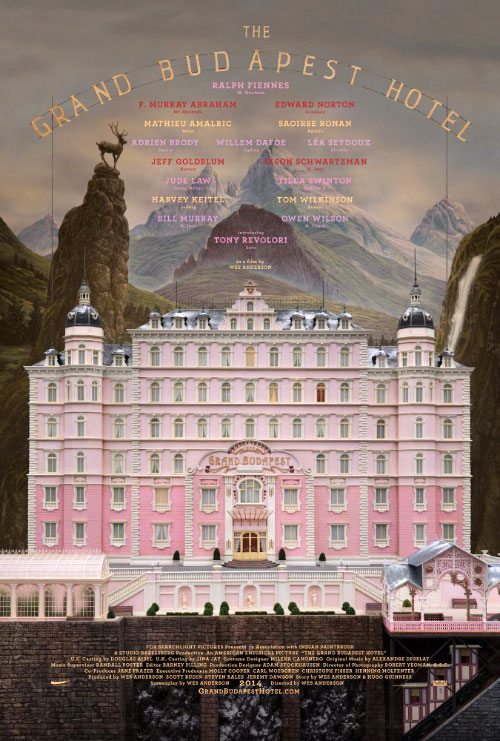 In honor of Carl Sprague, our guest speaker on November 14, we'll be screening this Academy Award-winning film by Wes Anderson. Sprague, who worked with Anderson on numerous films, was the concept illustrator on this film about the adventures of Gustave H., a legendary concierge at a famous hotel from the fictional Republic of Zubrowka between the first and second World Wars, and Zero Moustafa, the lobby boy who becomes his most trusted friend. (99 mins, rated R)
Other Events
Ellen Sinopoli Dance Company Performance
Friday, September 8, 2017, 6 – 7 p.m.
Join us for a free performance by Ellen Sinopoli Dance Company in response to the current exhibition by Kathryn Field.
Listening Here: Albany
Saturday, October 7, 3 – 5 p.m.
"Listening Here: Albany" is a mobile web app for mindful listening and creative engagement with the sounds around you. We're pleased to host Stephanie Loveless and Cristyn Magnus for an event at the Opalka Gallery where you can exercise your ears through a series of listening activities, try out the web app, and experience an artist-led listening tour.
PechaKucha Night
Friday, October 27 6:30 p.m. snacks, 7:00 p.m. talks
Short talks by interesting people. PechaKucha is a format in which speakers present 20 slides for 20 seconds each. Contact Amy Griffin, [email protected], if you're interested in presenting.
Exhibition Tour
Friday, November 3, 6 p.m.
Join Chris Harrold, VP Creative Director of Mohawk Paper, as he takes viewers on a tour of the exhibition "Paper is Part of the Picture: Strathmore Paper and the Evolution of American Graphic Paper Design."
Paul Shaw's Lettering Walk
Saturday, November 4, 10 am -1 pm *meets at the Renaissance Hotel, see below.
Please RSVP: [email protected]
Participants will have the opportunity to see Albany from a fresh perspective, that of the numerous examples of lettering that reveal the city's changing industrial, social, demographic and architectural history from the mid-19th century to the late 20th century. The focus will be on the lettering in downtown Albany: neon signs, inscriptions, ghost signs, vernacular signs, commercial and retail names, architectural lettering, and so on. The principal emphasis will be on the different styles of lettering and the various methods by which they were made. A secondary emphasis will be on what the signs and lettering can tell us about the past such as changing patterns of commerce, the growth and/or decay of an area, its ethnic makeup, etc. Free and open to the public. *Starts and ends at Renaissance Hotel at 144 State Street, Albany, NY.
Collage Night
Friday, December 1, 6:30 p.m.
Drop in for an art party that combines free-form collage making and the golden age of graphic design when Caroline Corrigan and Ira Marcks bring their Upstate Collage Night to Opalka. They provide a refined collection of vintage magazines and all the supplies you'll need.
Spring 2017
Artist Lecture Series
Co-sponsored by the Opalka Gallery and the Department of Art + Design.
Melissa Thorne
Tuesday, January 31, 6:30 p.m.

Melissa Thorne's work addresses multiple formats, including paintings on canvas and paper, and large-scale site-specific wall drawings in ink and watercolor. Her paintings have been shown widely in solo and group exhibitions, including at Los Angeles County Museum of Art, the Museum of Fine Arts Houston, and University Museum at SUNY/Albany. She is represented by Devin Borden Gallery in Houston, TX, and Galerie Anke Schmidt in Cologne, Germany.
Nina Roefaro Lomeo
February 28, 6:30 pm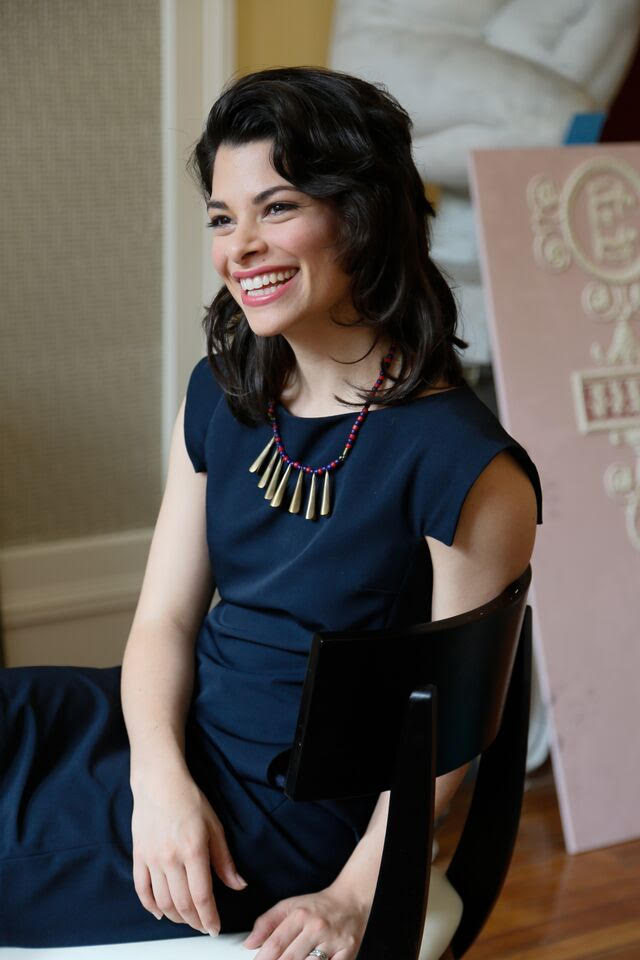 Nina Roefaro Lomeo is an artist and designer best known for her hands-on work with detailed and large-scale projects across New York City and the East Coast. Her signature work focuses on interior-architecture and furniture design.
Nina is a Magna Cum Laude graduate of Syracuse University, where she holds a degree in Interior Design. She routinely teaches and lectures at the Institute of Classical Architecture & Art, The New York School of Interior Design, Syracuse University, Baruch College and Sage College of Albany. She is also a member of the SUMMA mentoring program.
Terry James Conrad
Tuesday, March 28, 6:30 p.m.

Terry James Conrad is a printmaker and educator living in Round Lake, NY and interested in the communal and social aspects of printmaking. The 2015-16 Grant Wood Fellow in Printmaking at the University of Iowa, he has been awarded several other residencies and grants. He's exhibited widely in solo and two-person shows, as well as group exhibitions. He holds a BFA from Alfred University and an MFA from Cranbrook Academy of Art.
Julie Casper Roth
Tuesday, April 18, 6:30 p.m.

Julie Casper Roth is an award-winning filmmaker and video artist interested in underdogs, paradox, and the oft-unseen. A 2008 NYFA Fellow in Video, a 2012 CAA Professional Development Fellowship recipient, and a two-time finalist for the Sundance Screenwriter's Lab, Casper Roth embraces narrative, moving between experimental, documentary and fictional modes. She is currently at work on a documentary about indigent burial in the United States.
Film Series
Persepolis
(2013)
Thursday, February 2, 6:30 p.m.

Based on Marjane Satrapi's autobiographical graphic novel of the same name, Persepolis is the story of a precocious young girl living in Iran during the Islamic Revolution. "I believe that an entire nation should not be judged by the wrongdoings of a few extremists," Satrapi says. Nominated for an Oscar and a Golden Globe, the film was widely acclaimed. (96 mins.)
Cameraperson
(2016)
Thursday, March 2, 6:30 p.m.

Exposing her role behind the camera, Kirsten Johnson reaches into the vast trove of footage she has shot over decades around the world. What emerges is a visually bold memoir and a revelatory interrogation of the power of the camera. The NY Times called it "…transfixing. It's unlike anything you've ever seen before…."(102 mins.)
1984 (1984)
Screening with panel discussion
Tuesday, April 4, 6:00 p.m.
In the totalitarian state of Oceania, conformity is required, pleasure is illegal, and lives are dominated by fear. Workers are under constant surveillance by the Thought Police, and all must pledge total loyalty to Oceania's leader, Big Brother. Winston Smith (John Hurt) toils away in the records office of the Ministry of Truth during the day, only to return to a squalid existence at home, dulled only by government-issued liquor. On April 4, 1984, in a small but perilous act of resistance, he begins keeping a forbidden diary. If found out, he risks arrest, torture, and vaporization. (1 hr. 53 mins)
Note: This film is being screened as part of the National Screening Day of 1984 to initiate community conversations about truth and human rights in our current political climate. Immediately following the screening, there will be a panel discussion with Dr. Steven A. Leibo, Sage Professor, History and Society, and the Sherman David Spector Sage Professor in the Humanities; Dr. David Salomon, Sage Professor, English; Dr. Harvey Strum, Professor, History and Public Affairs and Public Policy Director.
Beauty is Embarrassing
(2012) 
Thursday, April 13, 6:30 p.m.

A funny, irreverent, joyful, inspiring documentary about Wayne White. White, who found early success as one of the creators and designers on the show "Pee-wee's Playhouse," has created some of the most iconic images in pop culture and found success in the fine art world, too. The film reminds us that we should all follow our passions–it's those creative impulses that lead us where we need to go. (88 mins.)
Sign Painters
(2013) 
Thursday, May 11, 6:30 p.m.

We see them almost every day without a second thought. Weathered by time, distinct characteristics shining through, hand-painted signs are a product of a fascinating 150 year-old American history. What was once a common job has now become a highly specialized trade, a unique craft struggling with technological advances. Sign Painters stylistically explores this unacknowledged art form. (81 mins.)
Other Events
PechaKucha Night
Friday, February 10, 6:30 p.m. snacks, 7 p.m. talks

Short talks by interesting people. PechaKucha is a format in which speakers present 20 slides for 20 seconds each. Join us for an always fun and engaging evening. Free!
Jill Adams, "My writing practice and my mother's death"
Shawn Allan, "You're learning Dutch? … But why???"
John Chaplin on "Building in Wood"
Michael Chrisner on "Stealing Ideas and Honoring Influences in Graphic Design"
David Hochfelder & Ann Pfau on "The Faces of Urban Redevelopment: Albany's South Mallby the 98 Acres in Albany Project"
Natasha Holmes on her art
Jim MacNaughton & Nate Wilson, on their experiences of seeing the band DISCHARGE on their disastrous 1986 tour
Libby Post on "Advocacy: Now More than Ever"
Dan Smith, "Radical Politics and Labor Organization: Leon Davis and the Pharmacists' Union of Greater New York"Joe Ullman on "Gabriel Knight: Sins of the Fathers"
Lisa Vines on her collection of shopping lists
Charmaine Wijeyesinghe "Looking at the How of Racial Identity"
Ellen Sinopoli Dance Company
Friday, March 3 at 6:30 p.m. and Sunday, March 5 at 3 p.m.

After three highly successful site specific performances at the Opalka Gallery in the last four years, ESDC has been invited to create a new performance in relation to Austrian-born sculptor Caroline Ramersdorfer's current exhibit, Gravity + Light: Caroline Ramersdorfer | Sculptures 1985-2016.
The performances by ESDC will consist of a premiere, entitled At Any Given Moment, created by Artistic Director Ellen Sinopoli and her dancers, set to music by Evelyn Glennie, as well as two current repertory pieces, Auriga and Tumble, brought to new life for the gallery space.
Exhibition walk-through with artist Caroline Ramersdorfer
Friday, March 3 at 5:30 pm.
Before the dance performance by Ellen Sinopoli Dance Company on Friday, please join us as Caroline Ramersdorfer takes us on a tour of her exhibit, "Gravity & Light: Caroline Ramersdorfer | Sculpture 1985-2016."
Fall 2016
Artist Lecture Series
Co-sponsored by the Opalka Gallery and the Department of Art + Design.
Caroline Ramersdorfer
Tuesday, December 6, 6:30 pm
Caroline Ramersdorfer, whose sculpture is permanently installed in front of the gallery, is our second exhibiting artist this season. Born in Austria, Ramersdorfer currently lives in the Adirondacks and exhibits internationally. The only woman of 17 artists invited to participate in the Abu Dhabi International Sculpture Symposium in 2009, she was also selected to exhibit at the 2008 Olympic Summer Games in Beijing. For more: www.carolineramersdorfer.at
Angela Washko
Tuesday, November 1, 6:30 pm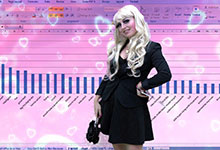 Angela Washko is an acclaimed artist, writer and facilitator devoted to creating new forums for discussions of feminism in the spaces most hostile toward it. Currently a Visiting Assistant Professor at Carnegie Mellon University, Washko founded The Council on Gender Sensitivity and Behavioral Awareness in World of Warcraft as an ongoing intervention inside the most popular MMORPG of all time. For more: angelawashko.com
Panel Discussion: Women in Art
Thursday, October 6, 6:30 pm
Co-sponsored by Opalka Gallery and the Sage College Department of Art+Design.
In the art world, as in the rest of the world, women have yet to achieve parity. More art by men is collected by museums and shown in galleries, even as more women graduate with fine arts degrees every year. Why does the imbalance persist and what can be done about it?
Join us for a panel co-moderated by Opalka Director Elizabeth Greenberg and Julie Lohnes, curator of art collections and Exhibitions at Union College, with the following distinguished guests:
Cevan Castle, artist and educator working in urban landscape and exterior architecture, and the founder of the Center for Parenting Artists, a community and weblog in support of the continuation of creative practice into parenthood
Carol Diehl, artist, critic, teacher and former slam poet, currently writing a book about Banksy
Carrie Haddad, established the first fine art gallery in Hudson, NY, art consultant, former board member of Columbia County Council on the Arts
Janet Riker, director of the University Art Museum, University at Albany since 2004. Prior to that served as Director of the Rotunda Gallery/Brookyn Information & Culture for fourteen years.
Julie Torres, artist and curator of community-expanding, collaborative projects. Co-curator of 'Making the Future' celebrating Arts in Bushwick and Bushwick Open Studios' 10th anniversary at David & Schweitzer Contemporary, on view September 30 – October 16, 2016.
Elizabeth Greenberg is director of Opalka Gallery. Prior to that she was Curator of Fine Art at Siena College, held positions at FIT, the Costume Institute at the Metropolitan Museum of Art and was head archivist at Fairchild Publications.
Julie Lohnes is curator of art collections and exhibitions at Union College. She has more than 15 years of experience in art galleries, including as Executive Director of the not-for-profit A.I.R. Gallery, the nation's first artist collective for women.
Siona Benjamin
Thursday, September 8, 5:00 pm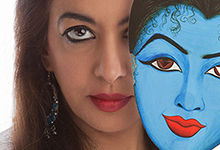 Current exhibiting artist Siona Benjamin's work reflects her transition between worlds as she attempts to create a dialogue between the ancient and the modern. The recipient of two Fulbright Fellowships, she holds MFA degrees in painting and theater set design. She has been featured in The New York Times, The Chicago Tribune, Art in America and has exhibited widely. For more: www.artsiona.com
Film Series
Peggy Guggenheim: Art Addict (2015)
Thursday, December 1, 6:30 pm
Filmmaker Lisa Immordino Vreeland examines the life of famed art collector, Peggy Guggenheim, and how her relationships with major figures such as Duchamp, Pollock and Rothko were entwined with her passion for contemporary art. The film is a glimpse into the world of a colorful character, who was not only ahead of her time but also helped define it. (Film length: 1 hr. 37 mins.)
Eva Hesse (2016)
Thursday, November 10, 6:30 pm
This highly acclaimed documentary includes dozens of new interviews, high quality footage of Eva Hesse's artwork and a wealth of newly discovered archival imagery to trace the artist's path and engages in a lively investigation into the creative community of 1960's New York and Germany. (Film length: 1 hr. 48 mins.)
Herman's House (2013)
Thursday, October 27, 6:30-8:30 pm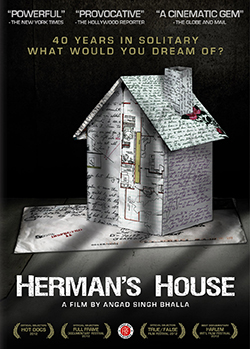 In conjunction with the award-winning PBS series POV, WMHT Educational Telecommunications and the Breathing Lights project, a multi-city art installation in Albany, Schenectady, and Troy, Opalka presents Herman's House (2013), a film about the longest-serving prisoner in solitary confinement in the United States and the artist who reached out to him.
The film documents the friendship between Herman Wallace, who has always maintained his innocence, and the artist Jackie Sumell in a testament to the transformative power of art. (Film length: 1 hr. 21 mins.)
Discussion afterward led by Barbara Nelson, lead architect, Breathing Lights, and Executive Director at TAP Inc., the Capital Region's Community Design Center. Anthony Farley, James Campbell Matthews Distinguished Professor of Jurisprudence at Albany Law School and Karen Murtagh, executive director of Prisoners' Legal Services of New York.
Shree 420 (1955)
Thursday, September 29, 6:30 pm
This classic Bollywood film stars Nadira, a Baghdadi Jewish actress. In early 20th Century India, Jewish actresses were able to play roles denied Hindu and Muslim women because of religious and cultural restrictions. Shree 420 tells the story of a country boy, played by director Raj Kapoor, who comes to the big city with dreams of success but is distracted by wicked temptations.
Blue Like Me: The Art of Siona Benjamin (2015) and Next Year in Bombay (2010)
Thursday, September 15, 6:30 pm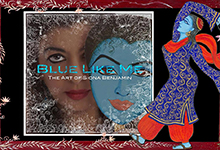 This double feature pairs two short documentaries that explore aspects of the Bene Israel Jewish community in Mumbai, India. Blue Like Me follows artist Siona Benjamin as she travels back to her childhood home while Next Year in Bombay explores the vanishing community through the eyes of one family.
Other Events
PechaKucha Night
Friday, November 18, 6:30 pm snacks, 7 pm talks
Short talks by interesting people. PechaKucha is a format in which speakers present 20 slides for 20 seconds each. Contact Amy Griffin, [email protected], if you're interested in presenting.
1st Friday Drop-in Art and Film
Friday, November 4, 5-8 pm, 6 pm film

Introducing a new free drop-in art program with Katie Dollard! In addition, there will be an encore screening of Blue Like Me: The Art of Siona Benjamin, a documentary about current Opalka exhibiting artist and the Bene Israel Jewish community in Mumbai. (Film length: 28 minutes)
Katie Dollard is an art teacher in Mechanicville City School District as well as a yoga teacher. She'll talk about the significance of the Banyan tree to Hindus and guide visitors through creating their own banyan tree drawings using oil pastels and crayons. Families are welcome but you don't have to be a kid or have kids to enjoy this free drop-in program. Join us for the film and make some art before or after it!
Get Three-Dimensional: Book Signing and Interactive Stereography Demonstration with Melody Davis
October 7, 6-8 pm
Melody Davis, Sage College art history professor, will answer your questions about stereoscopic (3D) photography with demonstrations of historical stereoscopes. Visitors are invited to handle the stereoscopes and stereographs, transporting themselves to the world of turn-of-the-century America.
Dr. Davis will happily sign copies of her new book from the University of New Hampshire Press, Women's Views: The Narrative Stereograph in Nineteenth-Century America.