[email protected] Event
ART AT APL ARTIST TALK: Anya Ulinich
SAT. March 25, 2023, 2pm.  Note: This talk, originally scheduled for 2/22, was rescheduled to 3/25 due to weather.
NOTE: This event meets at the Pine Hills Library
517 Western Avenue, Albany
Large Meeting Room
Please join us as we host Anya Ulinich, a fine artist and writer featured in the latest Opalka-curated exhibition at Pine Hills Library, as she shares her creative process and discusses her work. Ulinich's debut novel, Petropolis, won the Goldberg Prize for Jewish Fiction by Emerging Writers and her graphic novel, Lena Finkle's Magic Barrel, was a New York Times Notable Book. Ulinich was 17 when her family left Moscow and immigrated to the United States. She attended the Art Institute of Chicago and received an MFA in painting from the University of California.
Art at APL is curated by Opalka Gallery of Sage College of Albany, and generously funded by the Friends and Foundation of Albany Public Library.Caption for the event photo: Anya Ulinich, Ghost Building, 2022, oil on canvas.
Opalka Gallery began curating Art at APL in the Spring of 2019. Art at APL is a fine arts exhibition program at the Pine Hills Branch of the Albany Public Library showcasing the work of contemporary artists connected to the Capital Region. The program, which began in 2013, integrates professional artwork into public spaces within the library, enriches the library experience, and gives visitors something interesting and educational to look at while they browse the collections.  Art at APL is funded in part by the Friends & Foundation of Albany Public Library. The Pine Hills Branch is located at 517 Western Ave., Albany, NY 12203.
Current Exhibition
Neither Here Nor There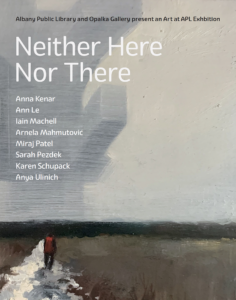 December 2, 2022 through May 6, 2023
The liminal, the in-between, middle ground, limbo, and the venn diagram. When do we feel at home or familiar with a place? These artists recognize and work within those feelings and places of the in-between—that feeling of being not a tourist, yet not a local. Some do this with materials, some more conceptually, but together they show us that experiencing the complexity of someone else's view can reveal a new shared intersection of understanding.
Anna Kenar
Ann Le
Iain Machell
Arnela Mahmutović
Miraj Patel
Sarah Pezdek
Karen Schupack
Anya Ulinich
Lasting Impression
June 3, 2022 to November 5, 2022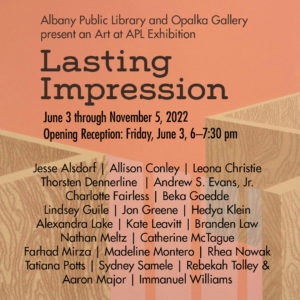 "Lasting Impression," a new Art at APL exhibit curated by Opalka Gallery opened on June 3, 2002 at the Albany Public Library Pine Hills Branch. "Lasting Impression" can be viewed by the general public during operating hours at the Pine Hills Branch (517 Western Ave.) from June 4 through Nov. 5. 
Art professors often have dual roles: making art and turning students into artists. Eleven regional printmaking professors were asked to exhibit and to, in turn, invite a current or former student to exhibit alongside them. "Lasting Impression" reveals both the range of printwork being made in our region and the lasting impressions students and faculty make on each other. Ten regional colleges are represented in the exhibition: Bard College, Bennington College, Dutchess Community College, Middlebury College, Rensselaer Polytechnic University, Skidmore College, SUNY Oneonta, University at Albany, University of Hartford, and Union College. 
The "Lasting Impression" artists are: Jesse Alsdorf, Allison Conley, Leona Christie, Thorsten Dennerline, Andrew S. Evans, Jr., Charlotte Fairless, Bekka Goedde, Lindsey Guile, Jon Greene, Hedya Klein, Alexandra Lake, Branden Law, Kate Leavitt, Nathan Meltz, Catherine McTague, Farhad Mirza, Madeline Montero, Rhea Nowak, Tatiana Potts, Sydney Samele, Rebekah Tolley, and Immanuel Williams.
The exhibit is in conjunction with the Screenprint Biennial and Graphic Liberation exhibitions opening at Opalka Gallery on September 6. The Lasting Impression reception and exhibit are partially funded by the Friends and Foundation of Albany Public Library.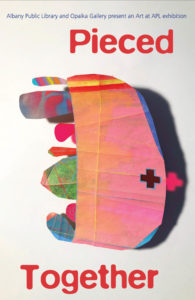 Previous Exhibitions
Pieced Together on view October 1, 2021 through April 17, 2022
The exhibit showcases artists who transform cut paper and other discarded materials into new compositions. Whether through model making or collage, these artists find inspiration in scrap paper, fabric remnants, old maps, photos, or magazines. For some, the allure of a commonplace material like cardboard is the freedom inherent in it—it isn't precious or perceived as valuable so anything goes. For others, it's the history of the material—all the other stories it has told and can yet tell. Often it's simply the economy of re-using scraps. Ultimately, the satisfaction comes from piecing it all together into something new.
Artists: Fern Apfel, Paula Drysdale Frazell, Danny Goodwin, Chloe Harrison, Niki Haynes, Beth Humphrey, Henry Klimowicz, Juan Hinojosa, Melinda McDaniel, Michael Oatman, and Kenneth Ragsdale.
Watch a video about the exhibition here:

Creative Curbsides December 2021
During the COVID19 pandemic, the library was closed to the public, with only curbside service. Instead of an indoor exhibition at the Pine Hills Branch, we proposed a public art initiative to feature local artist's work in the windows of two branches, the Bach Branch on New Scotland Ave. and the Arbor Hill/West Hill Branch on Henry Johnson Boulevard. A public call was issued and out of 14 proposals, two were chosen. Eight Plums (Gracelee Lawrence and Ben Seretan) created the Bach Branch installation while Dana Sela in collaboration with Kim Tateo of the Tivoli Lake Preserve and Farm created the one for the Arbor Hill/West Hill Branch.
See the Albany Times Union article about the project here.
And on Albany Made, an Albany Public Library podcast, Opalka Director Judie Gilmore and Exhibitions and Marketing Manager Amy Griffin, spoke with APL's Head of Branches (Bach & Pine Hills) Deanna DiCarlo about the project. Listen here.
Rear View: Life Examined December 6, 2019-May 2, 2020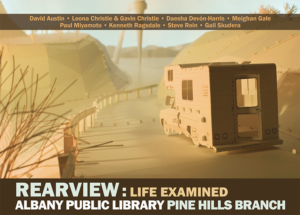 Rear View: Life Examined featured artists whose work begins with memory. Whether starting from oral histories, (Daesha Devón-Harris and Paul Miyamoto), from old snapshots (David Austin, Steve Rein, and Gail Skudera), or from actual memories (Leona and Gavin Christie, Meighan Gale, and Kenneth Ragsdale), these artists examine the ways we try to hold on to, reconstruct, and reckon with memories throughout our lives. This process knits together our past to our present, forging a narrative of a life, examined.
Read William Jaeger's review of Rear View in the Albany Times Union here.
Rear View coincided with the installation of Kenneth Ragsdale's "A Melody with Embedded Harmonies," a temporary installation by artist Kenneth Ragsdale, made possible by an Upstate Coalition for a Fairgame Arts Grant. The installation was extended due to the pandemic.
Picture This June 7 through November 2, 2019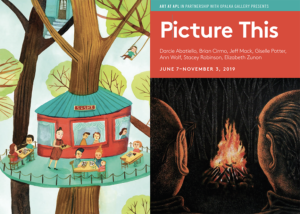 Picture This was the first Opalka/Art at APL collaboration. Dive into any good book and vivid imagery appears in the your mind. Great authors use words to create new worlds, guiding readers through carefully chosen descriptions, metaphors, and the rhythms of language. Similarly, artists can create stories and characters through pictures, using color, style, and scenery to suggest imagined places and narratives. In both cases, the reader (or viewer) plays a part in the creation of the fictional world.
Picture this: a young girl learns about her grandfather, a cacao farmer in the Ivory Coast; a fan gets the opportunity to sit with his idols; a girl asks her older sister what to dream about; a cat presides over a multigenerational family. These are some of the stories told by the artists in this exhibition, all whose work has a whimsical or fantastic quality, suggesting larger stories for authors or viewers to fill in with their imaginations. Some of the exhibited artists are indeed book illustrators and writers (Jeff Mack, Matthew McElligott, Giselle Potter, Stacey Robinson and Elizabeth Zunon), and some are painters (Darcie Abbatiello, Brian Cirmo, and Ann Wolf) whose work is not created primarily for books. But these artists all share a similar studio practice–creating pictures that tell a story, introducing us to new places and characters. We, as viewers, get to fill in the blanks.