DUE TO THE ONGOING SITUATION WITH COVID-19, WE WILL OFFER ONLINE PROGRAMMING IN THE 2020-2021 SEASON.
Please check back here for updates, subscribe to our email list and follow us on social media:
Facebook, Instagram, and Twitter
SPRING 2021
Virtual Reception and Tour for Terry James Conrad: Object Permanence
For the virtual opening reception of his solo survey exhibition, Object Permanence, artist Terry James Conrad gave a virtual tour of the exhibition in conversation with Opalka Director Judie Gilmore. This event was recorded. Please see Past Online Events for the video.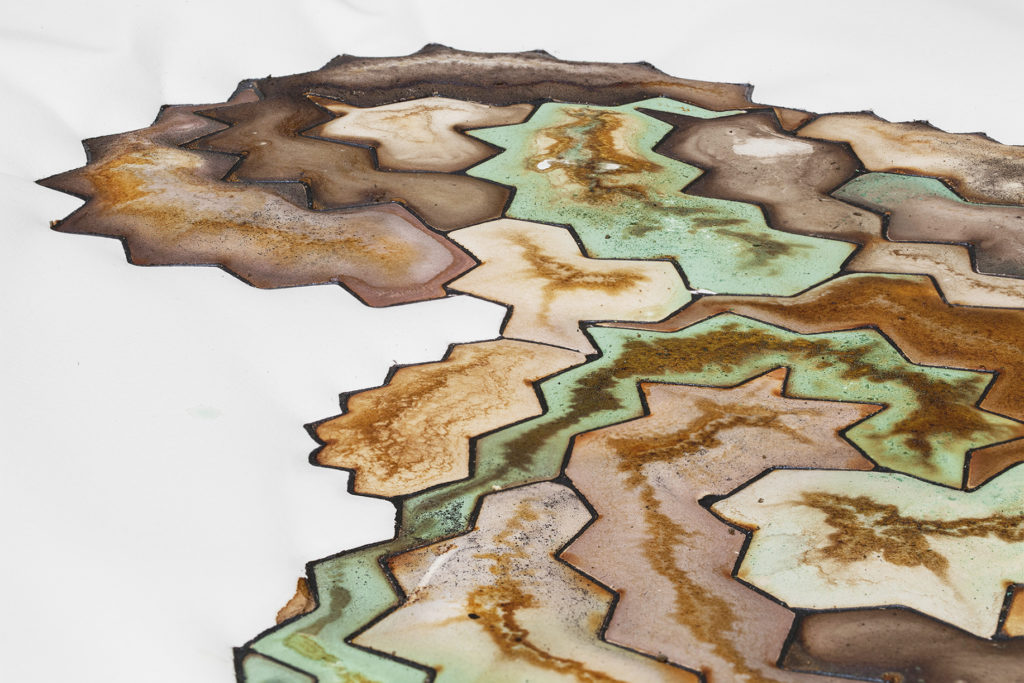 THURSDAY NIGHTS
Conrad will be in residence in the gallery every Thursday night, 5-8pm throughout the exhibition. Stop by to meet the artist. Non-sage visitors will be asked to fill out a Covid-19 wellness form and have a temperature check. Visitors will be limited, asked to wear masks and social distance while in the gallery. We will also be featuring his residency activities on Instagram and Facebook. Starting on February 11, we'll present Dispatches from the Iowa Booth, an online series hosted by Conrad.
Dispatches from the Iowa Booth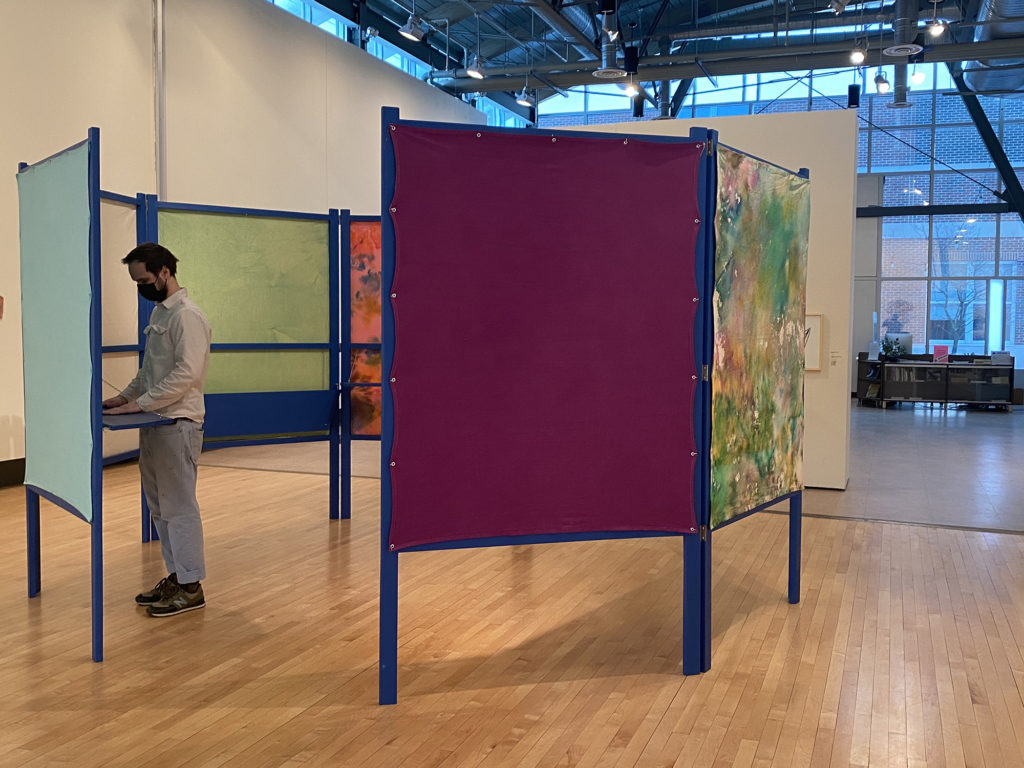 For this Thursday night virtual series, starting February 11, Terry James Conrad will present artists, scientists and musicians who inspire him.
Join him at: https://russell-sage.zoom.us/j/95073015100
Schedule:
Feb. 11, 7pm, Terry James Conrad hosts Silvia Secchi, Associate Professor of Geographical & Sustainability Sciences, University of Iowa. Secchi is interested in the nexus between humans and the environment, the tools and methodologies we use to understand it, the policies we adopt to change it, and the pedagogy of teaching it.
Feb. 18, 7pm, Terry James Conrad hosts Dr. Joan Bernhard, Senior Scientist, Geology & Geophysics Department, University of Iowa. Joan M. Bernhard, Ph.D., is an oceanographer who largely studies microscopic marine protists called foraminifera. While Joan's research concentrates on biological attributes, including cell biology and ecology, the questions she asks typically have geological and/or paleontological implications and repercussions.
Feb. 25, 7pm, Terry James Conrad hosts musician Tommy Santee Klaws. Tommy Santee Klaws has existed in some form since 2001, conjuring miniature tornadoes around Southern California. Like some of the best Los Angeles new-folky type acts, Tommy Santee Klaws understands the trick of making nostalgia work both ways; into some bright future and the virtuous, murky past. 
March 4, 7pm, Terry James Conrad hosts artist Donté Hayes. Donté K. Hayes graduated summa cum laude from Kennesaw State University at Kennesaw, Georgia with a BFA in Ceramics and Printmaking with an Art History minor and received his MA and MFA with honors from the University of Iowa. He utilizes printmaking, installation, and performance to elevate the importance of his ceramic sculptures as a historical and creative base material to inform memories of the past. 
March 11, 7pm, Terry James Conrad hosts Interdisciplinary artist/musician Brian Dewan. Brian Dewan is an artist who works in many media, including art, music, audio-visual performances, decorative painting, furniture design, poetry and musical instrument design. He has produced four albums of songs and concertized extensively as a solo artist, as well as having performed in various collaborations and as a sideman. 
WEDS, February 17, 6:30pm
(Virtual) Artist Lecture: Terry James Conrad
Co-sponsored by Opalka and the RSC Dept. of Visual & Performing Arts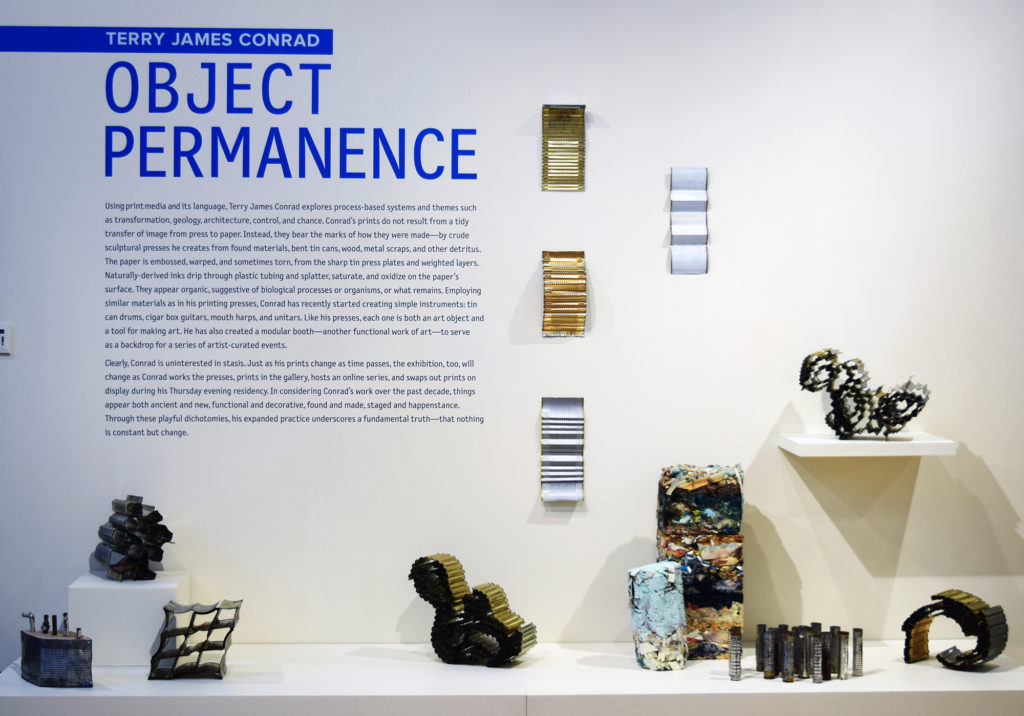 Please join at this link. Note: this online event will be recorded.
A native of New York, Terry James Conrad is a 2017 New York Foundation for the Arts Fellow in Drawing, Printmaking and Book Arts and was the 2015-16 Grant Wood Fellow in Printmaking and has been awarded residencies at Frans Masereel Centrum (Belgium), Penland School of Craft (North Carolina), and the Vermont Studio Center. He has had solo, two-person and group exhibitions nationally and internationally. Conrad is currently Assistant Professor and Program Head of Printmaking at University of Iowa and an Iowa Print Media Faculty Fellow. He previously taught at Skidmore College and assisted his partner Rachel Ziegler-Sheridan in founding the Round Lake School, which is a preschool/residency in Round Lake that follows the teaching philosophies of Reggio Emelia. Conrad is represented by Bruno David Gallery in St. Louis, Missouri.
WEDS, March 17, 1pm
(Virtual) Artist Lecture: Saki Mafundikwa
Join us for this special event live from Zimbabwe as renowned graphic designer Saki Mafundikwa talks about his art and career. Co-sponsored by Opalka and the RSC Dept. of Visual & Performing Arts
Mafundikwa is the founder and director of the Zimbabwe Institute of Vigital Arts (ZIVA) a design and new media training college in Harare. He has an MFA in Graphic Design from Yale University. He returned home in 1998 to found ZIVA after working in New York City as a graphic designer, art director and design educator. His book, Afrikan Alphabets: the Story of Writing in Africa was published in 2004. Besides being of historical importance, it is also the first book on Afrikan typography. It is currently out of print. His award-winning first film, Shungu: The Resilience of a People  had its world premiere at 2009's International Documentary Film Festival Amsterdam (IDFA). Active on the international lecture circuit, he was a speaker at TED2013 in Long Beach, California.
He keynoted the first ever Pan African Design Institute (PADI) conference in Ghana in February, 2019. He spoke at the TED/PMI event in Dar-es-Salaam in September, 2019. He has also run workshops for design students in Europe, North, South and Central America, and Afrika.
He has been published widely on design and cultural issues and is currently working on a revised edition of Afrikan Alphabets which he hopes will be published in 2021. He lives and farms in Harare, Zimbabwe. Join at this link: https://russell-sage.zoom.us/j/97662618326
WEDS, April 7, 6:30pm
Scrimshaw Distinguished Visiting Artist Lecture
Rudy Shepherd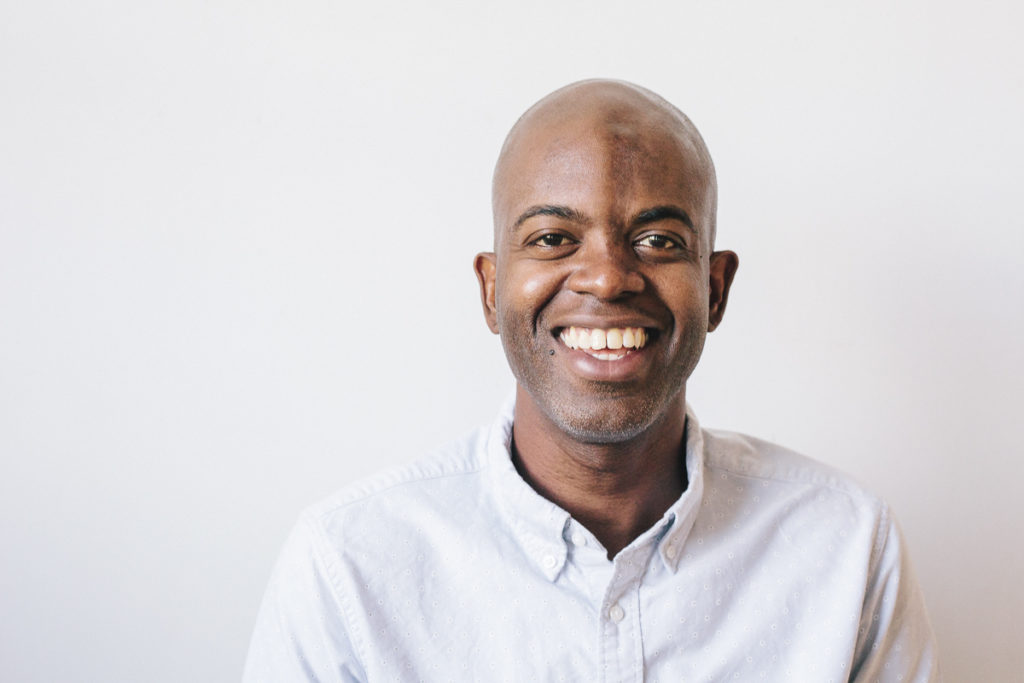 This will be a virtual lecture, please join at this link: https://russell-sage.zoom.us/j/95989679717
Rudy Shepherd's work explores the nature of evil through the mediums of painting, drawing and sculpture. This exploration involves investigations into the lives of criminals and victims of crime. He explores the complexity of these stories and the grey areas between innocence and guilt in a series of paintings and drawings of both the criminals and the victims, making no visual distinctions between the two. Going along with these portraits is a series of sculptures called the Black Rock Negative Energy Absorbers. They are a group of sculptures meant to remove negative energy from people allowing them to respond to life with the more positive aspects of their personality. 
Growing out of this exploration for solutions to the overwhelming forces of negative energy has come both a series of ceramic sculptures called the Healing Device's and a new series of paintings of Holy Mountains, sacred spaces from all over the world that are central to the religions and cultures of the world.  
Rudy Shepherd received a BS in Biology and Studio Art from Wake Forest University and an MFA in Sculpture from the School of Art Institute of Chicago. He has been in group exhibitions at P.S.1 Contemporary Art Center, NY, The Studio Museum of Harlem, NY, Bronx Museum of Art, NY, Art in General, NY, Triple Candie, NY, Socrates Sculpture Park, NY, Cheekwood Museum of Art, TN, Contemporary Museum, Baltimore, MD, Aldrich Museum of Contemporary Art, CT, Southeastern Center of Contemporary Art, NC, Museum of Science and Industry, Chicago, IL, Tart Gallery, San Francisco, CA, Analix Forever Gallery, Geneva, Switzerland and solo exhibitions at Aldrich Museum of Contemporary Art, CT, Latchkey Gallery, NY, Mixed Greens Gallery, NY, Regina Miller Gallery, Carnegie Mellon University, Pittsburgh, PA. He has been awarded Artist in Residence at PS1 National/International Studio Program, PS1 Contemporary Art Center, Long Island City, NY, Artist in Residence Visual + Harlem, Jacob Lawrence Institute for the Visual Arts, New York, NY and Emerging Artist Fellowship, Socrates Sculpture Park, Long Island City, NY, Artist in Residence, Location One, NY, Process Space Artist in Residence Program Governors Island, Lower Manhattan Cultural Council, New York, NY.  He has done public art projects on the campus of Carnegie Mellon University, Pittsburgh, PA, Penn State University, PA at Socrates Sculpture Park, Long Island City, NY, First Street Green Art Park, New York, NY and the Three Rivers Arts Festival, Pittsburgh, PA in 2015 and most recently in Harlem in collaboration with the Studio Museum in Harlem.
Rudy Shepherd is currently represented by Latchkey Gallery, NYC.
TUES, April 20, 6pm
(Virtual) Artist Lecture: Ann Le
Co-sponsored by Opalka Gallery, the Dept. of Visual & Performing Arts, and The Women's Institute at Russell Sage College
Ann Le has always dealt with identity, culture, family history, and the duality of becoming Vietnamese-American in her work. Inspired by the cultural contexts in her life, she correlates the artificial with remembrances of generational trauma. Sentiment is vital in her works as she questions her personal experiences to construct imposing art.  She excavates her lineage by revisiting her family's experiences by using personal and found images to reconstruct slippages in time and history. As layers of images are stacked upon one another, Le travels through time commenting on the idea of home, displacement, separation, and how we embrace and conquer loss. Tragic and Poetic composites are pieced together to unravel narratives which places her Vietnamese-American perspective into a contemporary landscape. Ann Le was born in San Diego, CA and currently lives and works in Los Angeles. Join us at this link: https://russell-sage.zoom.us/j/92994533304
For recordings of past events, see our Online Events Page.