DUE TO THE ONGOING SITUATION WITH COVID-19, WE PLAN TO OFFER PLENTY OF ONLINE PROGRAMMING THIS FALL.
Please check back here, subscribe to our email list and follow us on social media:
Facebook, Instagram, and Twitter for updates!
Fall 2020
MON. October 5, 7:00pm
Artists in Conversation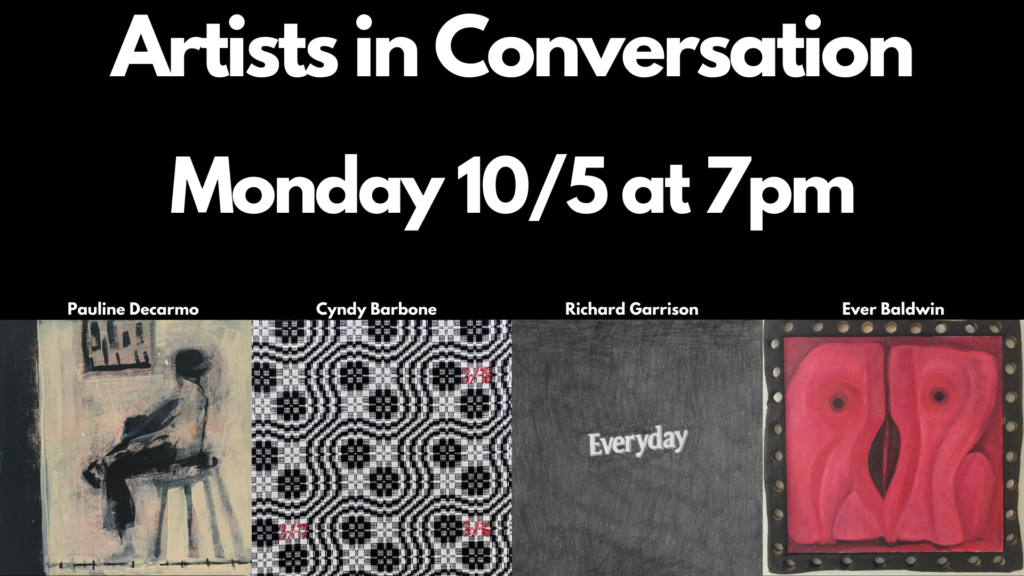 Join Opalka Director Judie Gilmore in conversation with Infinite Uncertainty artists Ever Baldwin, Cyndy Barbone, Pauline Decarmo, and Richard Garrison. This is an online event. Join us at this zoom link:
https://russell-sage.zoom.us/j/99308195033
TUES. October 6, 6:30pm
(Virtual) Artist Lecture: Lisa Maione
Lisa J. Maione is an art director, designer, and educator. Lisa cut her teeth in New York City at various studios including 2×4, Pentagram, mgmt. design, Wolff Olins, and Metropolis magazine before starting an independent studio practice. Lisa holds a BFA and an MFA in Graphic Design from Rhode Island School of Design (RISD) and a post-graduate certificate in Typeface Design from [email protected] NYC. She is currently an Assistant Professor of Graphic Design at the Kansas City Art Institute in Missouri. http://lisamaione.com
Join us at this link: https://russell-sage.zoom.us/j/94291134980
THURS. October 22, 7:00pm
Stage & Stanza: Sanchez, Shange, & Millay
Stage & Stanza, a poetry and theater series brought to you by The Theatre Institute at Sage and Opalka Gallery, in partnership with local poet and playwright, Carol Durant, continues with an evening honoring Sonia Sanchez, Ntozake Shange, and Edna St. Vincent Millay.
Please see the Stage & Stanza page here for more info.
TUES. October 27, 6pm
Virtual Opening Reception, Curator's Tour and Panel Discussion
Join us on Zoom for a virtual reception for Unraveling, and tour with curator/artist Yura Adams at 6pm, followed by a panel discussion with the artists at 7pm.
THURS. October 29, 6:30pm
(Virtual) Artist Lecture: Melinda McDaniel
Melinda McDaniel grew up in Florida, inspired by the visual overload of Walt Disney World and the endless light at the center of the state's predictable weather. Her current work involves collaged ceramic figurines that play out and exaggerate the complexities of human emotional connections. She received a BFA in studio art from Florida State University and an MFA in photography from The Ohio State University. Her work has exhibited at SPACE Gallery in Pittsburgh, Pennsylvania, at the Governors Island Art Fair in New York, the BRIC Rotunda Gallery in Brooklyn, New York, and the Museum of Contemporary Photography in Chicago, Illinois. In 2014 Melinda received the Emerging Artist Award from the Arts Center of the Capital Region in New York. She calls Albany, New York home where she is also an assistant professor in the Visual and Performing Arts Department at Russell Sage College. https://www.melindamcdaniel.com/
Join us at this link: https://russell-sage.zoom.us/j/99718945094
THURS. November 12, 6:30pm
(Virtual) Artist Lecture: Yura Adams
Yura Adams recently received a Pollock-Krasner grant and exhibited at the Hyde Collection, Glens Falls, New York, Collarworks, Troy, New York and produced a large-scale, hand-made paper installation for her one-person show at the Courthouse Gallery in Lake George, New York. She has been presented as a visual and performance artist in numerous venues in California and New York, and has had many one-person shows at the John Davis Gallery in Hudson New York. Adams is curator/director of contemporary art of the Foundation Gallery at Columbia-Greene Community College in Hudson, New York.  https://www.yuraadams.com
Join us at this link: https://russell-sage.zoom.us/j/98810269744
THURS. December 3, 6:30pm
(Virtual) Artist Lecture: Christina Tenaglia
Christina Tenaglia has been a recipient of a purchase award grant from the American Academy of Arts and Letters in 2018, a NJ State Arts Council Fellowship Award for Sculpture in 2014, the W.K. Rose Fellowship in the Creative Arts in 2011, and has received fellowships for residencies at The MacDowell Colony, I-Park, and Catwalk. She has been in numerous solo and group exhibitions in New York and elsewhere and is currently a Visiting Assistant Professor at Vassar College, living and working in Saugerties, NY. https://www.christinatenaglia.com
Join us at this link: https://russell-sage.zoom.us/j/91481078279