Spring 2023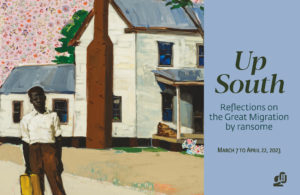 March 7, 2023 through April 22, 2023
UP SOUTH: Reflections on the Great Migration by ransome
In collaboration with Black Dimensions in Art, Inc., Opalka Gallery is pleased to present a new solo exhibition from the artist ransome. Over a sixty-year period, Black people left behind poverty and Jim Crow in search of new lives in the North, Midwest, and West. In new paintings, installation, and sculpture, he reflects on this defining moment in America's history and the ways in which his work is interwoven with this historic narrative.
Exhibition Events
THURS, March 30th  Artist Talk: ransome
4- 5pm Navigating a Studio Art Career – The artist ransome will work with participants toward understanding the process of establishing and maintaining a studio art career.
6:30- 8pm Artist Lecture: ransome
SAT, April 15
1:00-2:30pm
Family Art Day with artist Maya Lewis
Come make collages in the gallery inspired by ransome's work!
Space limited! Register here today.
TUES, April 18
6:30pm
Virtual Book Club Discussion: Isabel Wilkerson's "The Warmth of Other Suns"
Opalka's first-ever book club! Join us!
Save the date, and return for the link.
FRI, April 21st
6:00pm
Supper Club, Vol. 7
Dinner provided by Sugafoots Soul Kitchen
Join us for a delightful dinner in the gallery with the artist.
More info on menu to come!
Get your tickets here!