Fall 2021
Pop-Up Beer Gardens
OUR LAST BEER GARDEN HAS BEEN POSTPONED FROM 9/24 to 10/1!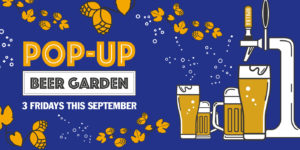 FRI, Sept. 10, FRI, Sept. 17 and FRI, Oct. 1, 6pm -9pm
Join us for the return of our popular Pop-Up Beer Gardens.
For all the info, check out our Beer Garden page.
Conversation with Adam Frelin
FRI, Sept. 10, 6:30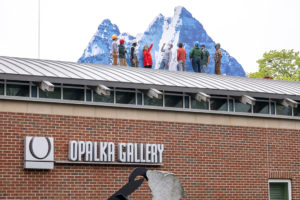 Join artist Adam Frelin outside the gallery for an outdoor, in-person tour and discussion about Frelin's work, public art, and his recent installations, "Erratics," the signs placed around campus, and "Summit," the mountain on the roof of Opalka.
Outdoor Yoga with Carrie Will of Yoga Care
THURS, Sept. 16, 6pm

Join us for yoga outside the gallery on the grass. All levels welcome. Bring your own yoga props (mat, towel, block, bug spray). Pay what you can. Co-sponsored by YogaCare NY. Will move to Zoom in the event of rain
Mohawk Hudson Regional Exhibition Reception & Awards Ceremony
FRI, Sept. 17, 5pm-7pm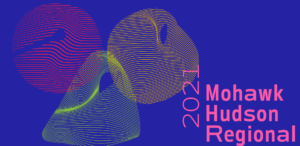 Join us for an artist's reception and award ceremony for the Opalka artists of the Mohawk Hudson Regional Exhibition. This fall, for the first time in its 85 year history, the Artists of the Mohawk Hudson Region Exhibition will be presented simultaneously in three locations: Albany Center Gallery, Opalka Gallery and Albany International Airport Gallery. Each venue had it's own juror: Artist Alisa Sikelianos-Carter chose work for Albany Center Gallery, Tommy Gregory, Public Art Program Sr. Manager and Curator for the Port of Seattle, chose for for the Albany International Airport Gallery and Pamela Salisbury, owner and director of the Pamela Salisbury Galley in Hudson, NY, chose work for Opalka. Each venue will have their own awards reception. Albany International Airport Gallery, 3rd Floor, Main Terminal, 737 Albany Shaker Rd, Albany, NY:  THUR, Sept. 16, 6-8pm. Albany Center Gallery, 488 Broadway, Suite 107, Albany, NY: SAT, Sept. 18, 3-5pm.
For recordings of past events, see our Online Events Page.
For updates about our Fall 2021 schedule, subscribe to our email list and follow us on social media:
Facebook, Instagram, and Twitter