Fall 2019
FRI, November 1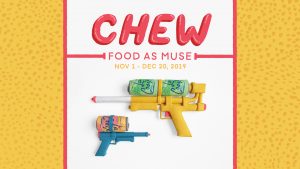 Chew, Food as Muse opens!
Curator's Tour: 5:00 pm
Opening Reception: 6:00 pm to 8:00pm
Caren Alpert, Jennifer Coates, Isabel Chun, Mimi O Chun, Frida Foberg & Natasha Holmes, Brent Owens, Sang Wook Lee, Portia Munson, Dana Sherwood, & Mie Yim
For centuries, what we eat has been a muse for artists, both as subject and medium. Today, we find ourselves inundated with an abundance of food photos across social media. What's our obsession? "Chew, Food as Muse" is a playful examination of the role food plays in contemporary culture. Eleven artists explore and comment on identity, culture, community, environment, and politics through food as muse.
THURS, November 14
6:30pm ARTIST TALK: Colin Boyd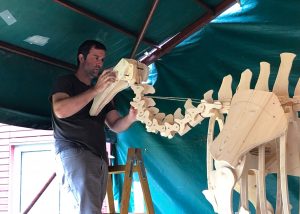 Boyd creates alternate worlds, taking on the roles of novice naturalist, eccentric engineer, and dreamer of the supernatural. His work results in sculptural installations, fabricated ephemera and artifacts, prints, and stop-motion films that together present a collection of odd narratives that are colored by fantastical interpretations of nature and human history. 
THURS, November 21
Supper Club @ Opalka, Vol. 4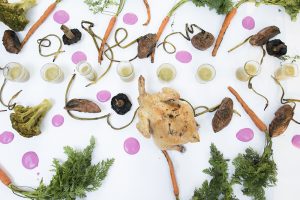 A collaborative dinner with Collar Works and Arts Letters & Numbers presented by artists Frida Foberg and Natasha Holmes. Be our guest at our Supper Club and enjoy delicious local cuisine, thought-provoking art, and lively conversation with local artists and curators connected to the CHEW exhibition. 
6pm cocktail hour; 7pm dinner + discussion
$45 per individual, $85 per couple; space is limited
Register here
TUES, December 3
6:30pm ARTIST TALK: Sara Bergman & Maureen Baker, MDLX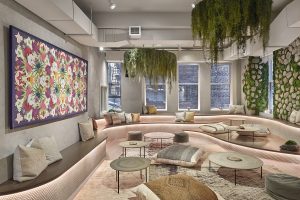 Bergman and Baker spearhead MDLX, which provides interior finishing services, curating a final layer for projects that reflect magazine-worthy hospitality and amenity-driven, collaborative work spaces. Baker oversees the creative aspects of MDLX, while Bergman runs operations and facilitates business development.