Stage & Stanza
THURS, Sept. 29, 2022 7PM to 8:30pm
STAGE & STANZA *online*
Stage & Stanza Honors Carmen Lookshire & Michael A. Panzarino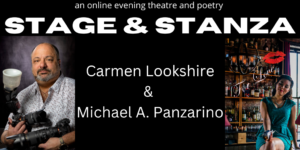 Carmen Lookshire is a singer, songwriter, actor, creative, and old soul. She performs and writes songs similar to the likes of Frank Sinatra, Ella Fitzgerald, and Norah Jones. Carmen performs as a duo under the name "Carmen and Life's Guilty Pleasures," as a lead singer with Silver Arrow Band, and as guest vocalist for Band of Gold and Grand Central Station.
In 2020 she released her first EP album titled For Love which is available on all streaming sites. In recent years, Carmen has been involved with Black Theatre Troupe of Upstate NY. She was also seen performing as Toby Ragg in Sweeney Todd with Two of Us Productions and as Nina Rosario in Schenectady Light Opera Company's production of In the Heights.
Michael A. Panzarino is local photographer and owner of M.A.P. Graphics, in Colonie. He has worked for the City of Albany to document The Tulip Festival, Alive at 5, the Jazz Festival, among other events. He currently also is active in the fashion industry and is Editor in Chief to a local teen fashion magazine, as well as the Creative Editor for Threads magazine.
Past Stage & Stanza Events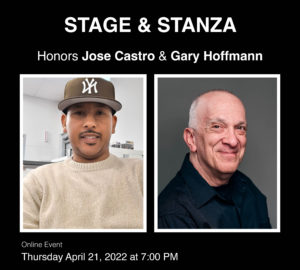 Join us for another virtual installment of our ongoing bimonthly poetry and theater series, Stage & Stanza, highlighting local and national figures in the theatre and poetry fields whose work has meaningful connections to current events. Watch here:     
THURS, FEB. 24, 7:00pm to 8:30pm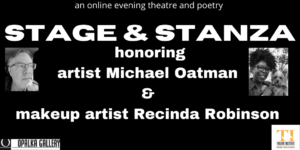 We return to the online zoom format for this edition of Stage and Stanza. Stage & Stanza honors visual artist Michael Oatman and makeup artist Recinda Robinson in an evening of conversation, stories and poetry hosted by Albany poet Carol Durant and actor/director Sheilah London. Students and alumni join local actors in reading poetry and stories. This event was recorded, watch here: 
November 18, 2021, 7:00pm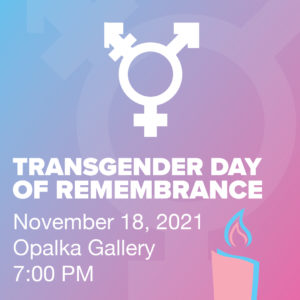 In partnership with the Russell Sage College Office of Diversity, Equity, and Inclusion, Stage & Stanza presents a special evening to honor the memory of transgender individuals whose lives were lost in acts of anti-transgender violence. There will be student and alumni performances to uplift and honor transgender members of our community as well as a memorial to all lives lost to transphobia. Please join us. This event will be live and in-person at Opalka Gallery. All attendees will be asked to show proof of vaccination or a Sage ID and to wear a mask.
September 23, 7:00pm
Sheilah London and Ira Eugene McKinley
This evening was recorded. Watch it here
The Theatre Institute at Sage and Opalka Gallery, in partnership with local poet and playwright, Carol Durant, will host the fifth installment of their bimonthly theater and poetry series, Stage & Stanza, to highlight local and national figures in the theatre and poetry fields whose work has meaningful connections to current events. On Thursday, Sept. 23 at 7:00 p.m. Stage & Stanza honored two people making a difference in the Capital Region: actor and director Sheilah London and director and writer Ira Eugene McKinley. A cast of local performers, poets, and writers will help celebrate the honorees. The evening was recorded. Watch it here:
About Stage & Stanza
Carol Durant is a poet, author, playwright and event host. She is an actor and stage manager most recently with the Black Theatre Troupe of Upstate New York. She has a M.A in Africana Studies from University at Albany. She is the founder and host of Outliers Poetry Brunch, which is a monthly poetry brunch at Eden Cafe in Loudonville and online. She is a longstanding board member of Capital Region Sponsor-A-Scholar. Durant's newest book is Cold Pressed and Just Brewed Poetry. Her first book, Whole Phat and Gluten Free Poetry was published in 2017. Her play, Center of Lying Down was recently cast and performed on Zoom by Quarantine e-Theater, as a wildly successful fundraiser for Black Theatre Troupe of Upstate New York.
David Baecker is Managing Director of the Theatre Institute at Sage and Associate Professor of Theatre at Russell Sage College. He is also a communications coach with the New York State Defenders Association. Locally, he has directed readings and/or productions for Saratoga Shakespeare Company, the Rensselaer County Historical Society, Troy Foundry Theatre, Theater Voices, and the New York State Theatre Institute. Baecker has an M.F.A. in Acting from Florida State University and a B.A. in Theatre from Washington University in St. Louis.
Theatre Institute at Sage. Established in February of 2011, the Theatre Institute at Sage is dedicated to providing quality live theatre and arts-in-education programming to Capital Region youth, educators and residents. The Institute also provides opportunities for Russell Sage students as performers, technicians and teachers.