Stage & Stanza
HONORS
Sonia Sanchez, Ntozake Shange, & Edna St. Vincent Millay
NEW DATE!  TUESDAY, December 1, 7:00-8:30pm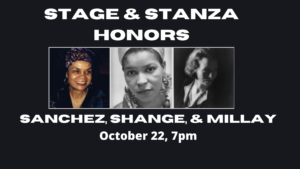 WHERE: Virtual Event via Zoom
HOW: Event is free, but registration is required. See below to register.
WHO: Theater Institute at Sage, Opalka Gallery, and Carol Durant and The Women's Institute at Russell Sage College.
Stage & Stanza, a poetry and theater series brought to you by The Theatre Institute at Sage and Opalka Gallery, in partnership with local poet and playwright, Carol Durant, continues with an evening honoring Sonia Sanchez, Ntozake Shange, and Edna St. Vincent Millay. Presented with The Women's Institute at Russell Sage College.
About the Honorees
Sonia Sanchez—poet, activist, scholar—was the Laura Carnell Professor of English and Women's Studies at Temple University. She is the recipient of both the Robert Frost Medal for distinguished lifetime service to American poetry and the Langston Hughes Poetry Award. One of the most important writers of the Black Arts Movement, Sanchez is the author of sixteen books, according to her website. 
Ntozake Shange (1948-2018) is the author of the highly acclaimed and award winning theatre piece, For Colored Girls Who Have Considered Suicide/When the Rainbow is Enuf, as well as numerous other plays, poetry collections, novels, children's books and essays. She was active in the Black Arts Movement, black and Puerto Rican liberation movements, as well as civil rights and feminist movements of the 1960s and 70s.
Edna St. Vincent Millay (1892-1950) was a Pulitzer Prize-winning poet, playwright, feminist, and activist in the early years of the 20th century. She published eleven poetry collections including Second April, The Buck in the Snow, Fatal Interview, and Wine from These Grapes, some of which were composed while living at Steepletop, her home in Austerlitz, New York,  Designated a National Historic Landmark in 1971, Millay's house and 200-acre estate are owned and maintained by the Millay Society (millay.org), a nonprofit responsible for preserving both the site and her literary legacy. Steepletop is also the home of the Millay Colony for the Arts, an artist residency that has hosted 3000 artists from around the country and the world since 1973. Millay was awarded an honorary Doctor of Letters from Russell Sage College in 1933. The college was honored to have her visit on three occasions.
About Stage & Stanza
Carol Durant is a poet, author, playwright and event host. She is an actor and stage manager most recently with the Black Theatre Troupe of Upstate New York. She has a M.A in Africana Studies from University at Albany. She is the founder and host of Outliers Poetry Brunch, which is a monthly poetry brunch at Eden Cafe in Loudonville and online. She is a longstanding board member of Capital Region Sponsor-A-Scholar. Durant's newest book is Cold Pressed and Just Brewed Poetry. Her first book, Whole Phat and Gluten Free Poetry was published in 2017. Her play, Center of Lying Down was recently cast and performed on Zoom by Quarantine e-Theater, as a wildly successful fundraiser for Black Theatre Troupe of Upstate New York.
David Baecker is Managing Director of the Theatre Institute at Sage and Associate Professor of Theatre at Russell Sage College. He is also a communications coach with the New York State Defenders Association. Locally, he has directed readings and/or productions for Saratoga Shakespeare Company, the Rensselaer County Historical Society, Troy Foundry Theatre, Theater Voices, and the New York State Theatre Institute. Baecker has an M.F.A. in Acting from Florida State University and a B.A. in Theatre from Washington University in St. Louis.
Theatre Institute at Sage. Established in February of 2011, the Theatre Institute at Sage is dedicated to providing quality live theatre and arts-in-education programming to Capital Region youth, educators and residents. The Institute also provides opportunities for Russell Sage students as performers, technicians and teachers.