Stage & Stanza
HONORS
Morgan Heyward & Bob Geopfert
Weds. Feb. 17, 7:00pm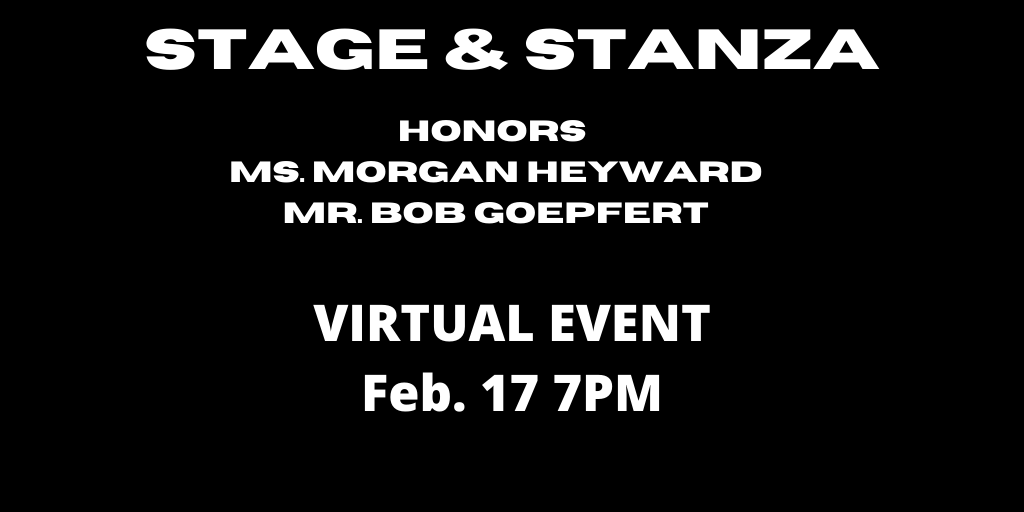 WHERE: Virtual Event via Zoom
HOW: Join us on Zoom: https://russell-sage.zoom.us/s/98395975734
WHO: Theater Institute at Sage, Opalka Gallery, and poet Carol Durant
Stage & Stanza: a poetry and theater series brought to you by The Theatre Institute at Sage and Opalka Gallery, in partnership with local poet and playwright, Carol Durant.
Discussion of the arts focusing on theater and poetry hosted by David Baecker and Carol Durant. On Feb. 17, we'll honor actor, writer, director & producer Morgan Heyward and arts writer and crtici Bob Goepfert.
Morgan Heyward started
Illuminate Theatre
in August 2017 as a one time Theatre Cabaret designed to highlight actors of color in the Capital Region. Quickly, after the first production, Illuminate Theatre became a monthly event. Since then, Illuminate has involved over 70 actors in the Capital Region and several black playwrights. Through Illuminate, Morgan has gone on to produce original short plays for the African American Cultural Center, The NYS Black and Latino Caucus, the Albany Barn, Cap Rep and several other organizations. Illuminate Theatre is committed to shining light on actors who have been left in the shadows by providing opportunities for theatre artists of color. (Bio from 
morganheyward.com
)
Bob Goepfert has been an arts writer and critic covering the Berkshires and Albany area for over 30 years. He has written for the Troy Record, the Saratogian and the former Knickerbocker News. His reviews can be heard on public radio at WAMC. In 2014, he was, for the third year in a row, named by Metroland as the area's Best Arts Writer. He is an award winning theater director and was the executive director of the Palace Theatre in Albany from 1988-2002. (Bio from
The Berkshire Edge
)
About Stage & Stanza
Carol Durant is a poet, author, playwright and event host. She is an actor and stage manager most recently with the Black Theatre Troupe of Upstate New York. She has a M.A in Africana Studies from University at Albany. She is the founder and host of Outliers Poetry Brunch, which is a monthly poetry brunch at Eden Cafe in Loudonville and online. She is a longstanding board member of Capital Region Sponsor-A-Scholar. Durant's newest book is Cold Pressed and Just Brewed Poetry. Her first book, Whole Phat and Gluten Free Poetry was published in 2017. Her play, Center of Lying Down was recently cast and performed on Zoom by Quarantine e-Theater, as a wildly successful fundraiser for Black Theatre Troupe of Upstate New York.
David Baecker is Managing Director of the Theatre Institute at Sage and Associate Professor of Theatre at Russell Sage College. He is also a communications coach with the New York State Defenders Association. Locally, he has directed readings and/or productions for Saratoga Shakespeare Company, the Rensselaer County Historical Society, Troy Foundry Theatre, Theater Voices, and the New York State Theatre Institute. Baecker has an M.F.A. in Acting from Florida State University and a B.A. in Theatre from Washington University in St. Louis.
Theatre Institute at Sage. Established in February of 2011, the Theatre Institute at Sage is dedicated to providing quality live theatre and arts-in-education programming to Capital Region youth, educators and residents. The Institute also provides opportunities for Russell Sage students as performers, technicians and teachers.